Hi everyone! =)
Maki and I were looking for things to do in Richmond one night, and a trip to Richmond obviously isn't complete without engaging in over indulgence of Asian food. At least, that's what I always look forward to when going to Richmond. Maki was craving bubble waffle, so we decided to give this place a try!
This is totally off topic but I just want to tell you guys how cursed the boyfriend and I are with visiting Mango Yummy.  We have been wanting to try Mango Yummy since it opened, and have probably tried going there at least FIVE times now. They all failed. Either they were closed, we didn't have enough time, or it was way too busy to even try attempting to score a table. BUT, we are not giving up yet. WE WILL GET TO YOU, MANGO YUMMY.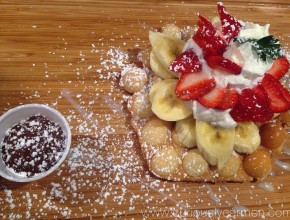 After you order, you then proceed to find a table. Since we came on a busy night, it took us awhile to get a table. It would be nice for them to have more seating, but the cafe itself isn't that big so it probably isn't possible =(
We shared the 'triple decker' bubble waffle, which came with fresh strawberries, banana, and whipped cream. Since it was busy that night, our food was a bit slow to arrive.
The bubble waffle wasn't as fluffy and thick as I hoped it would be, but not bad either. The strawberries and bananas were nice and fresh.
I'm not sure if this was worth $7.25 (2015 pricing), I've had better bubble waffle at the nightmarket for a cheaper price. But I'm glad that we tried this place. The workers were friendly and informative, while the cafe was very clean despite being busy and that customers are expected to put away their dishes.
If I were to come back, I probably would stick to their standard or deluxe bubble waffles, which are cheaper.
Do you like bubble waffles?
Thanks for reading!
-Carmen