Bon Vital is a company used primarily by massage therapists, professional spas and salons. However, Bon Vital has just launched their BVSpa by Bon Vital line, which includes spa quality products for consumers to use at home! I recently had the chance to test out a few of their products, and here is what I thought!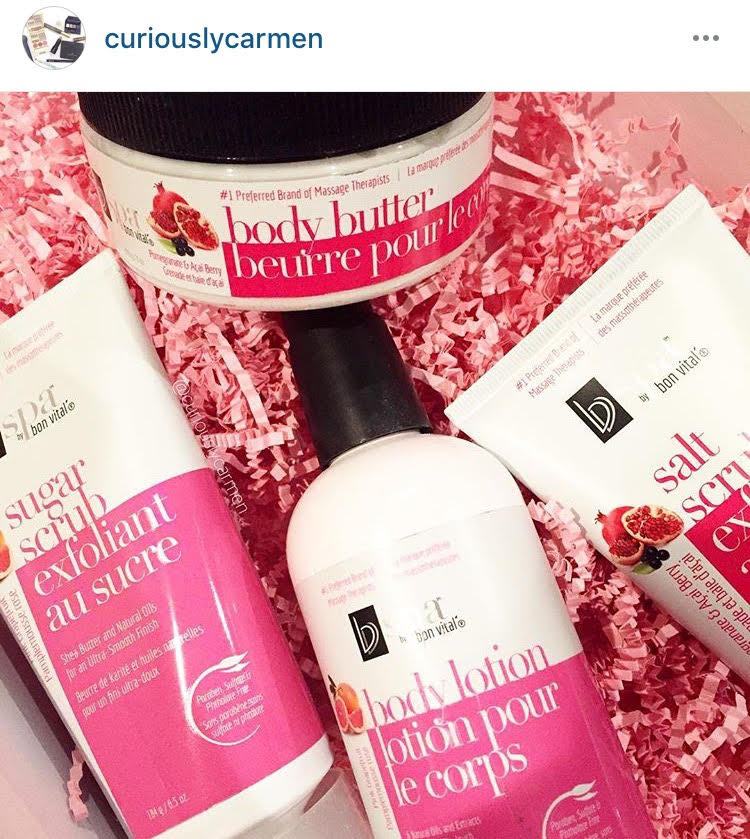 The BVSpa products I received were the sugar salt, salt scrub, body lotion, and body butter! I was quite excited to try these products out because they smelled great, even when I just opened the box! As well, pink is one of my favourite colours so that is always a plus. 😉
I will now be reviewing each product in further detail!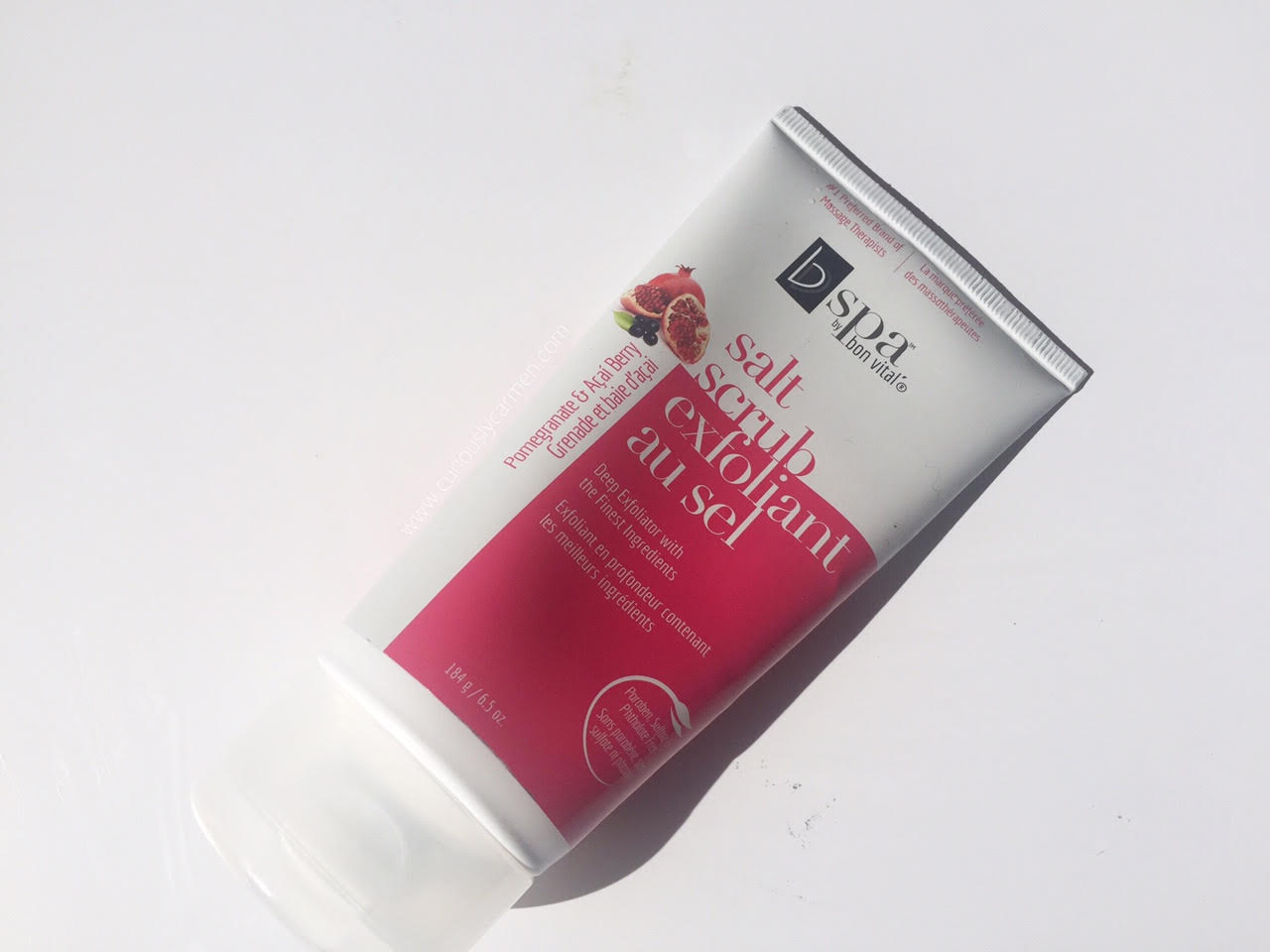 The first product I tried was the BVSpa salt scrub, in pomegranate and acai berry. The first thing I noticed was how sweet and fruity it smelled! It reminded me of a fruit candy.
The salt scrub is gentle enough to use everyday. After using this, I could definitely see myself using this daily as it is not too rough or harsh on your skin. I found that the exfoliating salt crystals would melt after cleaning, and would turn into more of a soap. My favourite part of the salt scrub was definitely the fun and fruity scent.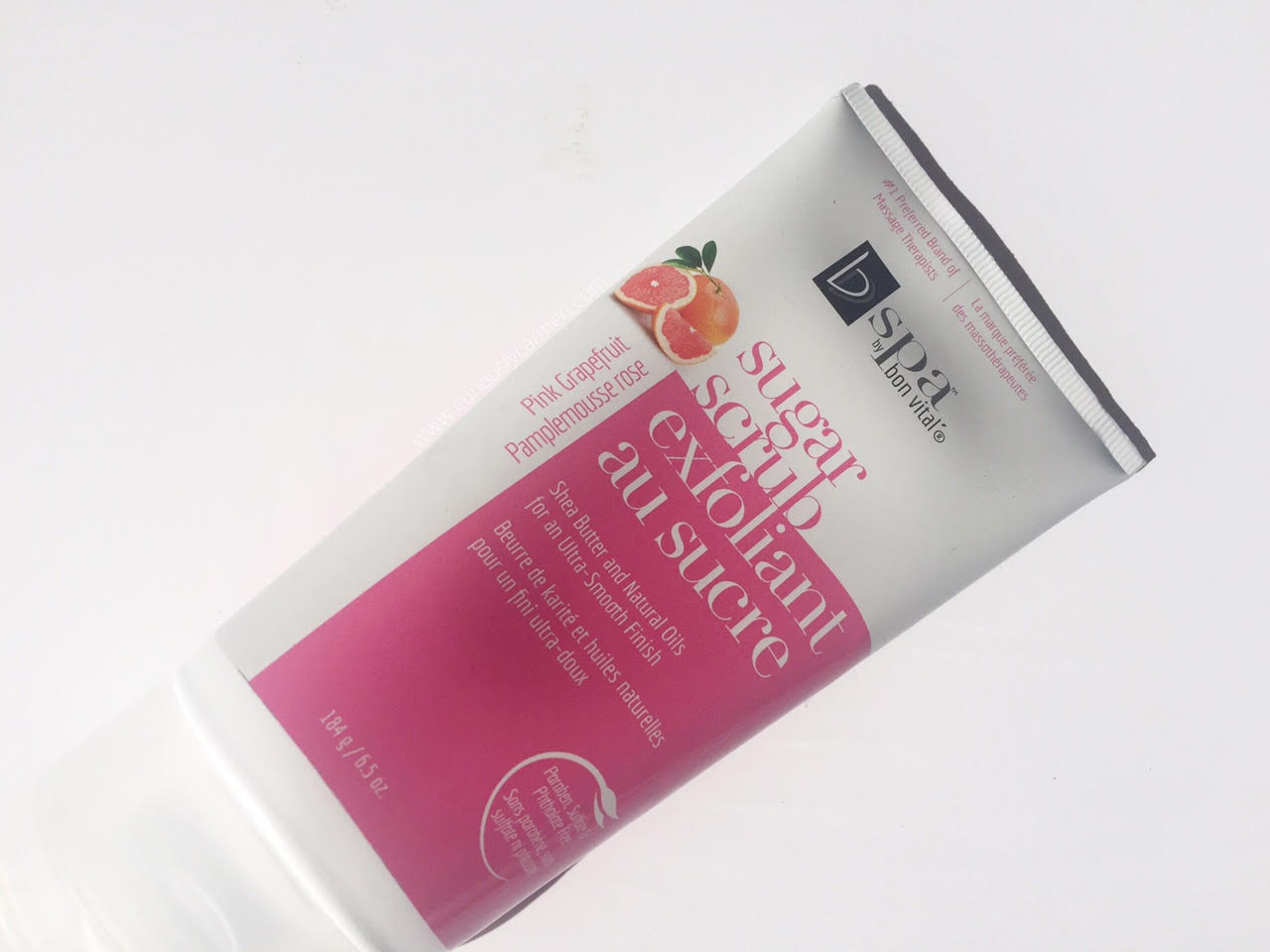 When I first saw the two scrubs, I was pretty intrigued at what the difference would be as they seemed pretty similar as exfoliants. The sugar scrub came in pink grapefruit, which had a pleasant and strong scent to it!
Compared to the salt scrub, the sugar scrub was noticeably more coarser. I found that both did a great job in exfoliating my skin. My skin felt really smooth, and both left a nice scent on my skin afterwards.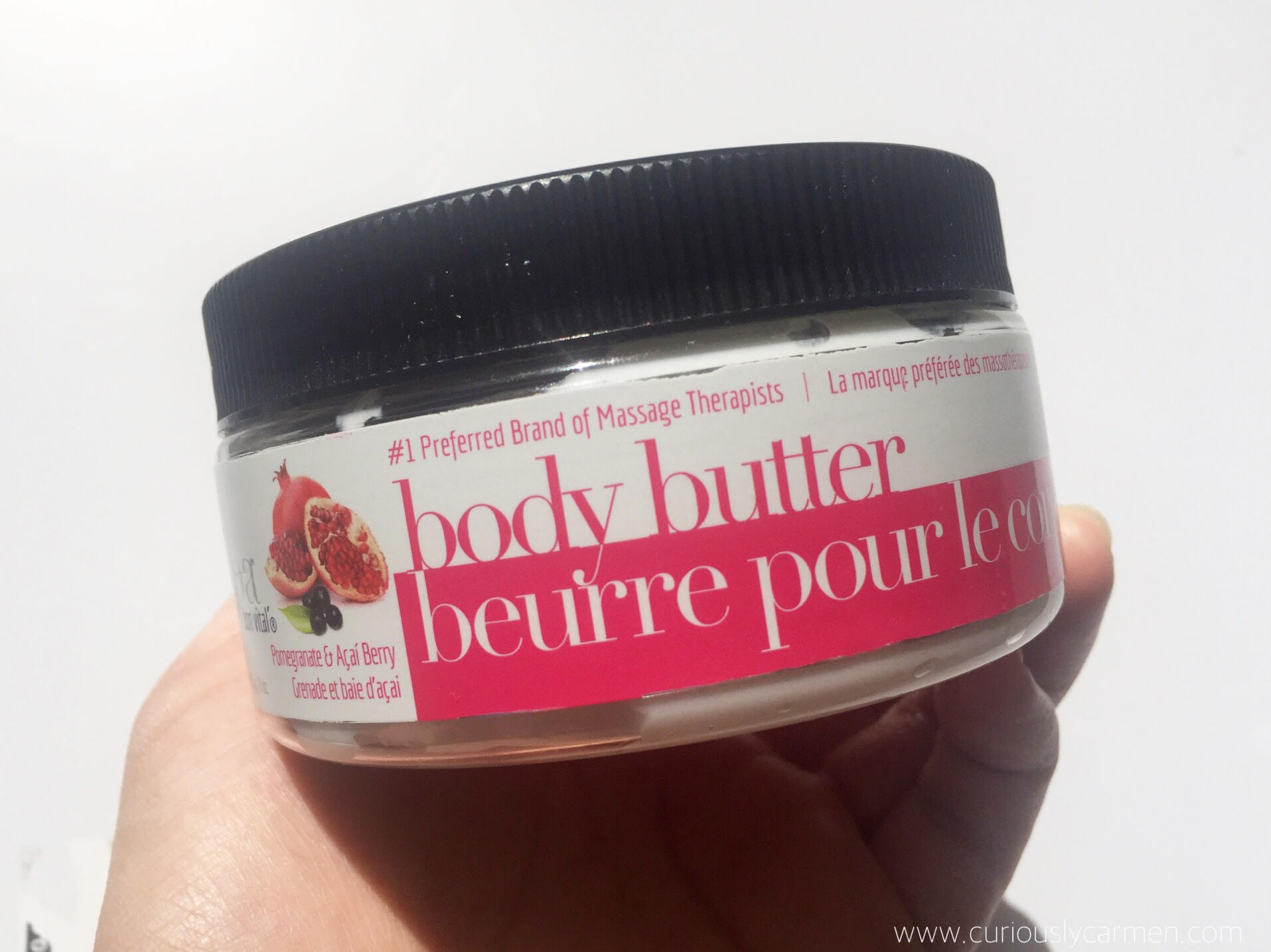 After using the salt scrub, I followed up with the body butter as they both have the same scent. I really liked the body butter as well! The texture was pretty thick, but fluffy if that makes sense? It reminds me of when we make Asian fluffy angel cake at home, and we have to mix the egg white mixture until it's fluffy. Sorry, I'm not much of a baker so my description is really bad!
It wasn't sticky at all and actually felt light on my skin. As well, I liked how fast the body butter absorbed into my skin, leaving no residue.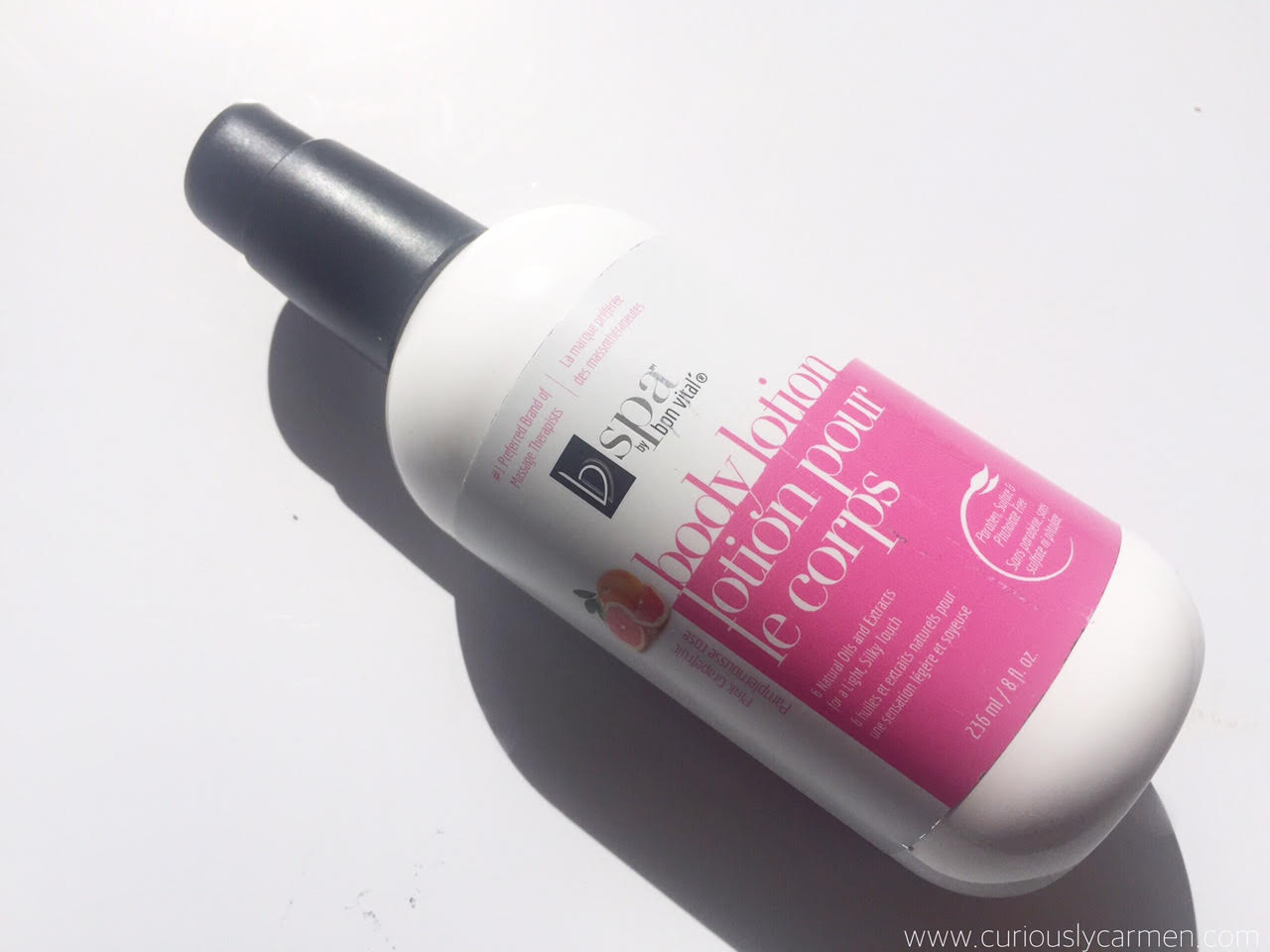 Moving on to the final product! The body lotion came in a sturdy, dispensable pump and has the same grapefruit scent as the sugar scrub.
Again, I liked how light and fast absorbing the body lotion was. It wasn't thick, which made it faster to apply than the body butter. This product would be great to use if you're in a rush!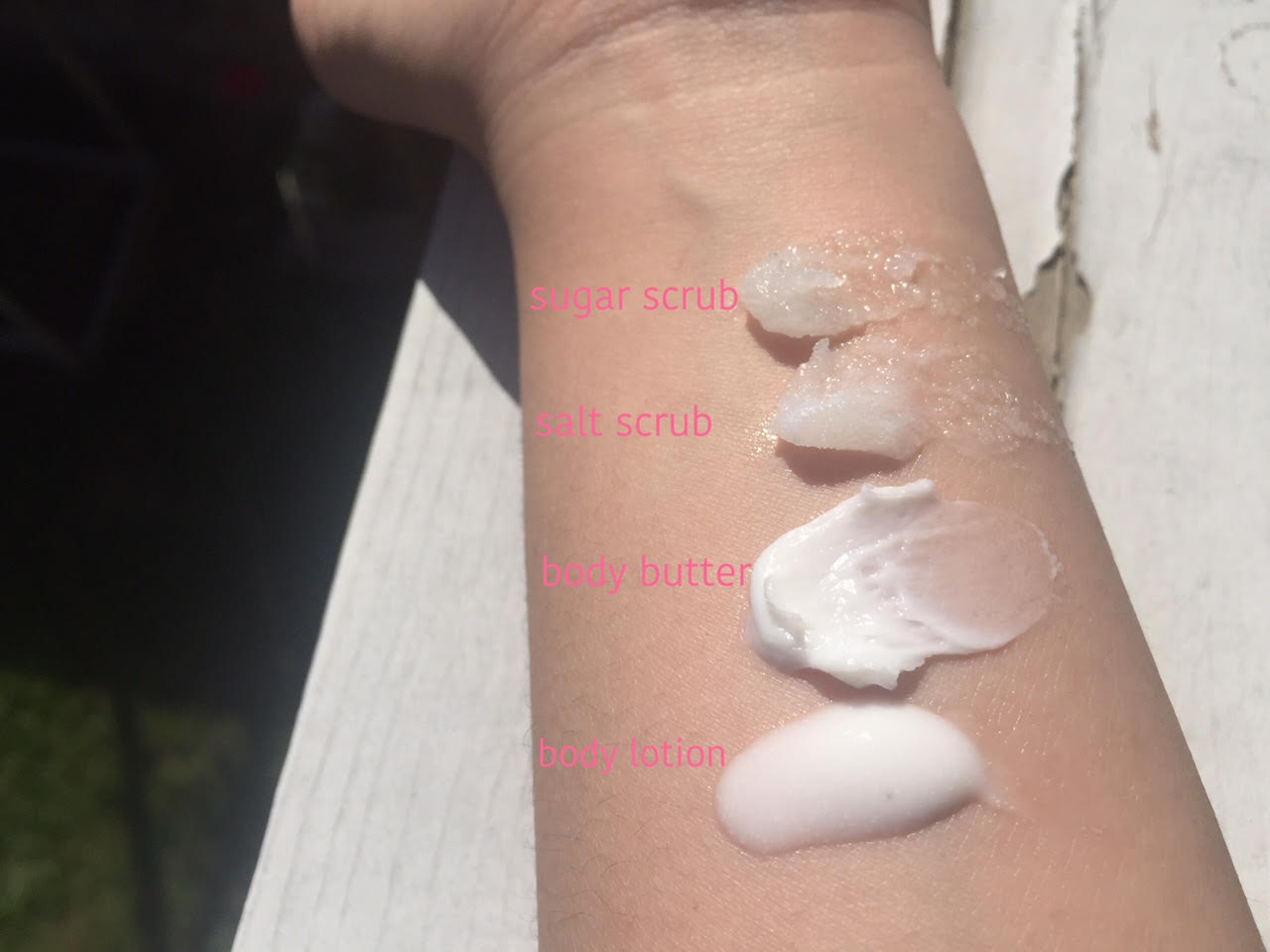 Here is a photo of all four swatches, so you can get an idea of the texture. You can definitely see the difference in thickness between the body butter and the body lotion! As for the scrubs, the sugar scrub was coarser, which you can kind of tell in the photo.
Overall, I really enjoyed the BVSpa products. I love the fresh scents, how smooth the scrubs leave my skin, and how quick the lotion absorbs! You can find these BVSpa products at Shoppers Drug Mart for $11.99 each, which is really affordable!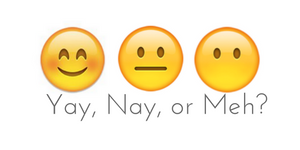 Yay!
Thanks for reading,
Carmen