Hi hi hi hi hi!
Last month, I met up with fellow food bloggers Naomi from Pink Marshmellows and David from Picky Diners Club. We went to Forage and for a weekend brunch in downtown, and it was quieter than we had expected inside!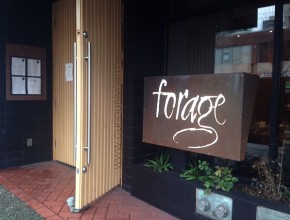 Luckily, we had a reservation and only ended up waiting around 5 minutes before we were seated. Forage is located deep in downtown, near the end of Robson Street. It is around a 12 minute walk from Burrard skytrain.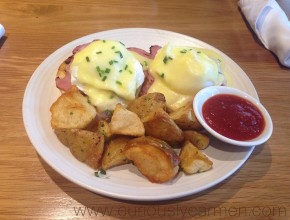 I ordered the classic benny, which included back bacon, free range eggs covered in hollandaise served with a side of crispy potatoes.
The muffin was nice and soft, while the back bacon had a thick cut and smoky flavour to it. My eggs were poached perfectly to my liking and covered with a generous and delicious amount of creamy hollandaise sauce.
The potatoes were very crispy on the outside, and bursting with a savoury herb flavour. Half way through, it started to taste really salty but that didn't stop me from devouring the whole plate. We made sure to have our water constantly filled.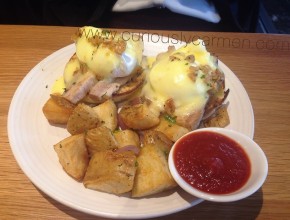 Naomi ordered the special benny that day, the pork belly benny. It was the same as mine, but without the back bacon and pork belly instead. I had a bite and her benny was delicious as well, the pork belly was very tender and rich.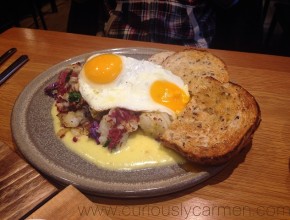 David ordered the corned bison hash which came with a sunny side up egg, toast, kale, house-made sauerkraut, and IPA mustard hollandaise. A plate with a German twist, which was delicious as well. All the flavours in this dish went perfectly with each other. I just wish the egg yolk wouldn't have fallen or the picture would have looked nicer!
The toast also came with a side of homemade blueberry and strawberry jam. Since David couldn't finish everything, we gladly helped him finish the toast. The toast was lightly buttered as well.
All in all, we had a great time at Forage. Our server was attentive and friendly, and had a sarcastic sense of humour. I really liked how the restaurant did not feel cramped and had a simple, modern wooden interior, nor was it too busy.
Have you been here before? How did you like it?
-Carmen