Hi everyone!
Last month, the boyfriend and I were heading back from somewhere (I forget now) and I suddenly had the idea to stop by Beta 5 and finally try their famous cream puffs!
Beta 5 is tucked away and hidden in an industrial part of the city. We weren't sure that we were in the right place, but I felt confident because my fellow food bloggers had said it was pretty hidden. There isn't much in that area, but I did see some of my favourite food trucks parked there which was pretty cool!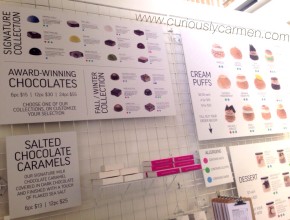 The inside was a lot nicer looking than the exterior. Beta 5 is a pretty small place, there is no room for customers to sit down and order. I think this is because they are mostly a neat little chocolate factory, but decided to open up a small area for customers to come in and buy their goodies.
There were beautiful, pristine displays of their many different kinds of award-winning chocolates. I was lucky enough to try a few pieces as one of our clients had brought it in to the office before.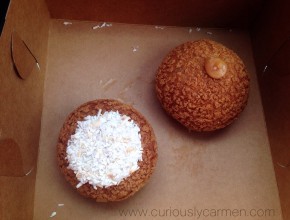 We ordered the salted caramel and passionfruit coconut cream puffs. Both of these came to approximately $9. If you buy four, it is 0.50 cents cheaper for each but we didn't feel like ordering more. You place your order with one of their friendly workers, who types it down in an iPad. Shortly afterwards, another worker will bring out your cream puffs from the kitchen.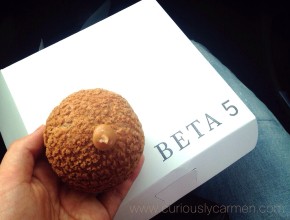 The salted caramel cream puff had a rich caramel flavour to it, but it wasn't overwhelming sweet. The texture of the creme puff was fluffy and perfect, with a generous amount of filling.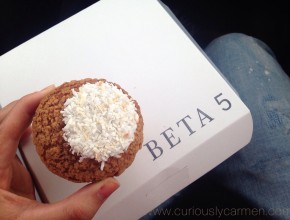 We both liked the coconut/passionfruit cream puff a lot more than the salted caramel! The coconut and passion fruit flavours complemented each other perfectly and had a very smooth flavour. The boyfriend absolutely fell in love with this one and continues to rave about it to this day.
At first, the boyfriend was hesitant to come here as he wasn't convinced that a cream puff could be THAT amazing, but did he change his mind after having the coconut/passionfruit one. He was even more enthusiastic about them than I was, and wanted to go back to buy more! I told him I was right and he should be glad that he listened to me 😉
Have you tried Beta 5 creme puffs yourself?
Thanks for reading!
-Carmen