It was time for dinner with Biscotti! We decided on going back to Hachi Hana Japanese Restaurant, after having some decent takeout from here last year.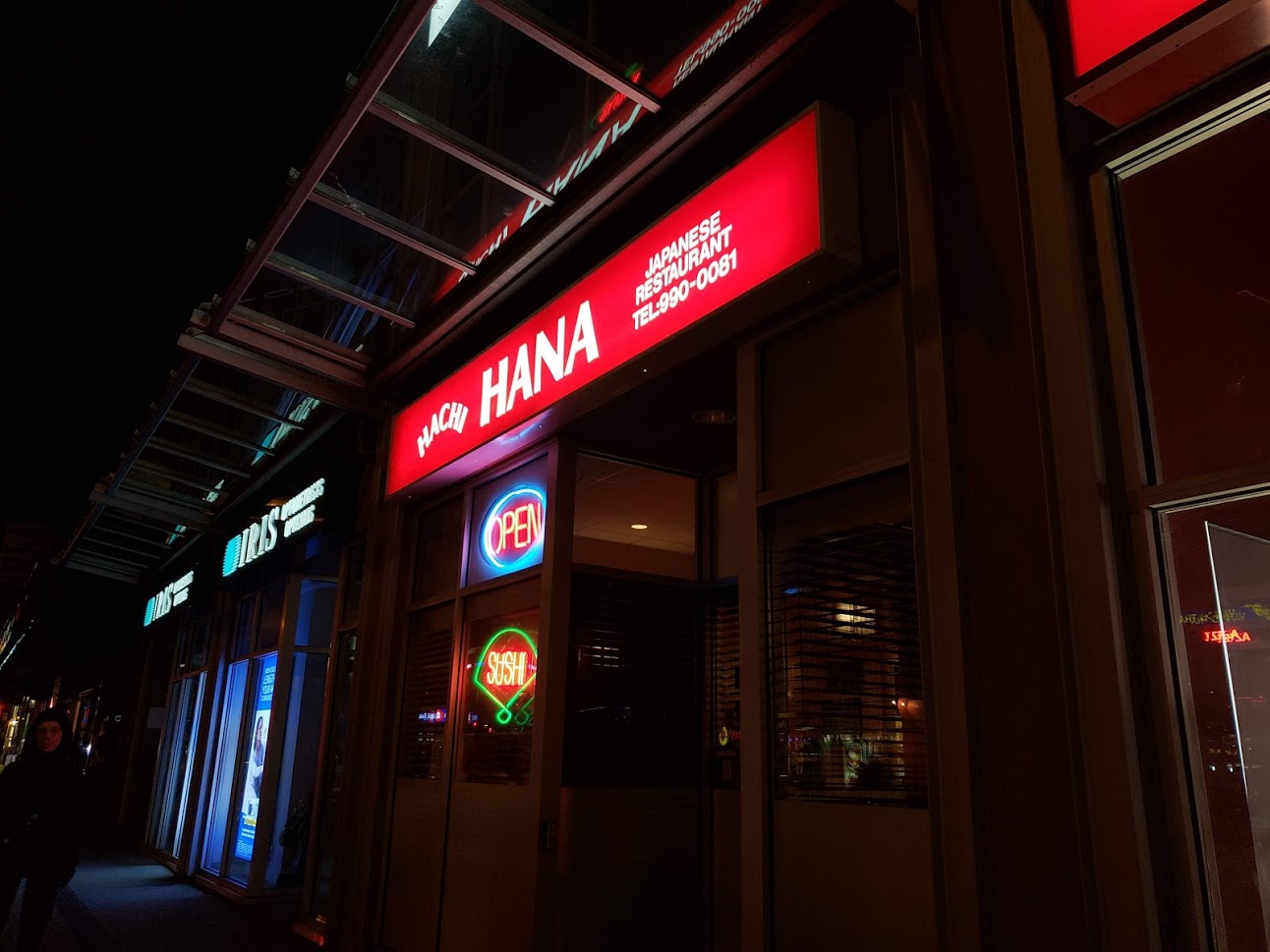 Hachi Hana is located in North Vancouver on Lonsdale. I'm not too familiar with the Lonsdale area, but the street has a lot of shops and can get busy. Parking may be difficult depending on the time you come, but there is underground paid parking in the Whole Foods if you can't find street parking.
Although they have bright signage, I got a bit confused this time and last time for pickup (which was 8 months ago so I forgot exactly where the restaurant was). It's funny because next door is Rogers, which is also red and white! So when I'm driving by, my mind automatically just sees the Rogers sign and colours…. and I'm thinking, where is this place?? LOL!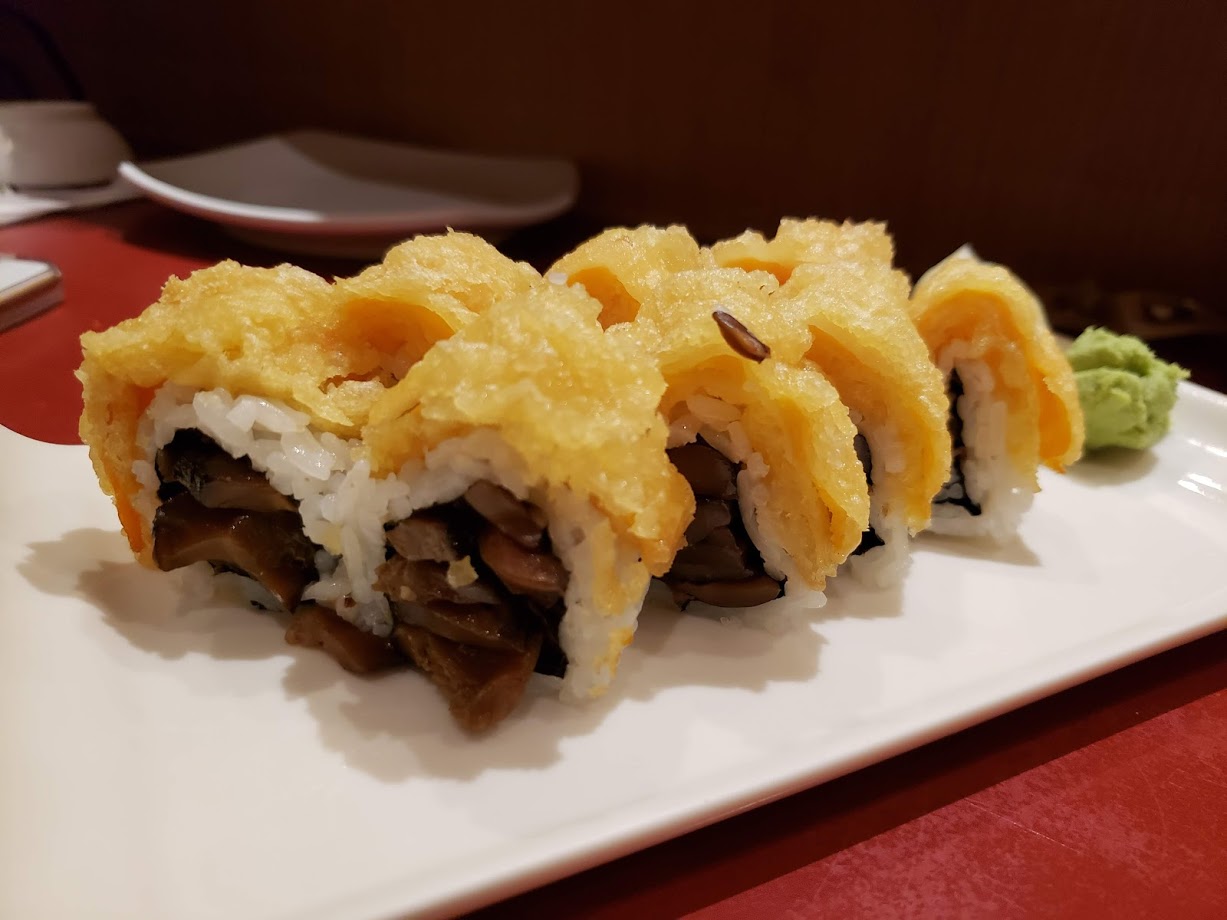 Yam and shiitake roll: Biscotti had this roll before and enjoyed it. It comes with shiitake mushroom inside, while the top is yam tempura. She had no complaints about it.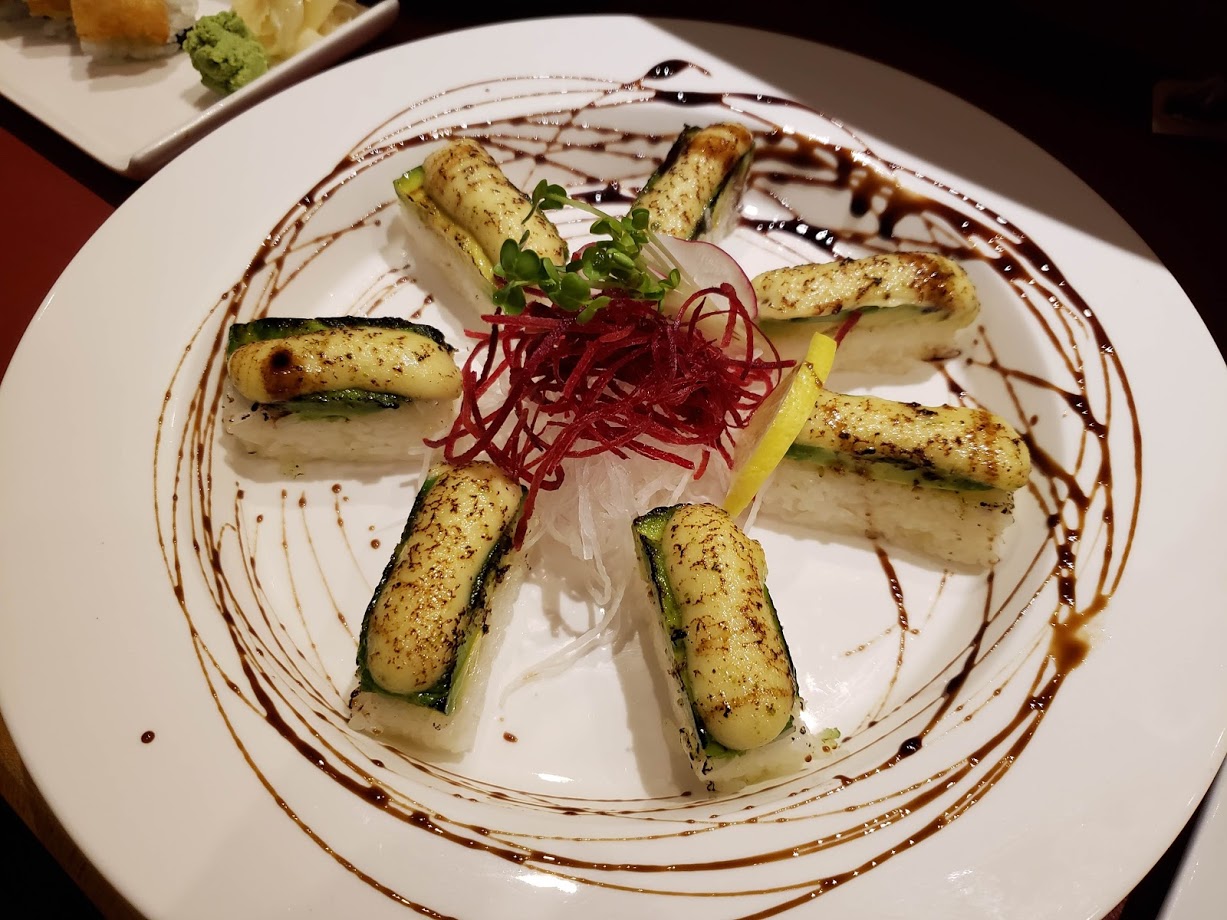 Avocado aburi oshi sushi: Since we were seated at the bar, we were able to see the chefs make the food! Biscotti had never tried aburi sushi before, and it smelled wonderful so she gave it a try.
The avocado aburi sushi came with a basil pesto sauce, which smelled lovely. After it has been torched and melted, the sauce resembles cheese.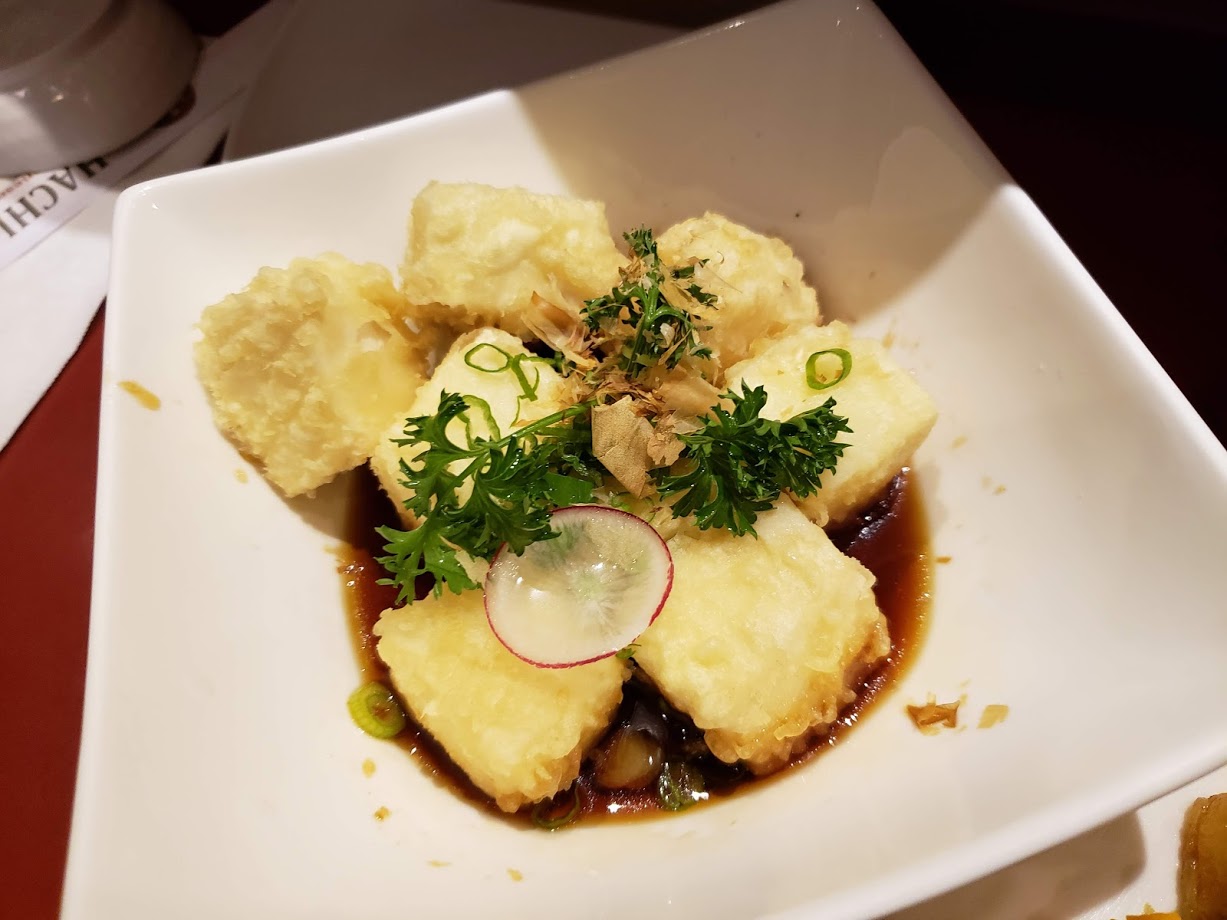 Agedashi tofu: Biscotti's agedashi tofu looked delicious too!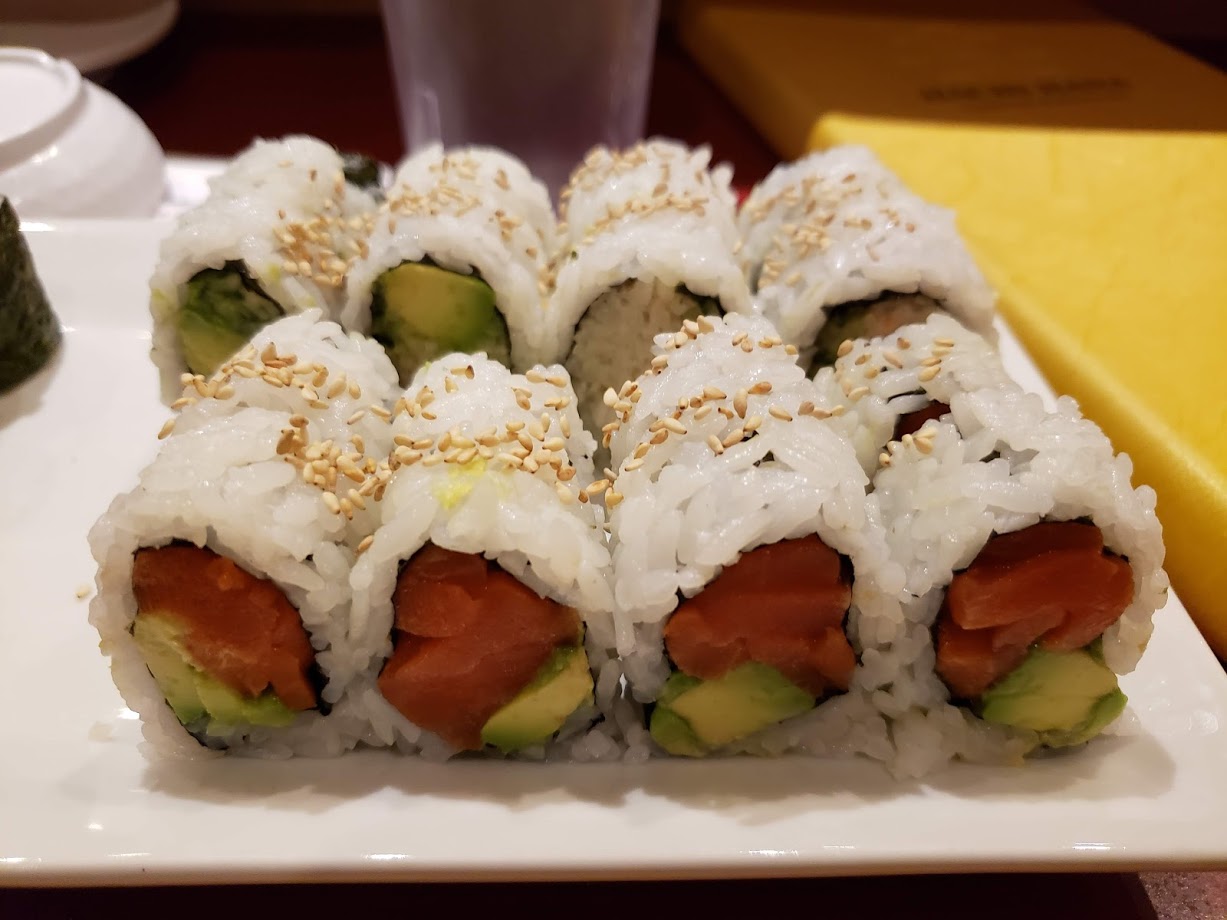 Salmon avocado roll: For myself, I ordered the salmon avocado roll. It was delicious. There was a very generous amount of salmon sashimi inside – just look at that! Meanwhile, the avocado was perfectly ripe and creamy.
California roll: Such a basic roll, but I love my California rolls. Again, no complaints about it. My favourite part was the creamy avocado.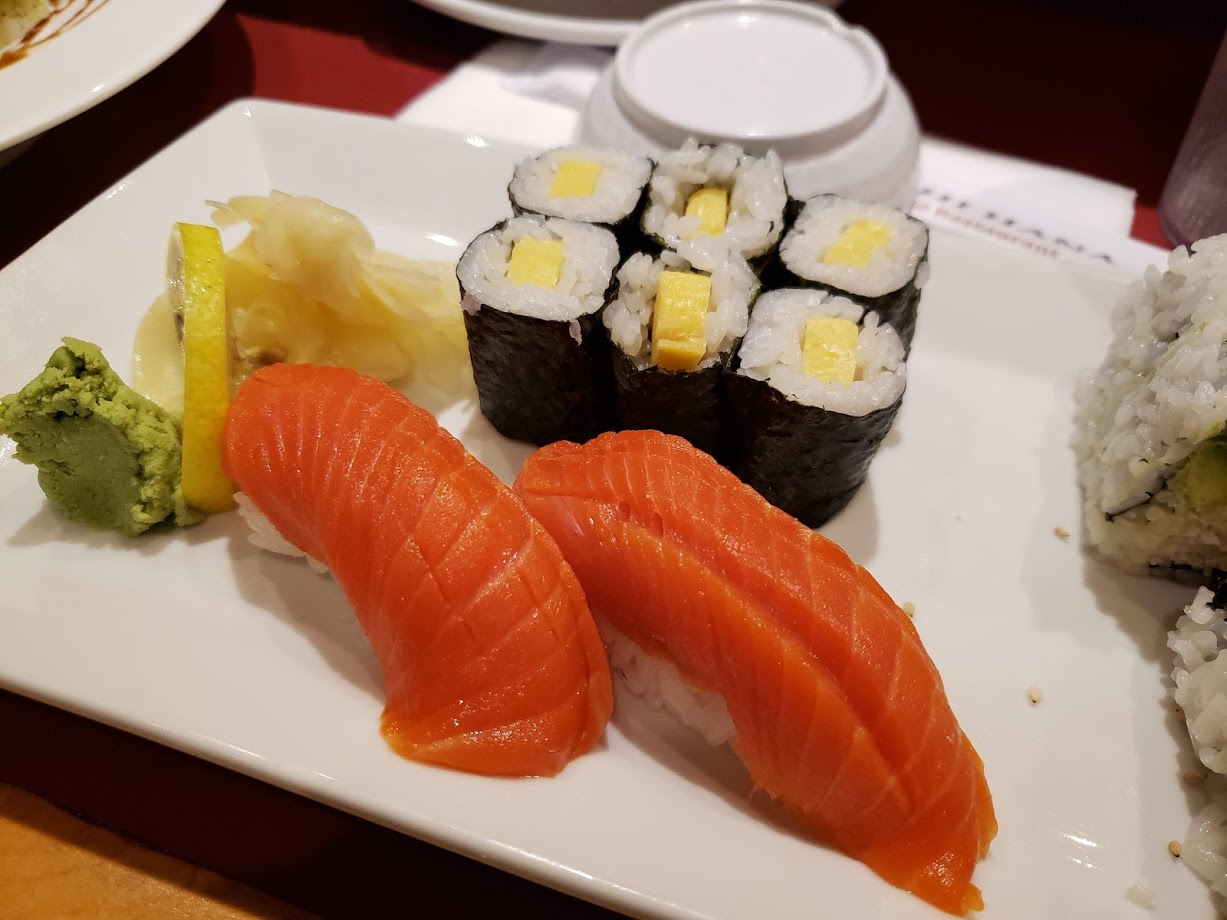 Salmon nigiri: Again, sitting at the bar is dangerous because you just want to order everything that comes out! I wanted the salmon sashimi, but it was quite expensive so I settled for the nigiri.
Look at that freshness! After having this, I can see why the sashimi is expensive. The quality was great, and the salmon was very fresh.
Tamago roll: Last but not least, tamago roll! The tamago roll here was delicious. It was a bit on the sweeter side but I did not mind one bit. Additionally, the tamago was light and fluffy.
All in all, we enjoyed all the food at Hachi Hana. The service was attentive, friendly and efficient too! The prices are a bit higher than your typical 'fast food sushi' joints (eg. Sushi Garden, Sushi Town, Sushi California) but it's good here. I would definitely come here often if I lived in the neighbourhood.