Asian restaurants have the most creatively absurd restaurant names, don't you think? I've always had a good chuckle reading the sign whenever we drove by. I came here back in high school but don't really recall much, I just remembered it was pretty average. My friends and I decided to come here late one night, as we didn't want to stay in Richmond anymore and wanted to be back in Vancouver. I had a decent experience, but my friends? Not so much. Read on to find out why.
Walking in around 11pm with six of us (soon to be eight, other two were running a bit late), the restaurant looked about 75% full and was mostly preoccupied with groups around the same size. We asked them for a table of eight, the servers looked very confused and told us it would be a bit of a wait. Guess we should have seen that as a warning sign. Which was weird, because right in front of us were two tables that fit 4 people each. We asked them if they could just move the two tables together and they looked very puzzled… so we kind of motioned with our hands what we meant and they understood. Even when they were moving the tables, they looked very confused, which confused us because moving two tables together shouldn't be that hard?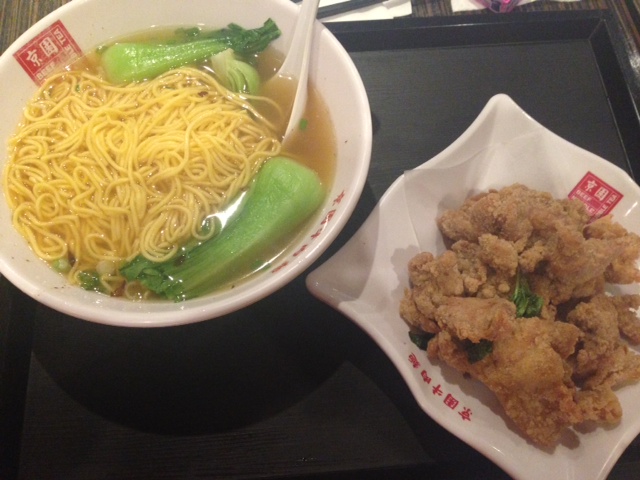 I had a hard time deciding on what to order, but decided to get the noodles in soup with Taiwanese chicken nuggets to share with the boyfriend. The noodles were cooked al dente and had a perfect bounce to it, they were delicious. The broth was very flavourful and clear, we're still debating if it was canned stock or not but either way, it was very satisfying on a cold night. The veggies in the soup were also washed clean, and were fresh and crunchy. The Taiwanese chicken nuggets had a nice crispiness and the usual seasonings, nothing new there but they do cook it well and it tasted authentic. My food also came at least 15 minutes before all the other orders, by the time that I finished my food, some of my friends had just received theirs while our other friend was still waiting for her food.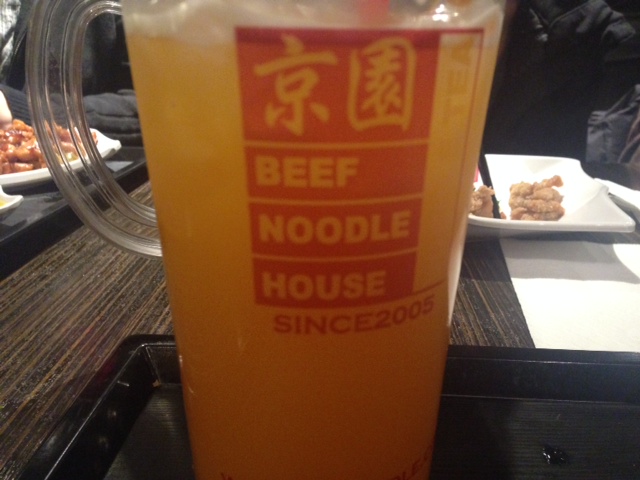 We all ordered drinks, and disappointingly, they were out of pearls. I ordered the passion fruit calpis juice, but received a peach calpis juice instead (pictured here). My friend ordered a peach calpis slush, so we weren't sure whose drink they messed up on LOL. Turns out we were right, they had messed up and gave me peach, which I didn't really mind. The peach calpis was very syrupy and overwhelmingly sweet, I felt that if I drank this in one sitting my chances of getting diabetes would increase dramatically. So I tried to ration myself (even though it was so delicious!) and brought it home for the next day. Just like the food, my drink came first (even though they messed up) and my friends ended up waiting at least 15 minutes after mine for their drinks. We weren't sure why the drinks weren't coming out all at once, since we all ordered at the same time. At this point, my friends were not impressed with the wait time, seeing that the restaurant had died down a bit.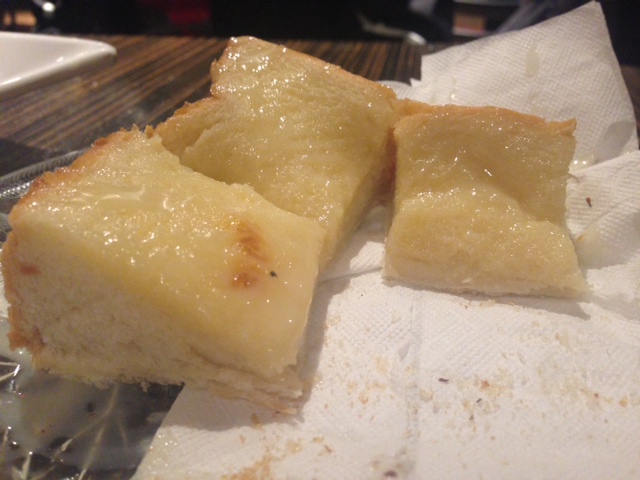 So, after waiting around fifteen minutes between my bowl of noodles AND the other main courses (which were just like mine and stir fry dishes), we ended up waiting another fifteen minutes for the buttery condensed milk toast. My friends had asked the servers if they had forgot it, but they apologized and just said it was "on the way". When it finally came, everyone dug in and man, was the toast heavenly. The bread was extremely soft, fresh, and sweet, covered in a rich layer of thick condensed milk.
Even though our food (when it actually came) was delicious, Beefy Beef was very disorganized and I'm not sure how they operate their restaurant in that manner. We received our food and drinks in long, staggered periods even though we all ordered at the same time. My soup noodles and drinks came first, then a couple dishes and drinks came out after fifteen minutes, followed by the next and so on. Why couldn't we just receive all our food at the same time when we all ordered together? I felt bad for my friend, who waited almost a hour for her food. She ended up packing her meal to go, since all seven of us were done eating by the time her food came. That was also when she had checked on her food, if she didn't check, who knows how long the wait would have been.
If their food was average, I probably would not have come back due to how disorganized the restaurant seemed. But since I enjoyed their noodles a lot and it is a convenient location to go to if I crave Taiwanese food, I wouldn't mind coming back- my hopes would be that they have some kind of standard concept of organization going on.