Helloooo everyone!
I've always wanted to try out coffee scrubs, as I found out during my barista days that scrubbing coffee grinds all over your body has great benefits, including improved skin texture, better blood circulation, get rid of cellulite, plus much more!
Jealous Body Scrub is a new company based out of my beautiful hometown of Vancouver, Canada. For now, they only have one type of body scrub which is the coconut and coffee, but are working on coming out with other products. Their products are also all online based, and currently do not have any in-person stores.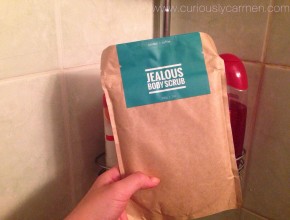 Upon opening this, I was greeted with a strong smell of fresh coffee. Coffee is supposed to smell lovely, but after spending long shifts at a coffee shop and coming home smelling like stale coffee, you will slowly start to be numb to the "invigorating" smell of coffee and can find it quite "meh". Let me know in the comments if you've been a barista before and if you understand what I'm talking about.
However, in this case, the coffee smelled really fresh so I didn't mind the smell =)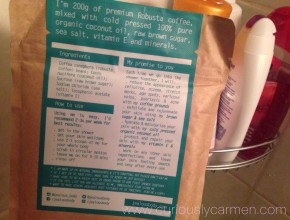 Among coconut oil and ground premium coffee, Jealous body scrub also has vitamin e, raw brown sugar, sea salt, and minerals. As all of the ingredients are natural, it is recommended that customers finish this within six months to preserve freshness and quality.
Coffee grounds: Reduces the appearance of cellulite, eczema, stretch marks, age spots, varicose veins, psoriasis, and acne
Brown sugar & sea salt: Exfoliates and gets rid of dead skin cells
Cold pressed organic coconut oil: Moisturizes skin
Vitamin e: Protects and repairs skin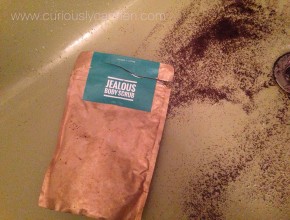 The steps of using this scrub is very easy!
1. Step into the shower
2. Rinse your body using soap, etc
3. Scoop a handful of Jealous and scrub it in a circular motion. (For a full body scrub, use 2-3 scoops!)
4. Wait 5-10 minutes for the miraculous effects to take place
5. Rinse!
Since this is made as an exfoliant, I have to warn you that the scrub is quite abrasive and harsh so be gentle when you are scrubbing this onto your body. Do not use it over injured skin or it will probably really hurt! For myself, I enjoyed the abrasiveness as I knew that meant my skin would be perfectly exfoliated and fresh when stepping out of the shower.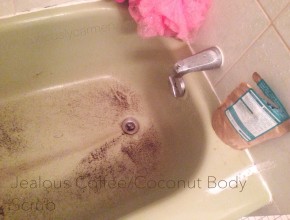 I'm giving you a warning now that this scrub will get very messy! While in the shower, I got some of it on the wall and on my shower curtain. Make sure you give the tub and walls a good rinse or spray or the next person using the tub will think you're a disgusting, filthy creature who got "dirt" everywhere!
Now, the result?
AH-MAZING. Seriously, this stuff works wonders. My skin was exfoliated and felt rejuvenated afterwards. Due to the vitamin e and coconut oil, my skin was also very moisturized. Your skin feels like a newborn baby's, it is that amazing.
Your skin also smells faintly of coffee afterwards. For me, that was odd since I'm used to constantly trying to get rid of the coffee smell after my barista shift.
There has been so much well-deserved hype for Jealous body scrub, I can't wait to see what other products they will be launching! For once, getting jealous is a good thing. 😉 Check out their website here!
Thanks for reading!
-Carmen
Press product featured, all opinions are my own.