The latest and most popular bakery has hit the streets of Vancouver by the name of Purebread, which also has locations in Whistler. I have been eyeing Purebread since their construction days, as I pass by that area when I go to work each morning.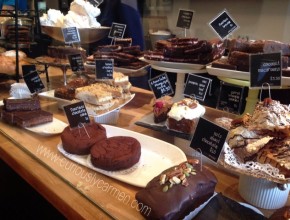 I remember their clever "coming soon" sign back in the Fall- your breakfast is t o a s t , with each letter in toast printed on a fake piece of bread. I had a feeling it would be hit among Vancouverites, and I was correct!

We came around 2 pm, and there was no lineup but most of the seats were filled up. It took us a bit to absorb all of the seemingly delicious pastries in front of us… there was so much to pick from! I'm glad there was three of us so that we could share and get more, as opposed to just coming alone.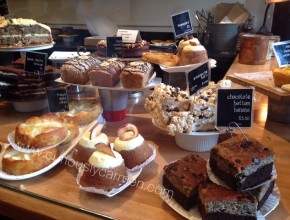 I wish that Purebred would put a brief description on what is included in each pastry item, as I'll explain below. All the food is behind a tall clear glass and is covered.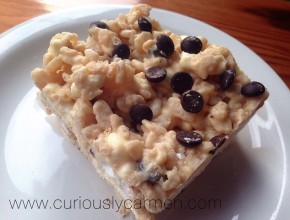 I ordered the avalanche bar because it looked pretty good and it reminded me of a rice krispie bar, which I haven't had for awhile! However, when I took a bite I was a very disappointed. It didn't specify that it was a peanut butter bar! If I had known, I wouldn't have ordered it. I do like peanut butter, but not in pastries.
I gave some to my coworkers and ended up packing it back home as the boyfriend is a serious peanut butter addict. He thought this was simply amazing and was on cloud 9 after gobbling the whole thing up (in 5 seconds).
My coworker had a tough time deciding as well, but ended up chosing the raspberry brownie. It was moist and chewy, and wasn't overwhelmingly sweet. It came with a layer of tart raspberry and custard inside.
I liked this a lot more than my avalanche bar… sorry, I'm still sour over how they didn't bother to mention it was a peanut butter pastry >=( But I guess lesson learned, I'm going to make sure I ask what's inside anything if there's no description offered.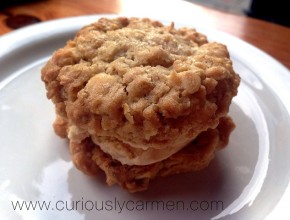 The last thing we got was a whoopie pie, made with two very sweet oatmeal cookies that were hard instead of chewy. The filling and oatmeal cookie went really well together, but it was a bit messy to eat. As you bite down on the cookie, the filling on the opposite size will ooze out.
Purebread is a good place to try out, the quality of the pastries is noticeable and service is friendly as well, with reasonable prices. Just be sure to ask what is inside the pastry if you're not sure what is inside to avoid disappointment like I did.
However, they're still relatively new so I shouldn't be too hard on them – the quality was there, and I probably would have LOVED the bar if I was an avid peanut butter fan.
-Carmen