Hi everyone!
I've been hearing many great things about Longtail Kitchen on social media, and decided that it was finally time for me to try it out.
Longtail Kitchen is a sister restaurant of the very popular and successful Thai restaurant, Maenam. I actually didn't know that Longtail was a Thai inspired eatery until reading the reviews and their website!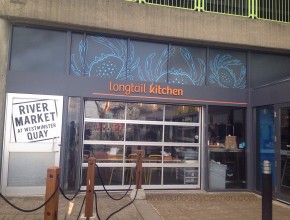 Longtail is located inside the River Market at New Westminster Quay. I haven't been to New West for awhile, and don't remember seeing this building the last time I was here… but basically, the bottom floor is like an upscale food court. You won't find any greasy, old looking stands here (not that there's anything wrong with that!) but instead more local and new eateries.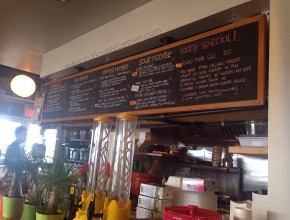 At Longtail, you order and pay at the front, then the staff will bring your food to you. This was our first meal of the day at around 3pm, so we were pretty hungry! We sat at a table right next to the window wall (? Is there a specific term for these??) which I'm pretty sure they open up so people are able to sit outside in the summer.
You are able to see a bit of the Fraser River and the boardwalk, but unfortunately I was too short and my eye level hit right where the white window pane was and couldn't see anything. =( You can see the picture above to understand what I mean.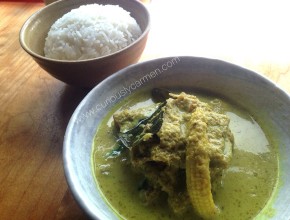 The boyfriend ordered the green curry with chicken. When it arrived, we could smell the delicacy and aroma of all the spices that went into this dish. The green curry had a strong, rich coconut taste to it. The chicken was very tender and juicy as well. It came with a rice bowl side, we were hoping that it would be coconut rice but sadly it was just plain rice.
For myself, I ordered 'Mama Cheung's laksa', which I don't see on the menu anymore, so I guess they rotate their menu frequently to ensure freshness of all the food items! The laksa came with a seafood curry broth, chicken, fish cakes, prawns, veggies, and noodles.
I was expecting the curry to have a fishy taste to it due to the seafood broth, but it was very mild. Again, the curry was rich and spicy. The prawns were big and juicy, and had a nice snap to it- a sign of freshness. I saved the tofu puffs for the end so that they would be saturated with the curry! Everything tasted extremely fresh and made with great quality.
The laksa soup was so good that I drank all of it, I wasn't even thirsty afterwards! That is a wonderful sign and says a lot about how it was prepared 😉

Another cool thing to add about Longtail is that they also offer some Thai cooking products to bring home! We spent some time looking at what they sold, as we haven't heard of some of these products before.
Needless to say, we found ourselves savouring every single bite and were glad that we made the trek out here! One thing to add though, was that the portions were a bit smaller than what we were used to. But it is understandable, they use quality and fresh ingredients and the prices aren't bad for how delicious everything was.
Which would you rather order – chicken curry or laksa soup?
Thanks for reading!
-Carmen