Hi all!
While I was walking around on my lunch break two weeks ago, I noticed that the Vancouver Art Gallery had been overtaken by food trucks- Dine Out Vancouver: Street Food City! The next day, I brought my coworker here and we explored all the food trucks. I wasn't too hungry that day, but we decided to all come back a few days later and have lunch together here.
Well, our luck couldn't be worse when Friday afternoon rolled around, and it was pouring buckets and buckets of rain. Remember that Friday two weeks ago? Yep. We spent the morning peeking out the office, hoping the rain would have stopped but nope, it had no mercy on a group of hungry office workers.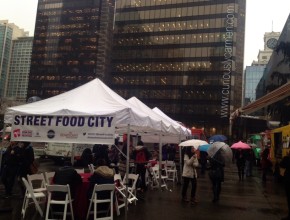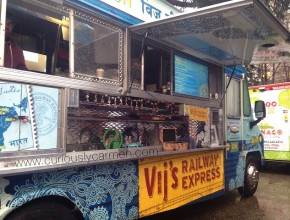 After making three very indecisive rounds, I decided to try Vij's Railway Express. I helped out at Follow Me Foodie's 6 Course Discourse last year, and had the chance to work with Vikram himself (Well, I only helped him set up and change presentation slides, but that was still pretty cool). He was a truly humble, funny, down to earth and kind man- so why not try his food truck?!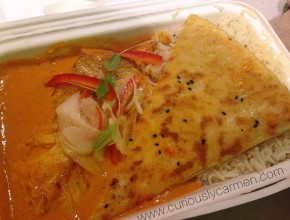 When my eyes saw this on the menu, I knew my decision had been made. Seared Pacific cod in a mango-sour cream curry, $12.
For $12 in 2015 and not that big of a portion (this picture may fool you otherwise), we are not talking cheap eats here unless you are a high roller with no lunch budget. But this was worth the mini splurge and I had no regrets.
I guess $12 at a restaurant is average or even cheap, there is a common misconception that food trucks are cheaper but it's not!
The cod was flaked off perfectly, and was very fresh. It was drowned in the mango-sour cream curry sauce, which was creamy and had a mild spice to it. I definitely tasted the hints of mango, but not the sour cream. It also came with a soft and thin piece of naan bread and a cumin-basmati rice.
Everything extremely aromatic and cooked with quality, the Pacific cod was just perfection. I felt like it this dish belonged on a fancy bone china plate in a upscale restaurant, in contrast to a take out box in the food court. If I was rich, I would order this weekly but sadly, I am not.
Sometimes, it's worth the mini splurge and to try something you haven't had before. I'm definitely glad I made that decision and left with a happy tummy.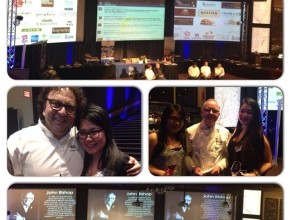 To end this post on a fun note, here is a throwback picture to January 2014 with Vikram Vij and John Bishop! I met Mijune of FollowMeFoodie back when I used to interview and write articles on university alumni, she then asked me to help out at her Six Course Discourse event.
-Carmen
PS. I made all those sponsorship and chef bio slides! =) So rewarding to see your hard work blown up on three big huge screens, haha!