After going shopping, it was one of those nights where we didn't feel like cooking at home. Since we don't eat in the Metrotown area much except for Cattle Cafe, we spent the next 5 minutes shivering in the cold trying to think of a backup place to eat after seeing that they were closed. Warm, soupy noodles… Oooh! Kamamarui! We spared no time shivering in the cold, ran back to the car and made our way to Kamamarui.
After walking in, we were greeted and told to sit down at the waiting chairs. The guy spent a pretty long time (well, longer than necessary), to clean everything and have us seated even though it wasn't busy. He was just hanging out, walking back and forth slowly, while we sat there waiting for him to seat us… eventually, he finished wiping the table and went back and was doing some other stuff.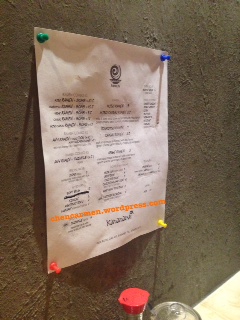 The menus were tacked on the wall, which was more convenient for both the servers and customers I guess? The walls looked like cement but they actually weren't. Menu was pretty straightforward, they mostly served ramen and small sides such as gyoza/rice/or these rice balls known as "bombs".
My favourite type of ramen is shio because it's usually very rich and creamy, something I crave in ramen broth. Since they didn't have shio, I ordered the tonkotsu ($9) because that seemed like the next closest thing to the richest broth there was. The broth was very creamy, rich, and flavourful.
The noodles were cooked al dente and had a great bounce to it. In addition, the cha shu was very tender and sweet since it was covered in some sort of marinade. As I was enjoying the noodles, I realized that the broth was so thick that I ended up asking for some hot water (which the server microwaved, I was confused) to dilute it.

The boyfriend ordered the cha shu ramen with extra noodles. The cha shu ramen didn't specify which broth it was, but it tasted like mine. The meat was also the same as the one in my bowl, so I guess the only difference with his was that he received a lot of extra cha shu. He also thoroughly enjoyed his noodles and cha shu.
Our bowls of ramen were very satisfying and delicious.  From the reviews and positive things I have heard about Kamamarui, I personally that it really does live up to the type. I had my doubts that this place would be on par with Kintaro Ramen or Santouka Ramen in the Great Authentic Ramen District (fyi, I just made up the name of the district lolol), but it really is a great substitute if you don't want to commute down to the Denman area.
I know that it's not authentic and is Korean owned, and I'm not sure if they slow cook their broth like the others, but I do know that it's pretty decent here. I think we will be back!