My friend had wanted to try Fat Mao Noodles, and being the noodle fanatic that I am, I did not say no. If I ever say no to noodles, you should know that I am probably not okay.
The restaurant has been open for a bit over a year now, and gained a bit of interest in the foodie community. Why? The restaurant was opened by Angus An, who is behind Maenam, Longtail Kitchen, and Freebird. You can read my review here on Longtail Kitchen afterwards!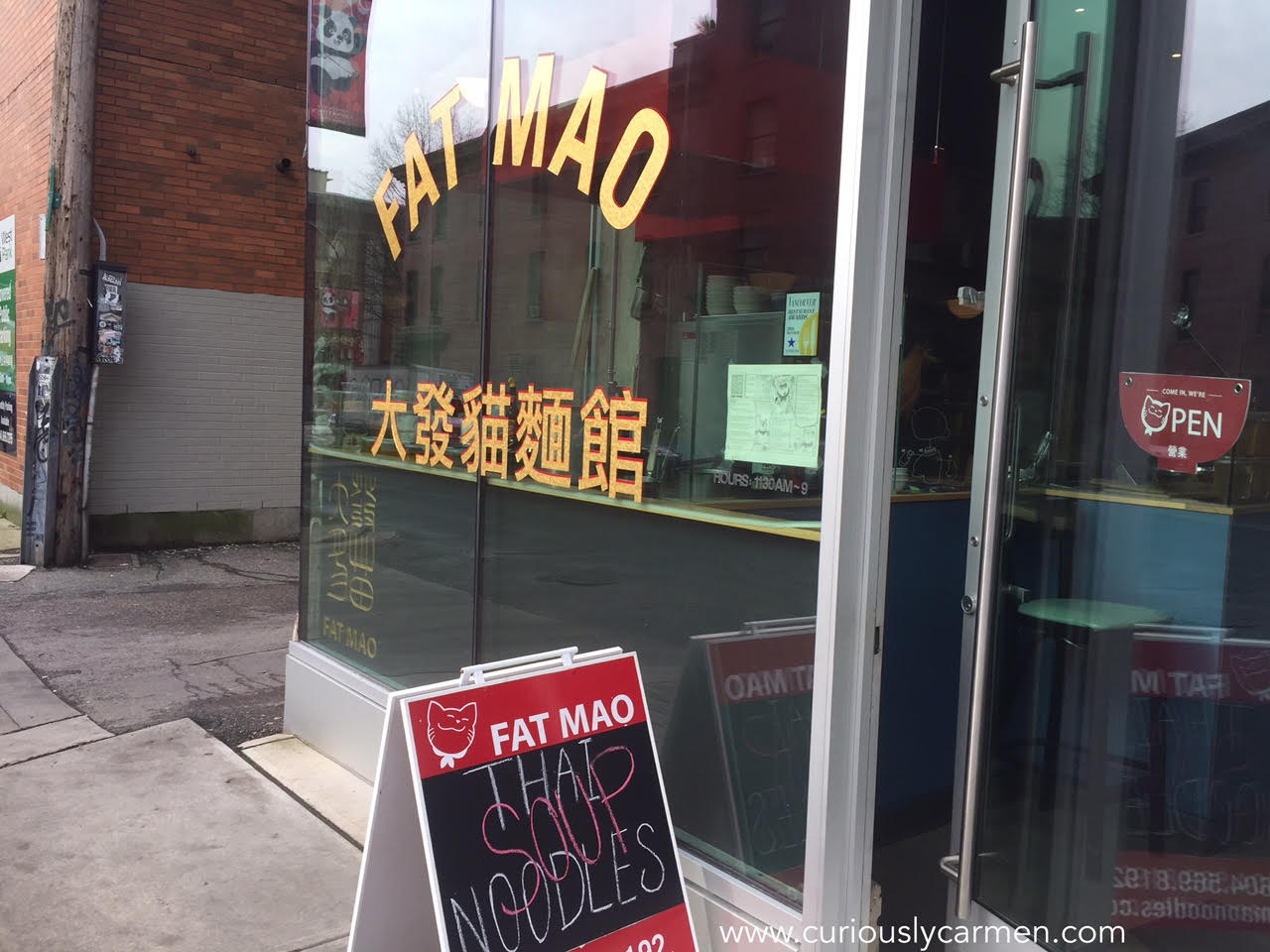 Fat Mao Noodles is located inside Chinatown. It is easy to spot from the rest of the stores on the bloack due to it's glass walls.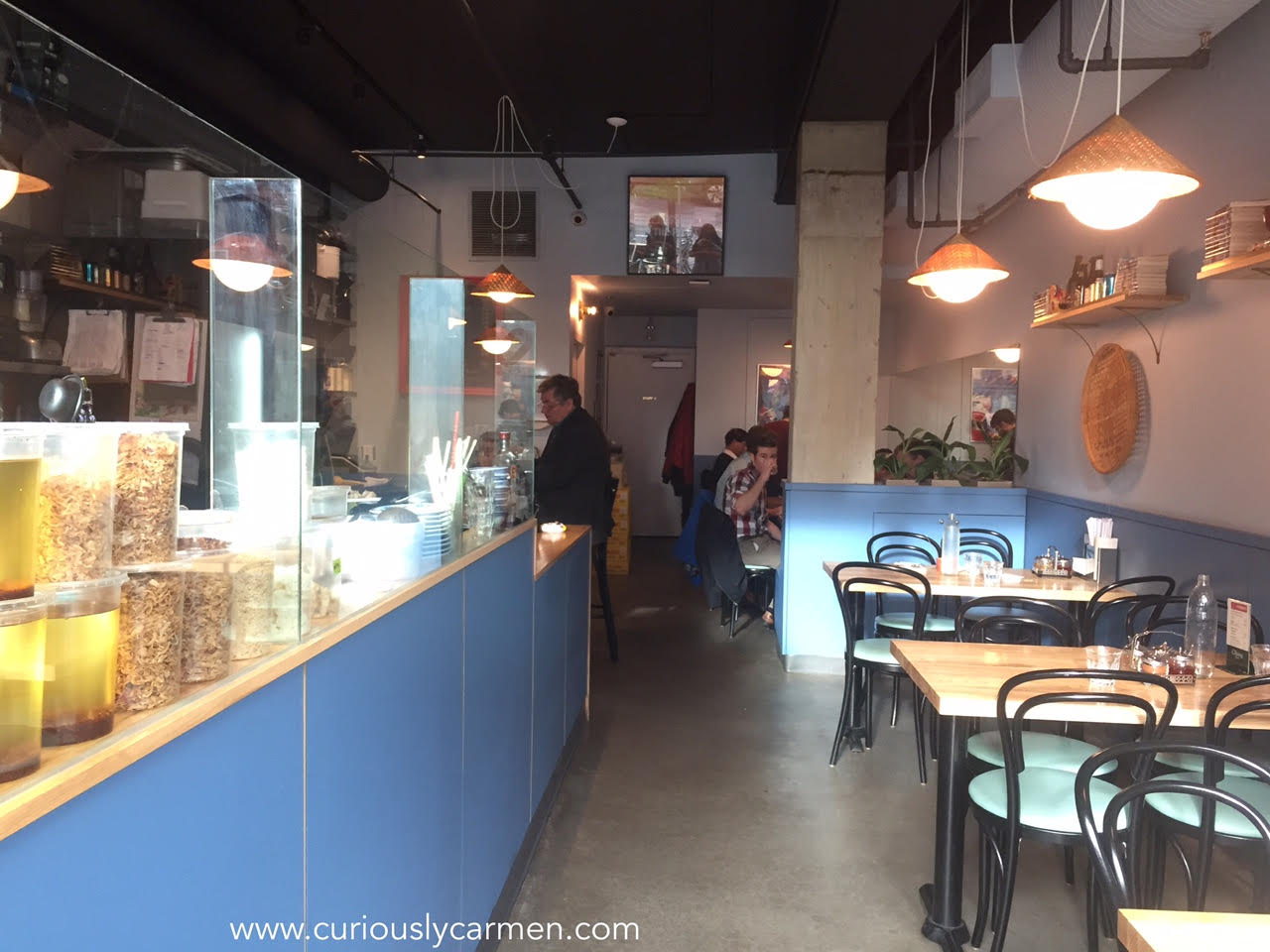 The restaurant is fairly small, but seating is still comfortable because customers do not have to squish beside each other. I was greeted instantly by the workers in the open concept kitchen. My friend and I came around 12 pm, and there was only one other table (pic taken before we left).
The place started filling up around 12:30pm, so we were glad we came before the rush and got to order and ask our server questions!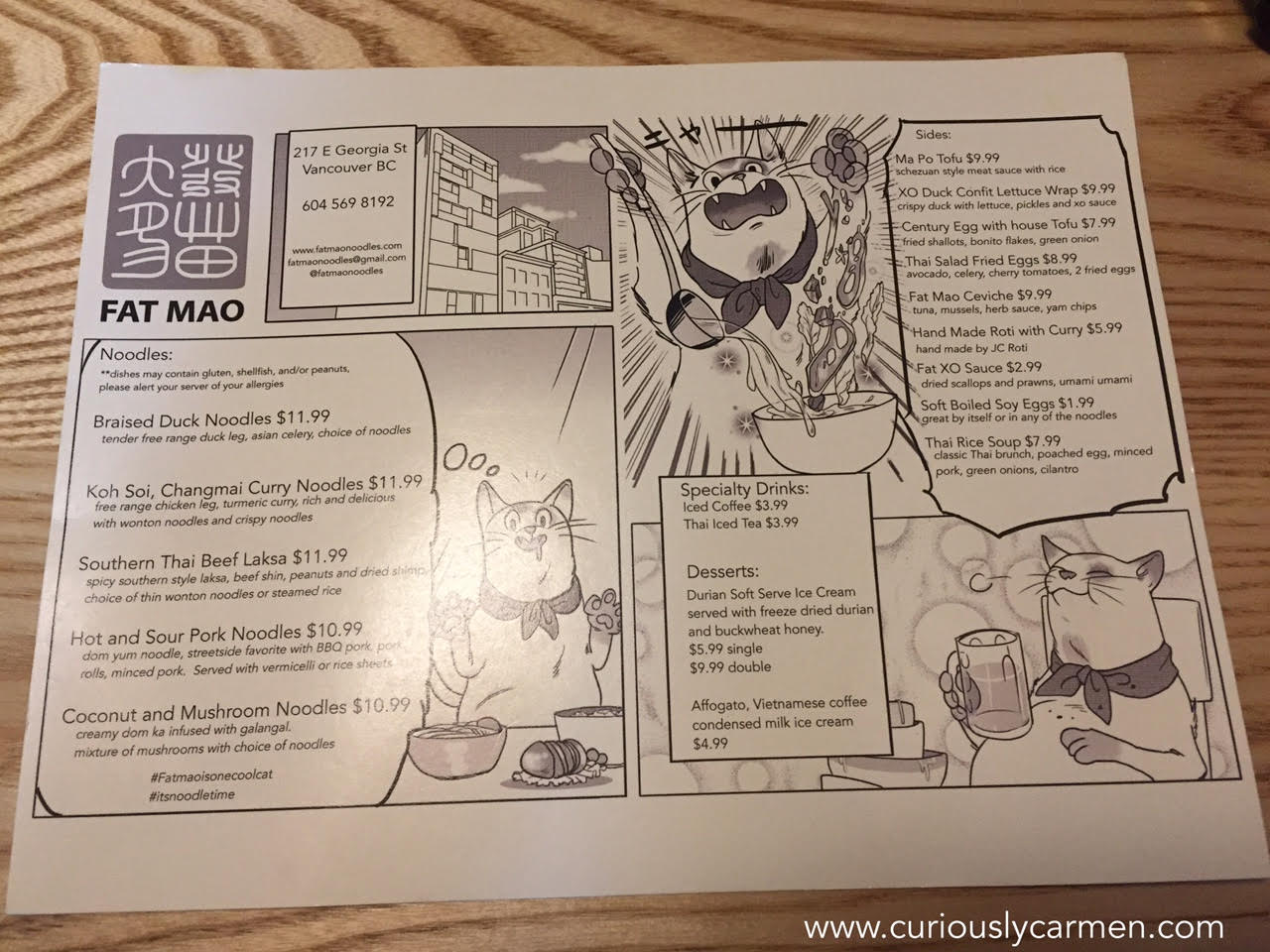 The menu is also worth including because it is so cute! We really enjoyed the cat themed decor in here, and I'm sure cat lovers would appreciate it as well.
After all, mao is cat in Cantonese, so the restaurant name translates to fat cat!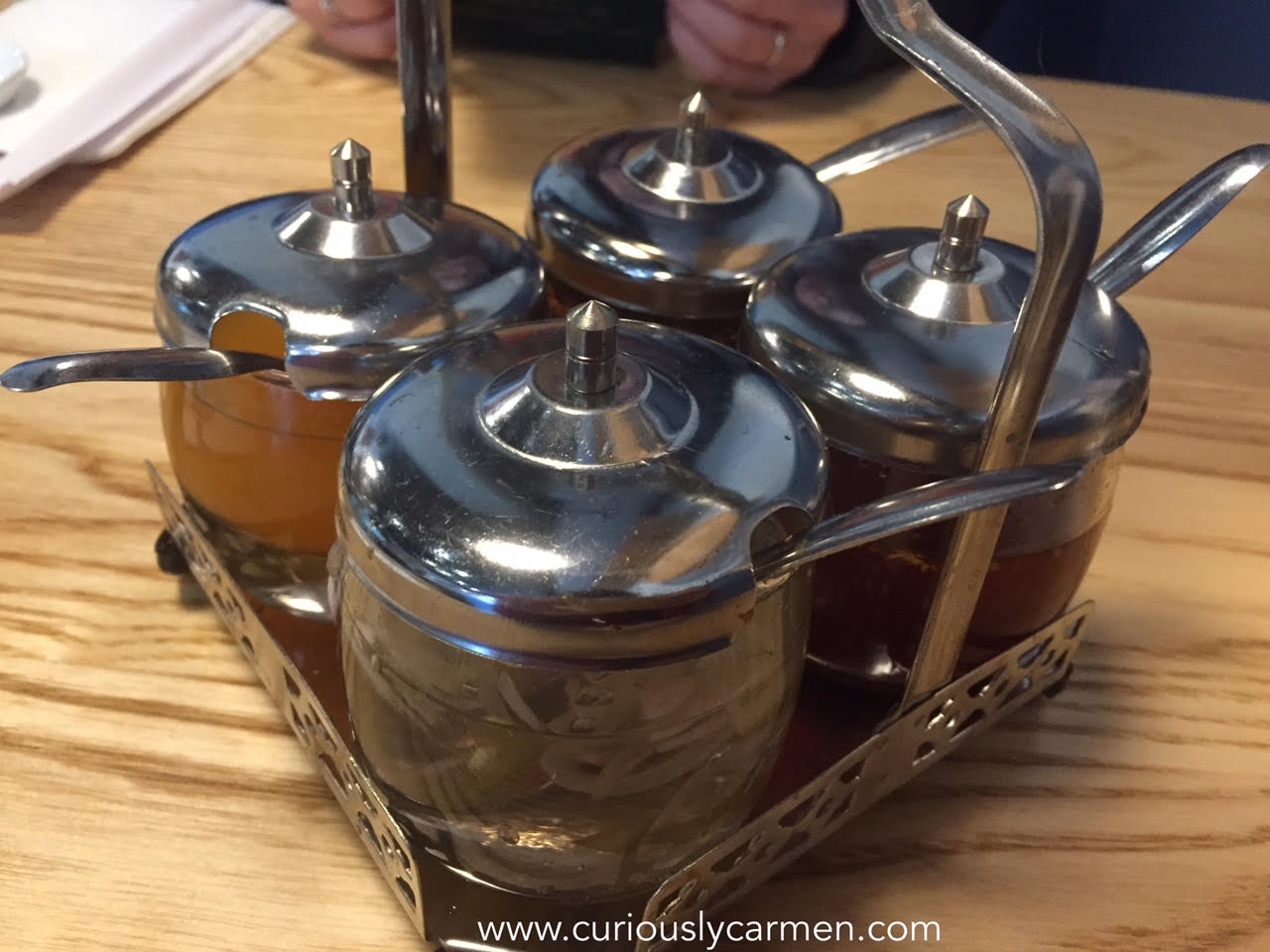 Each table also has a side of sauces to go with the noodles. As you'll soon read, these sauces played a really important part to my bowl of noodles!

Braised duck noodles, $11.99: With this dish, you could choose between either Shangnai chewy noodles or wide rice noodles. I love my doughy and chewy noodles so I went with the Shanghai noodles.
First off, the duck was amazing. It was soooo tender, and effortlessly fell off the bone. It was also full of that Chinese BBQ flavour. Just for the duck alone, I'm glad I ordered this! I've attached another close up of the duck below because it was that delicious.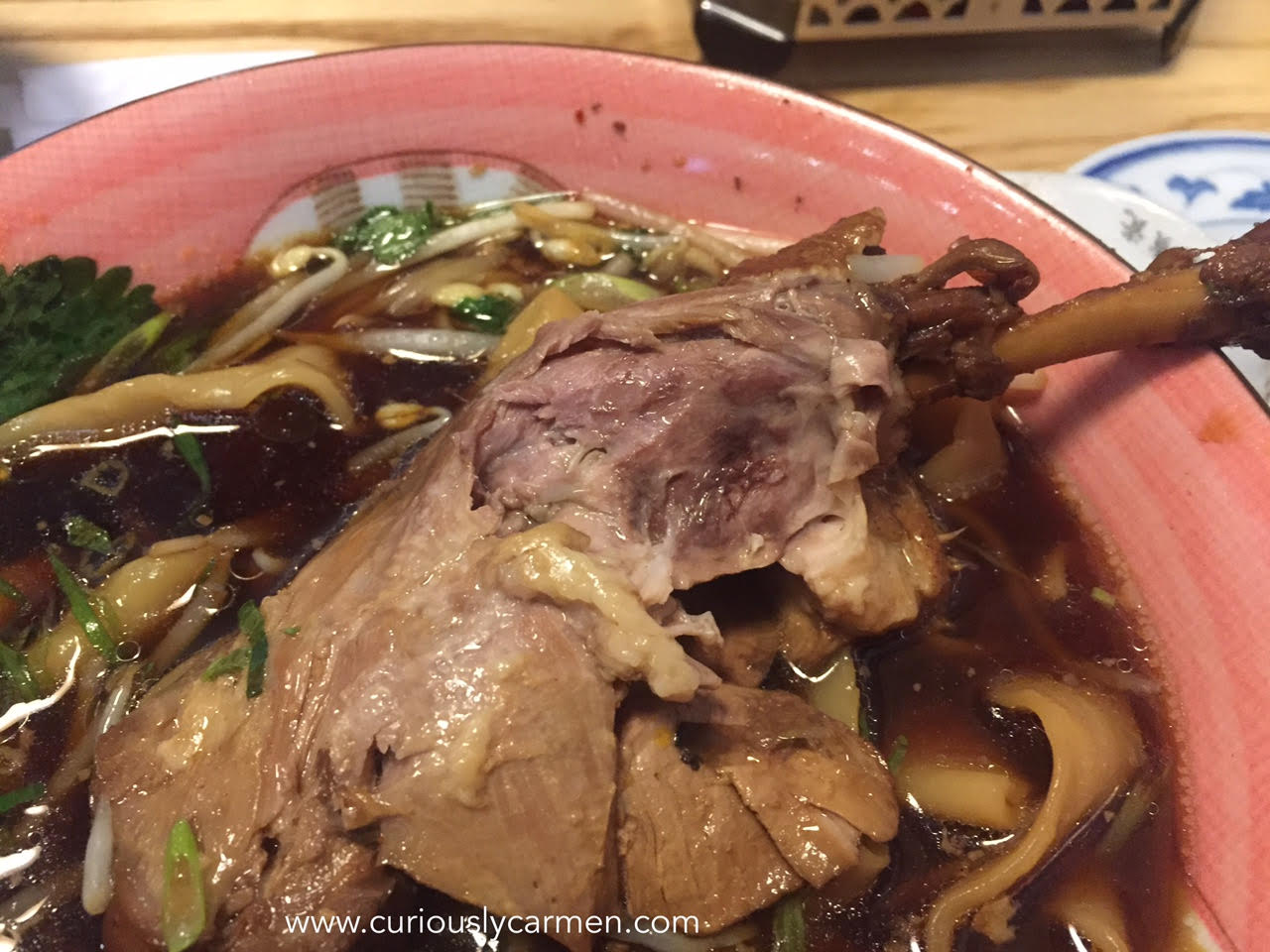 The noodles were perfect as well. They had a perfect bounce and were chewy. Since they weren't completely flat, some of soup went in between the folds and made it more flavourful.
The broth was average. It was more on the sweet side, but it was really flat. The server recommended two scoops of the vinegar sauce. I ended up adding 5 scoops and one scoop of chili to make it have more depth. I'm really glad the sauces were there!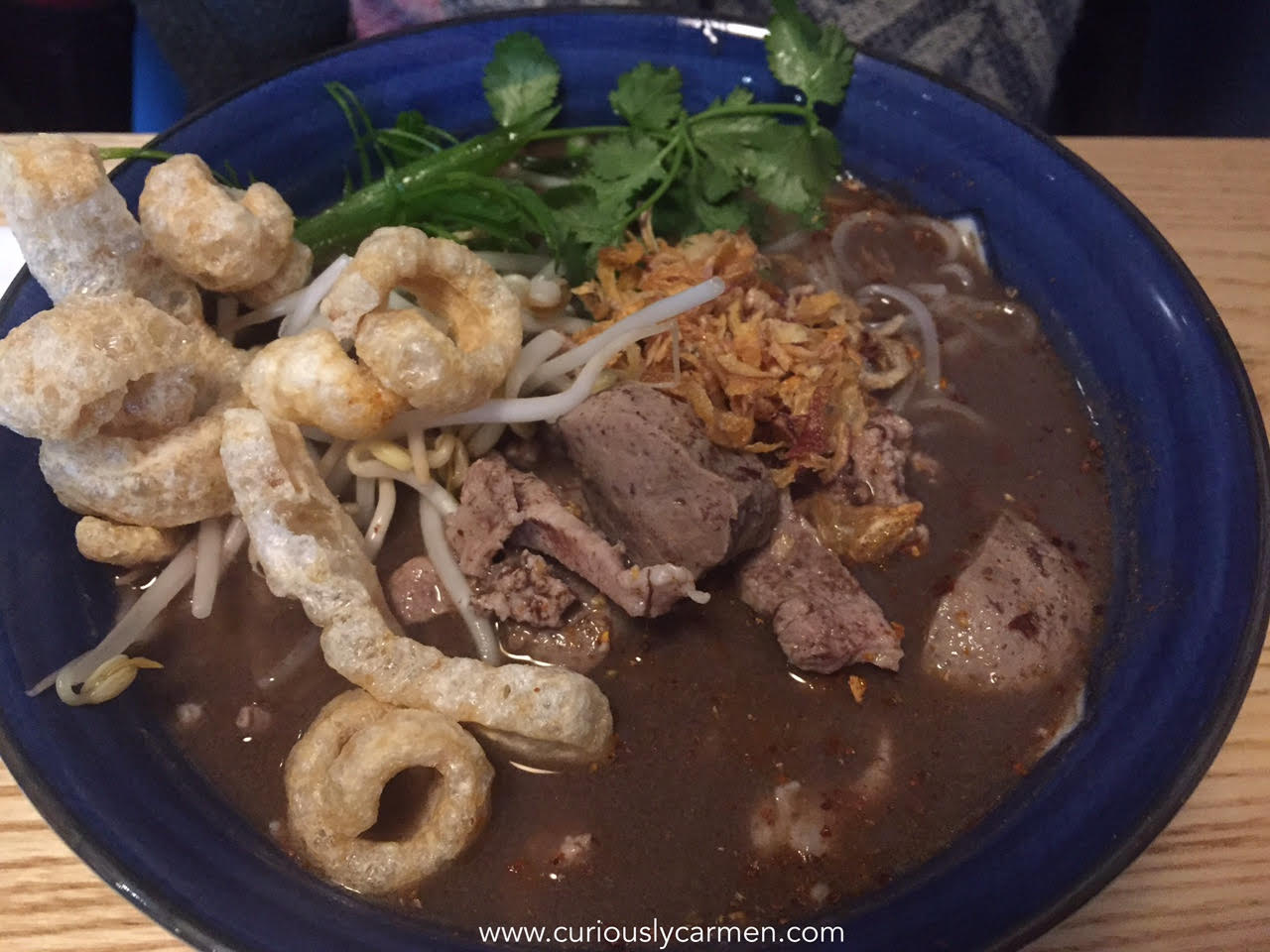 Boat noodles, $10.99: This was the special that day. It was a spicy pork broth with pork shoulder, beef balls, fried garlic bits and crunchy deep fried noodles. We also speculated on why it was called boat noodles.
Unlike the duck broth soup, this boat noodle broth was full of flavour. The broth had a nice tangy spicy kick to it. It didn't really need any of the additional side sauces but my friend added some chili flakes for even more heat.
We both agreed that the noodles were a bit underwhelming. They tasted kind of like pho noodles, but were harder (not in the undercooked way). We both liked the broth of the boat noodles more, but the noodles for the braised duck noodles were better.
The boat noodles were definitely more of a southeast Asian influence while mine was more like a Taiwanese noodle. This is why we liked Fat Mao because you could get a mix of different types of Asian cooking!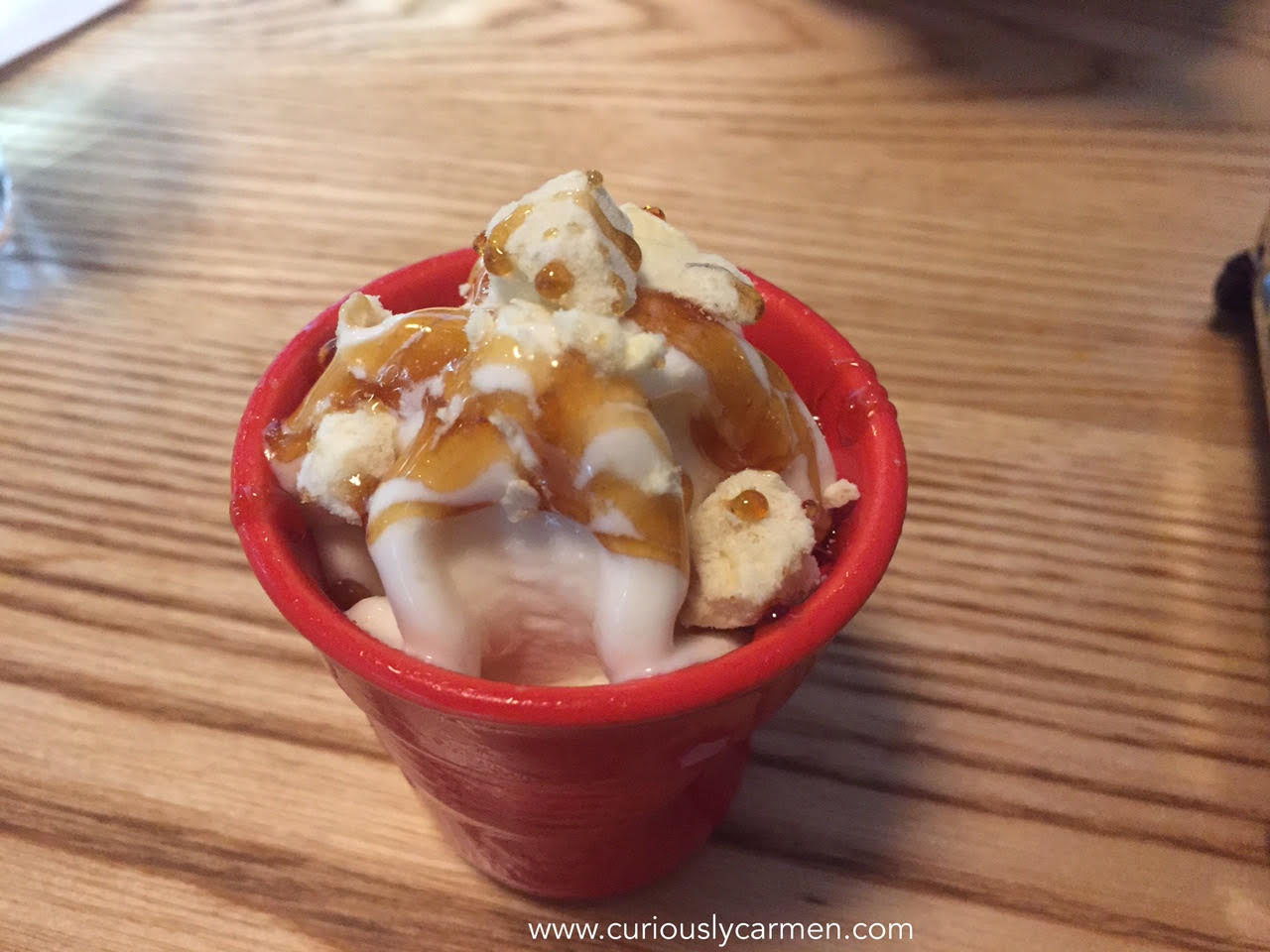 Durian ice cream, $5.99: Although my friend was quite full, she really wanted to try the durian ice cream. She is a huge durian lover and wondered how durian ice cream tasted.
The ice cream was very light and fluffy, more like a mousse. It had a strong durian taste which she liked, and it was drizzled with caramel sauce on the top.
However, for the price, it was not worth it. She got the small size, which was about 6 regular spoonfuls. For $6, that was really steep and if she had known the price, would have not ordered it. So, it was delicious until she found out the price. But she also commented that she should have asked for the price before ordering.
Overall, we enjoyed our visit to Fat Mao and left satisfied. Although my broth was pretty flat, it was easily made better with their sauce. And that whole duck leg was just amazingly tender and what a meat lover's dreams are made of.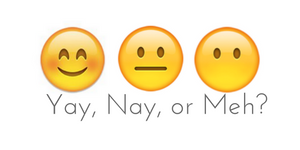 Yay!