Disclaimer: In light of COVID-19, I just wanted to say that I am doing my part and social distancing. This is a review based on contact-less delivery.
I know that you may want to go out and have fun, but it is crucial that we distance ourselves to slow the spread of the virus and flatten the curve before it gets worse. Yes, you may feel fine but you could be passing on the virus to someone who is immunocompromised or elderly that may not survive this virus.
---
I've seen Obanhmi on Uber Eats for awhile, and was always curious about it… But for some reason, we always ended up getting our usual delivery places instead. However, this pandemic has made me try new delivery places to keep me out of boredom, including Obanhmi!
We ordered four banh mis which was enough for lunch and dinner. The banh mi were nicely labelled and came in a cute, branded paper bag.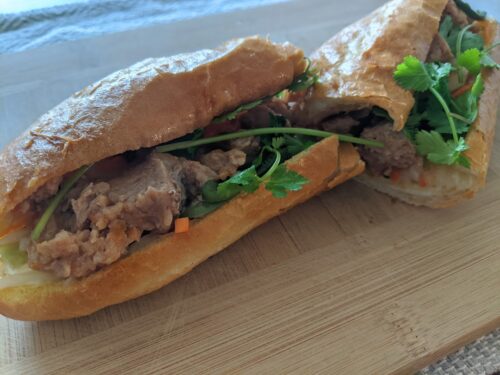 Meatball banh mi: The fiance chose a meatball banh mi. If you are ordering for more than 1 meal, I would recommend eating this first because the meatballs were quite saucy and juicy so it would make the bread soggy if you waited too long.
The meatball banh mi was absolutely delicious! The meatballs were tender and juicy. Cooked in a tomato sauce, they had a slight hint of sweetness to them as well. I will warn you that this is a bit messy to eat because it is saucy and the bread got a bit soggy.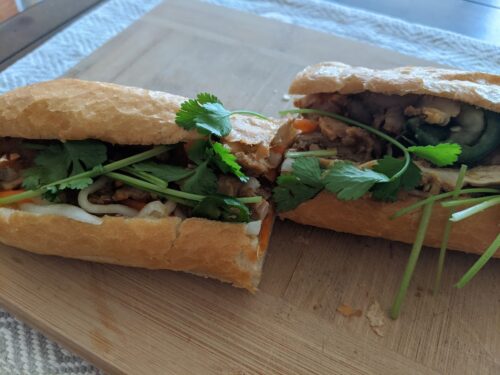 Lemongrass chicken: I actually used to only order cold cut banh mi, until I tried lemongrass chicken banh mi at Thai's Saigon Bistro and Basil Garden and was converted! We actually tried to order this a couple weeks prior, but their lemongrass chicken sub was sold out and that was the main reason I wanted to get it.
The lemongrass chicken banh mi did not disappoint either! The chicken had a nice, grilled flavour to it and was juicy and tender. This hit the spot perfectly! My only complaint would be that it was a tad bit too salty.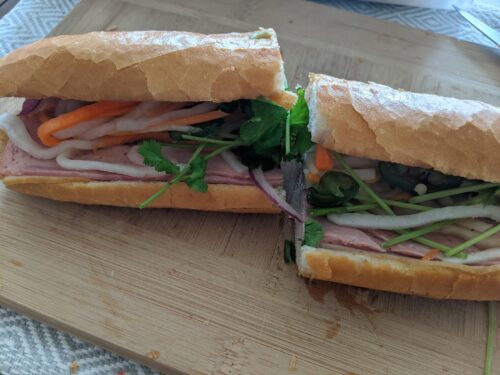 Classic cold cut: A classic cold cut banh mi brings me back to childhood! My mom used to buy these for me quite often because she worked close to Bale. So nostalgic! I actually didn't even realize until a few years ago that there were different types of banh mi like lemongrass chicken or beef. I thought that only the cold cut version existed!
This was like biting into childhood! It was a solid cold cut banh mi and because it only has cold ingredients, this was the only banh mi where the baguette wasn't soggy. My favourite part of a cold cut banh mi is the Vietnamese meat pate. So delicious!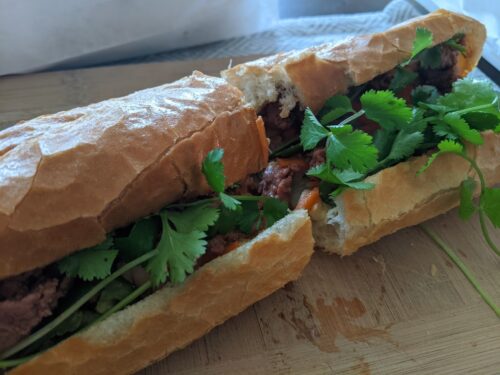 Sate beef: The last banh mi we ordered was the sate beef! This was a flavour bomb explosion as well. The sate beef was aromatic and delicious. Just like the lemongrass chicken, my only complaint would be that it was slightly too salty.
All in all, Obanhmi was an excellent choice and we would definitely order again! All of the banh mi were delicious even though a couple of them were on the salty side.
The prices are pretty reasonable too, about $6-7ish I believe for a sub. The baguette sizes were also larger and longer here compared to other banh mi places I've tried.