Hi everyone,
For Valentines Day this year, the boyfriend and I decided to go out for a nice dinner. Since we didn't make reservations a month in advance, we were a bit strapped on our dining options. A lot of places that we wanted to go were already all booked. Lesson learned, figure out what to do way before Valentines Day!
But everything worked out in the end, and we couldn't have been happier with our decision =) We ended up making a reservation two weeks before to The Fish House in Stanley Park. I thought I had went there a few years ago for my aunt's bridal shower, but I think that was actually The Tea House in Stanley Park.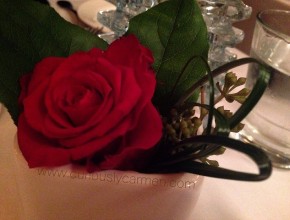 They had called us two days before our reservation to confirm. Driving to The Fish House was pretty easy, there's a shortcut that you can take so you don't have to drive around the whole park. Also, Stanley Park doesn't have any street lights so it may look a bit creepy since it's pretty much pitch black except for the car lights.
We had asked for a window spot, preferably with a view. Unfortunately,they weren't able to give us a window seat and the restaurant didn't have a nice view of the water, as I was hoping since it wasn't that close to the water. We were seated quickly and there was a nice, fresh rose and lit candles waiting for us!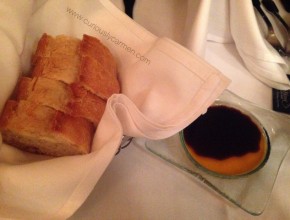 As expected, the restaurant was packed with other couples celebrating Valentines Day. Our server was really nice and made an effort to check in on us a few times, even though we could tell she was busy. Their service was excellent.
To start, we received a complimentary bread basket, served with lobster oil and vinaigrette. The bread was very soft and served warm. The Fish House also sells the lobster oil, serving it as a side with the complementary bread is a great way to advertise!
The lobster oil had a strong seafood taste and scent, so those who don't like seafood probably will think it smells too "fishy" , but we loved it.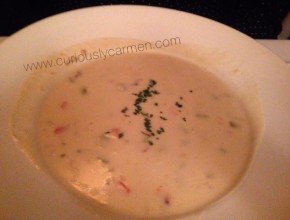 The boyfriend insisted that we both get appetizers, even though I thought it was going to be a pricey bill =( He wanted to order either the crab cakes or clam chowder, but decided on the latter.
The clam chowder was creamy, rich, with a generous amount of seafood. It also came sprinkled with small bacon bits and potatoes.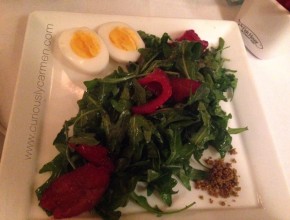 For myself, I knew what I wanted instantly when I saw "arugula" and "salmon" in one line. Salmon and arugula salad, with beet-cured Sockeye salmon, argula, pistachio, red onion, and dill vinaigrette ($13).
I loved the arugula- it was fresh, crisp, and the dill vinaigrette sauce had a tart taste to it which completed the dish perfectly. I thought it would be served with smoked salmon, so I was a bit surprised when the salmon had a sweet taste to it. The egg was cooked hard, which I didn't mind and tasted average.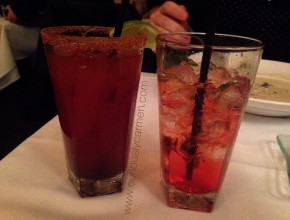 As I mentioned earlier, the restaurant was pretty busy that day and they forgot our drinks. After our starters came, we asked if our drinks would be arriving soon and they came shortly after. Caesar for the boyfriend, a raspberry mint soda for me. The boyfriend enjoyed the caesar, which was spicy enough for him.
I loved my raspberry mint soda so much that I ended up ordering two, hehe. The addition of the fresh mint really enhanced the raspberry flavour and it wasn't too sweet. I found that the second order I received had a stronger tonic water taste. It was also a bit heavy on the ice but I drank it so fast that the melting ice wasn't a problem =)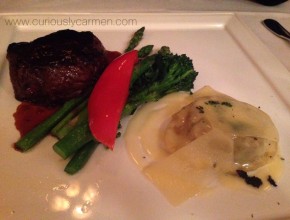 So far, we were having a great time. The starters were great, and so were the drinks and service! Now it's time for the main course!
I'm not too sure why the boyfriend ordered a sirloin steak at a restaurant named The Fish House but oh well =) This was the  "surf and turf", which came with a 6 ounce sirlion and a ravioli made with sable fish and wild mushroom.
He asked for the steak to be cooked to be cooked medium rare, and it was cooked puuuuurfectly. As for the ravioli, he said it was very flavourful but wished there was more.
His vegetables were cooked in the same beurre blanc sauce as mine, and the sauce was amazing. Beurre blanc is a French sauce made of melted butter and white wine. So heavenly.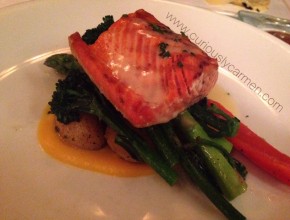 I ordered from the "simply grilled fish" section, since I wanted to try the seafood at a seafood specialty restaurant. That, and I love my salmon. They had a wide variety of fish to chose from, I ordered the sockeye salmon.
The sockeye salmon was cooked perfectly and flaked right off. It was darker in colour since it's wild salmon. The beurre blanc sauce was lightly covering the top, and it complemented each other so well. My beurre blanc sauce was also made with lemon juice, since we all know how amazing lemon and salmon go together.
The potatoes were also bursting with flavour and seasoned with herbs. Swirling the beurre blanc sauce with the potatoes and fresh, crunchy vegetables was just amazing.
I'm sorry to be using the word amazing so much in this post, I'm not sure how else to describe the meal. DELICIOUS? PERFECT? Take your pick =)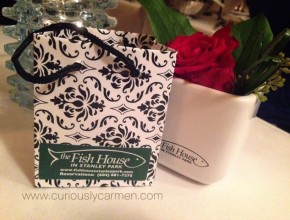 We were too full for desert, but after paying for the bill, our great server came by and gave us a small present from the restaurant! It was a strawberry macaron and a marshmellow! The strawberry macaron was pretty big, fluffy, and sweet but the marshmellow was pretty gross…. it was grey and tasted like wet cardboard. Anyways, we enjoyed the little gift from them!
I have nothing but positive things to say about our experience at The Fish House. From the quality food, romantic ambiance, and service, The Fish House really knows what they are doing and everything is executed perfectly. I'm so glad that we came here and it was the perfect place to spend Valentines.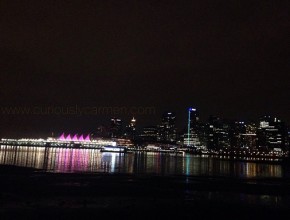 After the dinner, we drove to the other side of Stanley Park to see the city skyline. Apparently, lots of other couples had the same idea because the parking lot was packed. This is one of our favourite spots for a late night drive, so we've been here a lot of times but never seen it this busy at night!
What did you do for Valentines? What are some other great restaurants for Valentines Day?
Thanks for reading!
-Carmen