By now, I'm sure you have ALL heard of Kylie Jenner, or at the very least, the Kardashians. I'm not going to go into detail with them because I do not 'Keep Up with the Kardashians' (pun intended) and have never watched their 'reality' TV show nor do I ever plan to.
I never took an interest in Kylie's lip products, until Maki told me she was planning on buying her products. The initial reaction of 'Whaaatt whyyyyy' shifted to curiosity, which is seemingly fitting for my blog's name, Curiously Carmen :)!
Maki really enjoyed the formula of her lip kits , much to both of our surprise. Unfortunately, she did not like how one of the shades looked with her skintone, so she gave it to me. Fast forward to today, I am here to review the product!
The product I will be reviewing today is the Kylie matte liquid lipstick in the shade 22. 22 is a beautiful, attention grabbing bright orange-y red.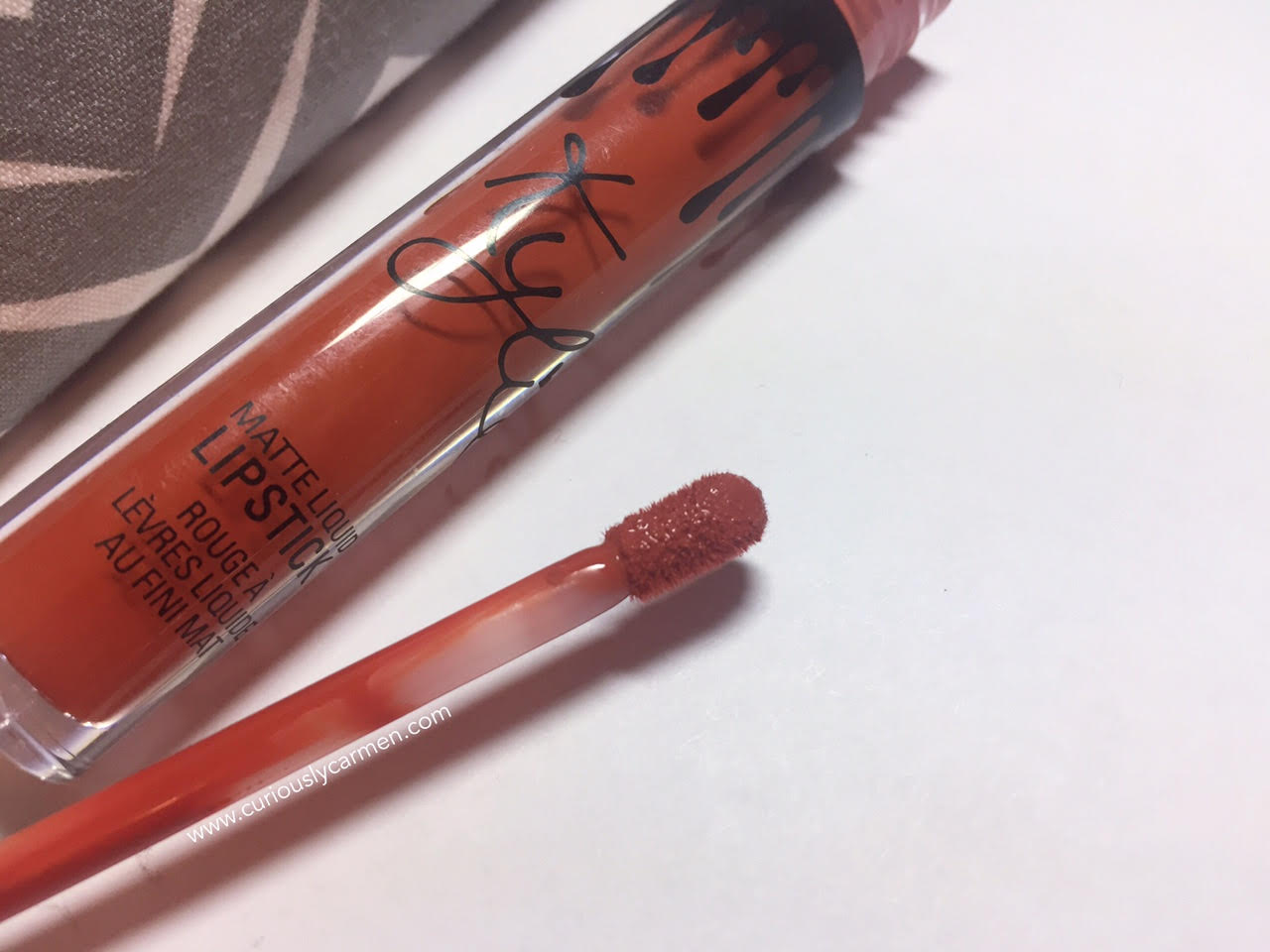 Whenever I wear 22, I seem to always receive compliments on the colour. People are often surprised that it is by Kylie Jenner, because they didn't know that her products were actually pretty decent (myself included in the past).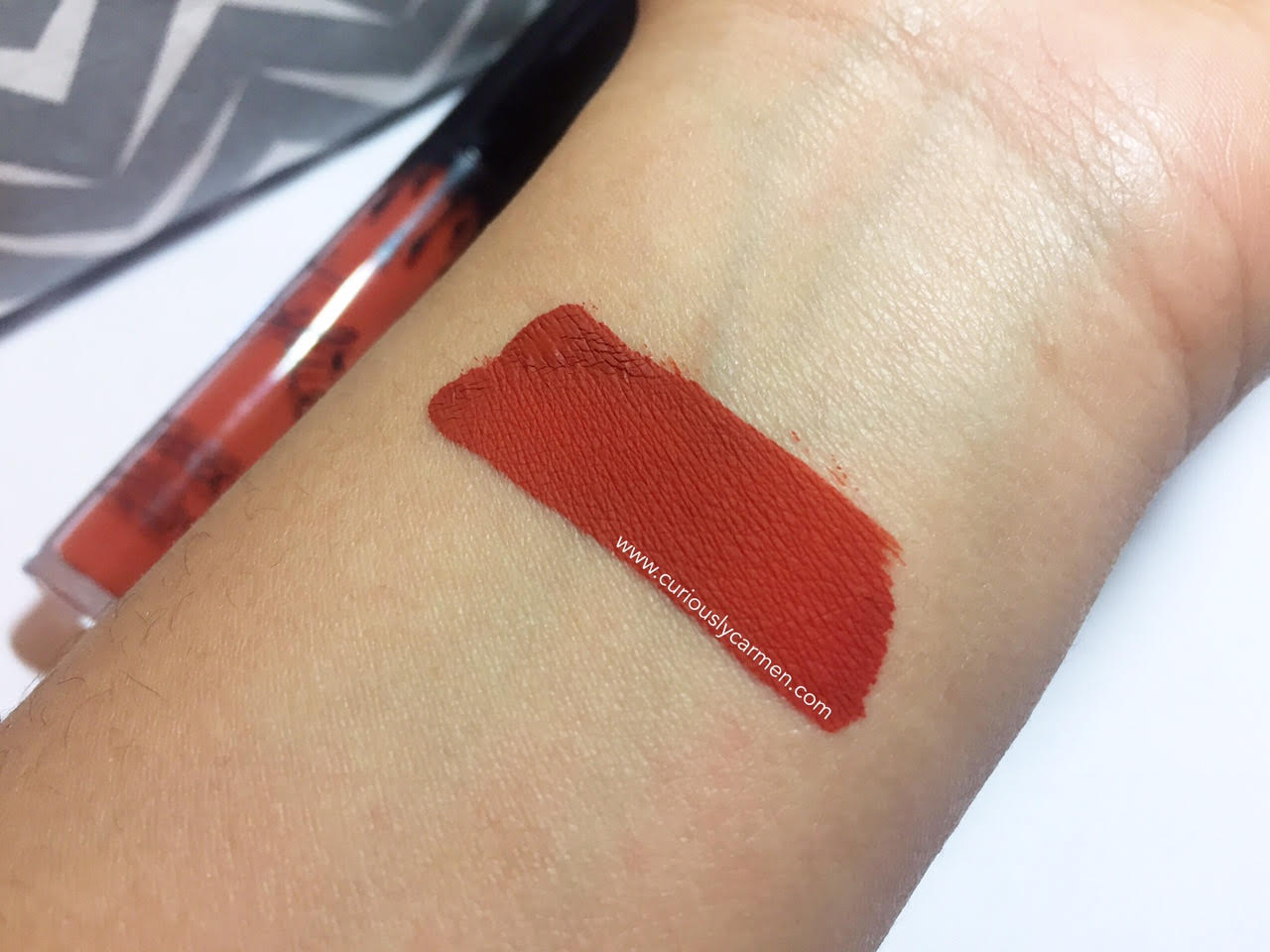 The swatch above is just from one swipe! You can see how pigmented it is. The top corner looks a bit weird because that was the first spot I swatched, and  it was still drying.
As the name suggests, it is a true matte finish. Once it dries, it does NOT budge, so it is important to apply it slowly and carefully. This is not one of those lipsticks where you can quickly grab it from your purse, and blindly swipe it on your lips without a mirror.
The few seconds that it takes to dry may feel strange if you're not used to a matte lip product. It dries out my lip at first and I feel the need to put lip balm on. After a couple of minutes, the feeling goes away and it wears pretty comfortably.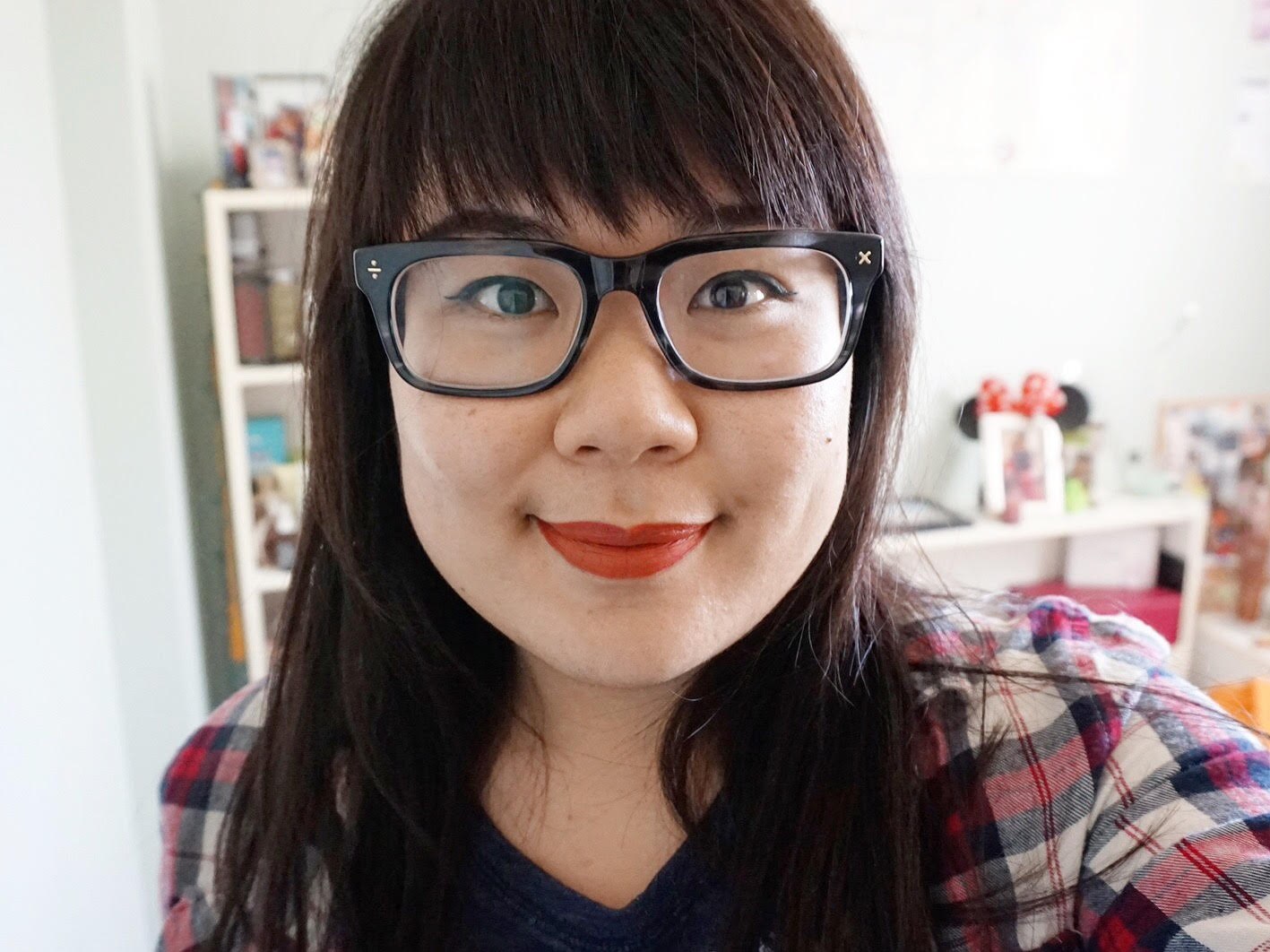 What I love most about this product is how LONG it lasts. As I said above, this lipstick seriously does not budge. I tested it and wore it for over 9 hours, with meals/drinks/snacks in between and only the middle part faded a little. It is really impressive and so far, the longest lasting lip product I've tried.
It is also incredibly pigmented and very true to colour. One swipe is all you will need. Although it is extremely long lasting and highly pigmented, there is no chemical scent or taste to the lipstick and it has never smudged on my lip.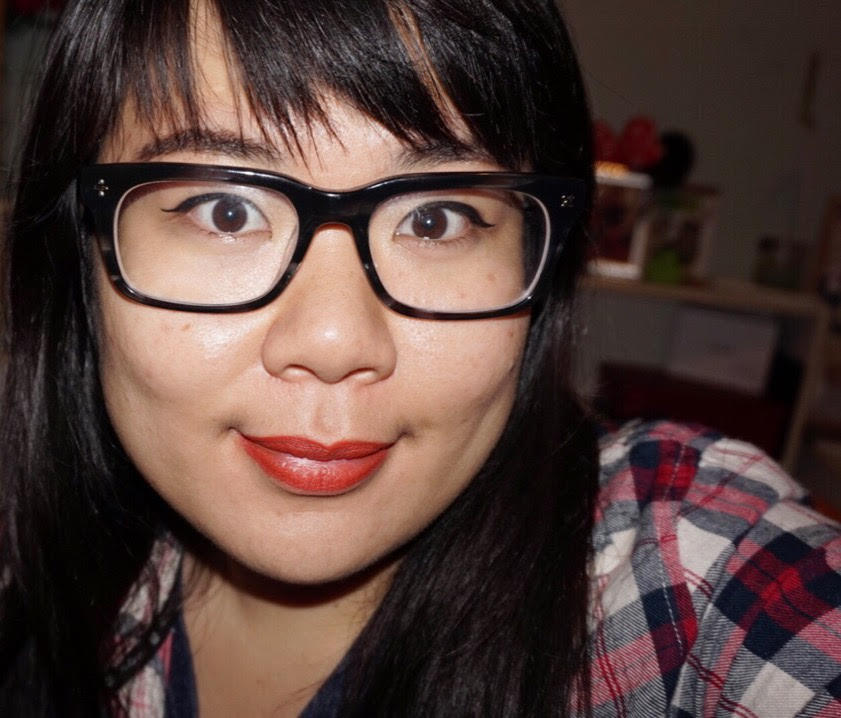 Here is a picture taken TEN  hours after wear, using bright flash so you can see it better. I applied this at around 1pm, and took it off at 11pm. You can see the middle part start to fade.
During these ten hours, I drank some water, iced tea, and ate a filling sushi & udon dinner. I was positive that the slippery udon would get rid of the lipstick, but nope! Amazing!
Overall, I am really impressed with Kylie's lip products. I never thought I would try her products, or let alone LOVE it, but I'm really glad I gave it a chance. I'm already thinking of the next shades that I want to try. Unfortunately, they are a bit pricey with the USD conversion and shipping rate seeing how I'm a jobless student right now. But I'm hoping to get some more during Christmas!
Edit: After writing this post, the Kylie Gods were on my side and they offered free international shipping! I wanted to buy them ALLLL, but I behaved and only bought one! It arrived about a week later, and is the Leo shade.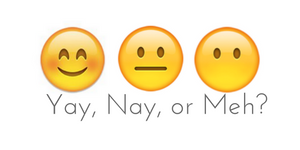 Yay!