Hi everyone!
I am so excited to be holding my first giveaway! My blog is turning one soon (January 30th, to be exact) and I wanted to do something here to celebrate it. Perfect timing to do this giveaway, so thanks to Canadian Beauty Bloggers & Cetaphil for the opportunity! Cetaphil will always hold a special place in my heart as it was the first face cleanser I've used, so there was a bit of nostalgia while writing this post.
Please keep in mind this is my first giveaway, I am welcome to suggestions on how I can improve it.
Keep reading on this product and how to win!
The Cetaphil DermaControl line is specifically formulated for oily, combination or blemish-prone skin… right up my alley (unfortunately? haha!). The special ingredient in this is zinc, which apparently absorbs oil really well and provides a shine-free, matte finish. Let's see how it does!
I was a bit hesitant as to how effective it would be, but as I mentioned before, I used to be a big fan of Cetaphil in my puberty days and knew that their products were always great. For the sake of this review, I went back to basics and used only these two products for a week, before mixing these products in with my other skincare favourites!
First up, was the oil control foam wash. The scent was slightly medicinal, and had a light and airy feel to it. I agree that it was very gentle and would be suitable for those with sensitive skin!
My skin did not feel dry after using this product, and felt moisturized! I felt like this was a good everyday wash if you don't wear heavy foundation. Otherwise, I don't think it will be enough to take off heavy face makeup.
After using the cleanser, I followed up with the oil control moisturizer. I liked how the moisturizer was lightweight and non-greasy. Just like the cleanser, the moisturizer did not have any fragrance or perfume to it. It smelled a bit like sunscreen due to the SPF 30, but wasn't as thick as sunscreen.
I used this every morning for a week while going to work to establish a regular routine. I chose to do this when I was back in the office as I noticed that my skin tends to get oily around 1pm. If my skin was not very oily in the afternoon while I was work, I knew that the cleanser and moisturizer had done its job!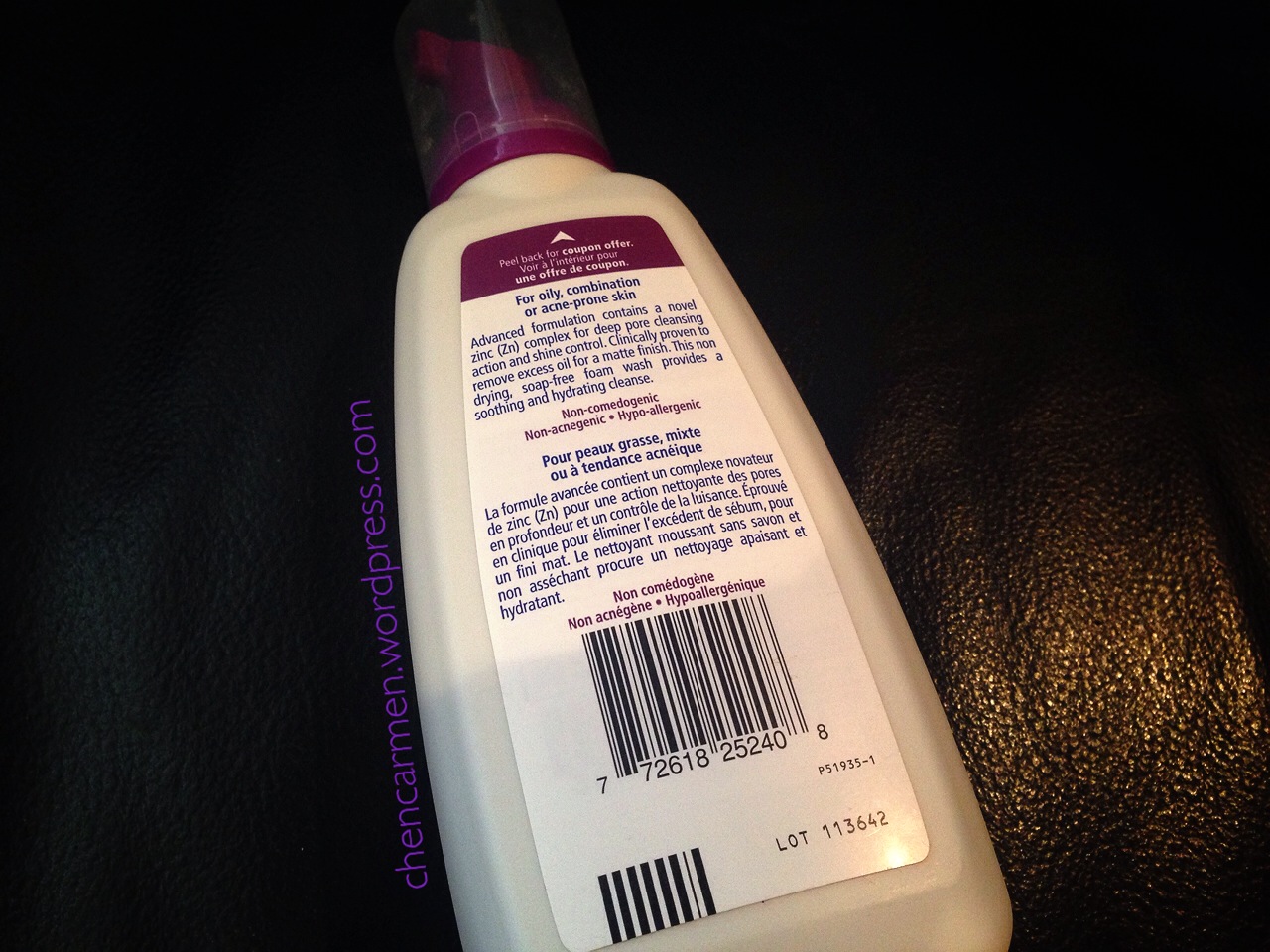 For the first day I used this, my skin was amazingly not oily by the time 1 pm rolled around! I was quite surprised, as I had gotten used to having to blot my face but I didn't have to. For the rest of the day, my skin did not get oily or shiny! But I thought maybe this was beginners luck… nope!
For the next week using this product, I am happy to say that it these two products did an amazing job at combating my oily skin. I love how these two products are very gentle and mess free to use! I'm not sure how well this product works for non oily/blemish prone skin, but I can say without doubt that this product will do a great job at making you oil and shine free for hours and hours!
Oh Cetaphil, how much I've missed you. Sometimes it's great to go back to basics and your beauty roots. I'm glad that I did too. Thank you Canadian Beauty Bloggers and Cetaphil for giving me this opportunity! Click on their names to read more =)
How to enter:
Comment on this post below and let me know:

The first skincare brand used
And how old you were!

Go on Instagram (@curiouslycarmen) and like my giveaway photo, and comment with the first skincare brand used and at what age
You don't have to do both, but it will increase your chance of winning!
This information is not used for marketing purposes, I'm just curious and want a fun/personable way to host this giveaway, as Cetaphil was the first brand I personally tried!
Giveaway fine print:
Prizes: One travel sized Cetaphil DermaControl Oil Control Foam Wash

&

 One travel sized Cetaphil DermaControl Oil Control Moisturizer SPF 30 (Same as the two products I just wrote on!)
Open to Canadian residents only
Must be of legal age in your province or territory of residence
Winner will be contacted by e-mail and announced on February 1, 2015 (So be sure to leave a valid email when commenting. If entered through Instagram, I will contact you via private message!)
If you are the winner (yay!), you will need to provide me with your mailing address and phone number as well
Questions: Leave a comment or email me at [email protected] / leave me a message on Instagram
Thanks for reading and best of luck!
-Carmen