The boyfriend is currently watching football so I thought I would do one of my favourite hobbies as well – writing and talking about makeup! Summer has officially ended, and I am equal parts sad/happy. I am looking forward to wearing cozy warm clothes, the leaves in the fall, and of course, Christmas and my birthday!
This review seems fitting for this time of the year. The KORRES Castanea Acadia line just launched this past August exclusively at Shoppers. Why do I say it seems fitting? Well, the key ingredient in these creams something found in the Arcadian chestnut tree, as I'll explain below. Chestnuts seem very autumn to me, especially warm roasted chestnuts… no? Yes?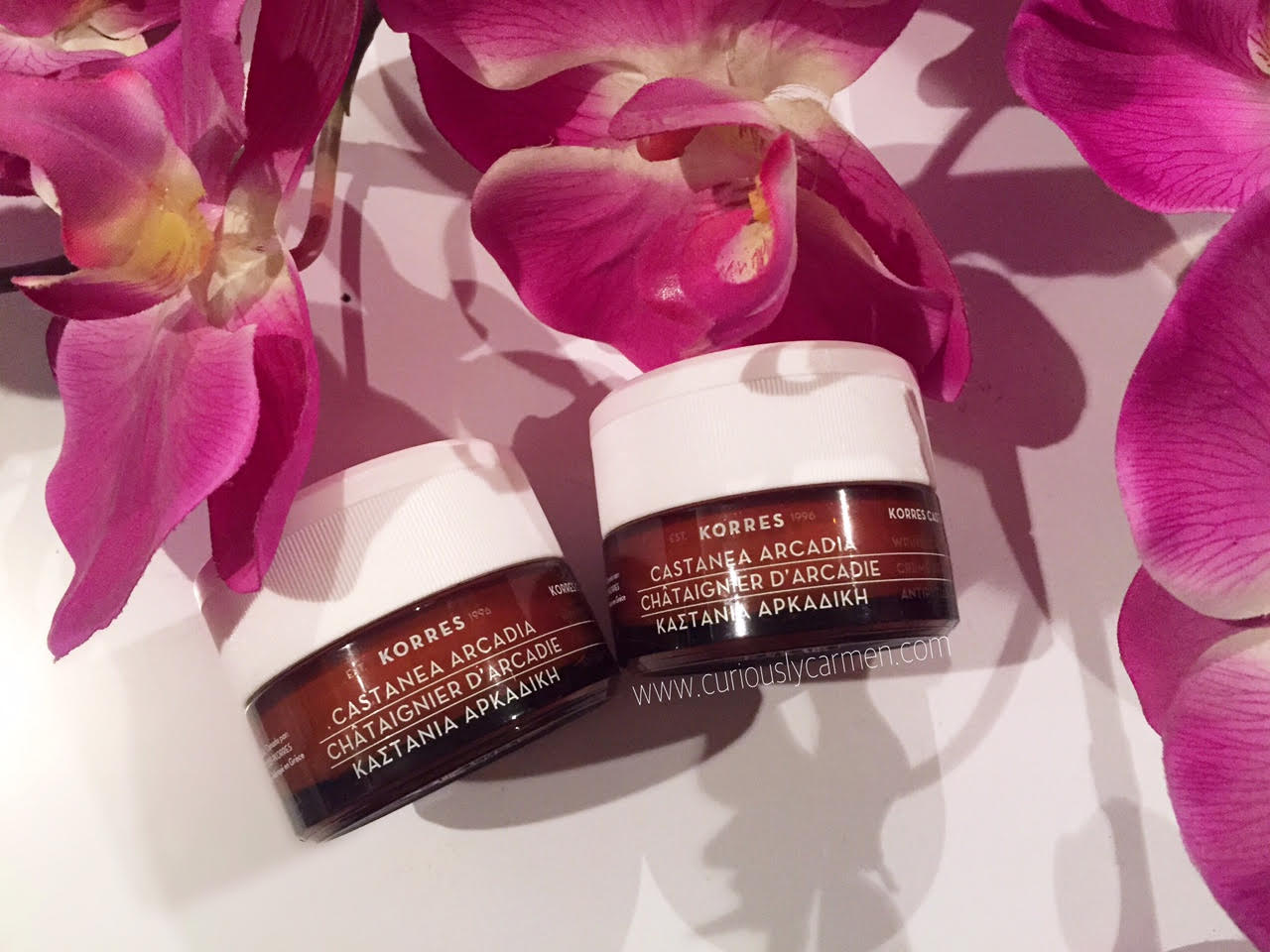 I love trying to explain beauty products in simpler terms here on my blog. The term 'Castanea Arcadia' is very fancy sounding, isn't it? I have to admit I didn't know what either of those two words meant until I started writing this post!
Castanea is a plant family (genus if you want to be very scientifically specific), which chestnuts belong to. Arcadia is a province in Greece, and the chestnuts used in this cream are harvested specifically from that region.
The special ingredient in these creams are lupeol. Lupeol is a powerful natural ingredient from the Arcadian chestnut tree, that contains incredible antioxidant, anti-inflammatory and skin-regenerative properties.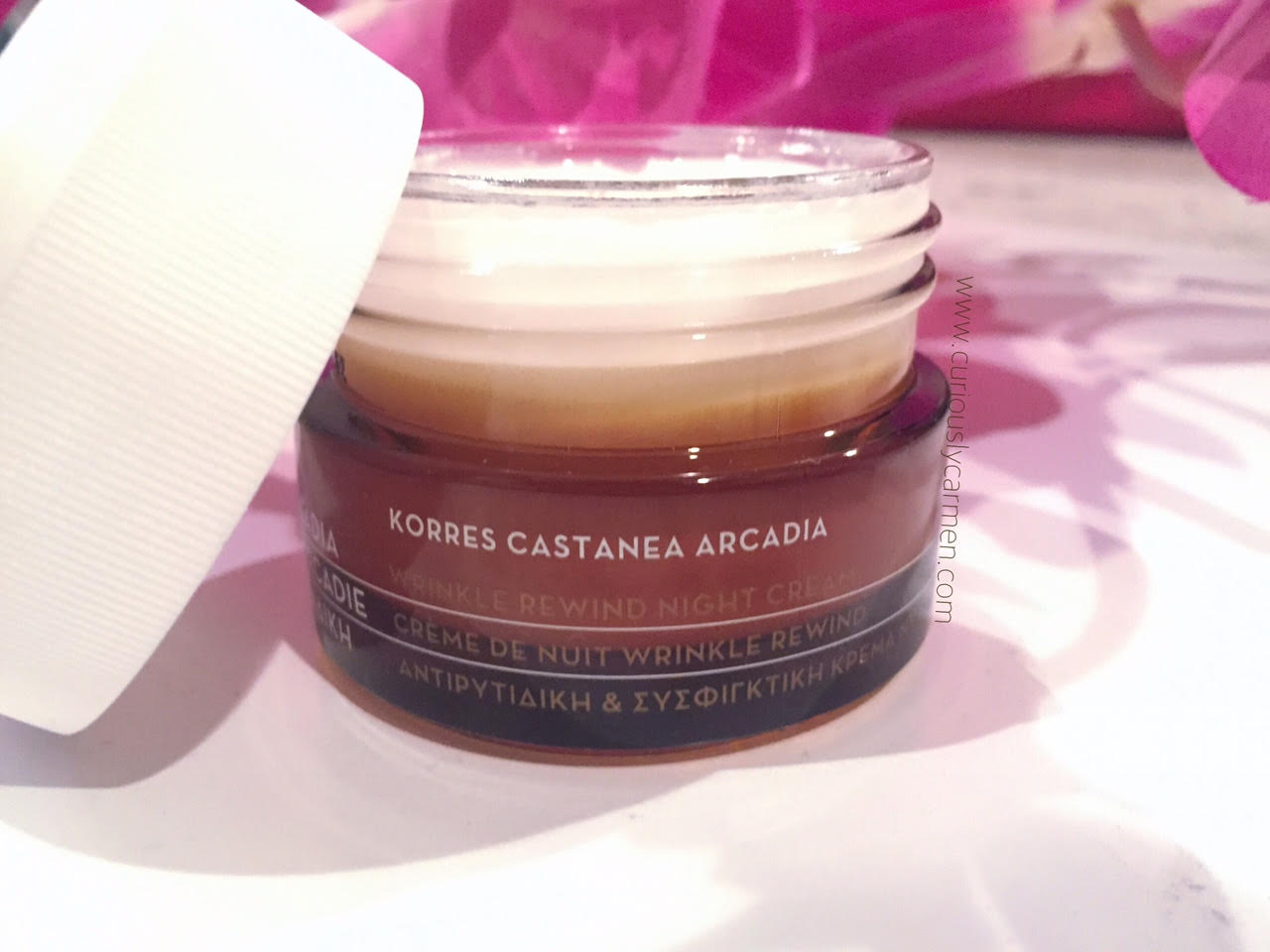 The night cream is very rich, and has a thick texture to it. After I wash my face at night, my skin is a bit on the drier side. I apply this cream right before I sleep and give myself a mini massage and rub it into my face.
My skin loves this cream and absorbs it very quickly, and I fall asleep with the beautiful scent of this. When I wake up, my face feels very supple and plump.

The day cream has a texture that is a lot lighter than the night cream. Since both the jars look the same minus the wording, I accidentally used the night cream one time and it felt too thick for a day time moisturizer.
During the day, I like using a lighter cream because my face produces a lot of oil already. A couple dabs on my face keeps it very hydrated. On some mornings, my skin is still very moisturized from the night cream and I skip the day cream because I don't want my face to become too oily. Perhaps those nights I move around less or my skin doesn't need as much quenching?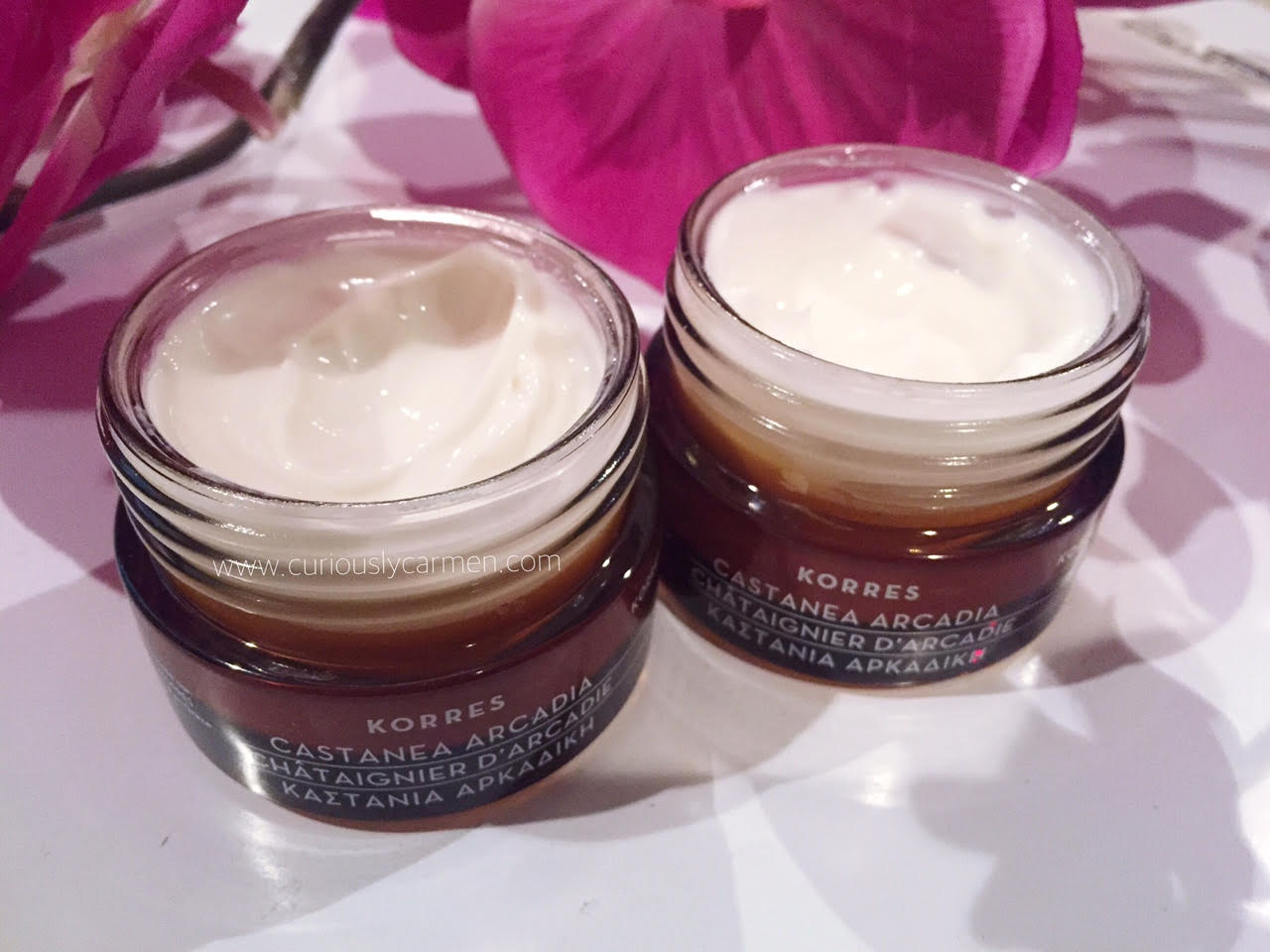 You can see the difference in texture in the picture above. The one on the left is the night cream, which looks and feels thicker.
I have been using both creams for almost a month now, and have been really loving them! They both leave my skin very supple and moisturized. I look forward to putting these on because of how great they smell!
This is the second product I've tried from Korres, the first being the rose oil. I absolutely LOVEDDD the rose oil and I've been really enjoying this product too! Their products really work well with my skin and do a great job in moisturizing!
The day cream retails for $65, while the night cream retails for $80. So yes, they are expensive creams but have very great quality ingredients! If anything, you could use the creams as an intense moisturizing treatment only when your skin is very dry so the product lasts longer!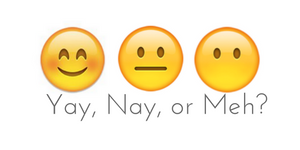 Yay!
Press product featured. Opinions are own.