I miss writing drugstore makeup reviews so much! Did you miss reading them? =)
Most cases, I find that drugstore makeup isn't as good as high end makeup… well obviously, that is a given as you pay what you get right? But there are some times where these cheaply priced products shine! (or not, if you're choosing matte makeup..ha ha ha… get it…) This next product is one of those, in my opinion. I love using this product as a finishing powder and it has become a regular in my face makeup routine, on days where I actually wear foundation!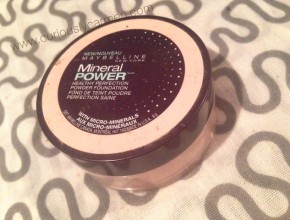 Announcing… the amazing Maybelline Mineral Power foundation! This has been around for quite a few years now, and you can probably find this at almost every drugstore. I know that I always see this product every time I'm at Target, Shoppers, London Drugs, or Wal-Mart.
Funny thing was that when I first bought this in high school, I really hated it and threw it out. Back then, the product had just been released and came with a free makeup brush. Except that makeup brush was absolutely terrible. Looking back, I realize how important a good makeup brush is because that one made your foundation go on uneven, looked cakey, and was very stiff so it felt a bit unpleasant putting it on.
Anyways, I re-discovered this product after my friend gave me hers. She had bought it and realized that it was the wrong shade, and couldn't return it. I have the shade 3 – light.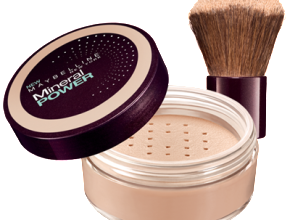 Oh, nevermind, I think it still comes with the brush after checking Maybelline's website. Has anyone else used this brush? I'm curious to see if it's really that much of a crappy brush or if I just got a bad batch.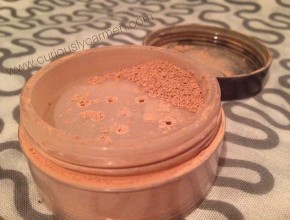 You can use this just by itself for a light coverage, but I prefer medium – heavy coverage so I use this as a finishing powder. I use The Face Shop's pore balm which smooths the look of my skin, but this is really the cherry on top to a flawless and poreless face. The two combined along with my Urban Decay Naked foundation will never disappoint me.
One con that I should mention about this product is that it can get really messy when you're applying it. It also doesn't help that I used to carry this around in my luggage or make up bag, and it doesn't contain a "stopper" so the foundation will spill out through the holes when it's being moved. By the time you open it, a lot of the foundation has already fallen out and it can get messy.
Now, I try to just leave this at home or I know I'll be faced with a messy counter the next time I use it.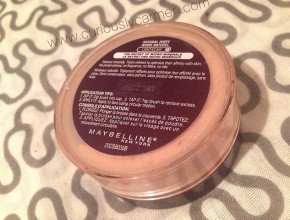 Here is the back, which includes the information and further description if you're interested! I'm not too sure how much this costs since my friend gave it to me and I can't remember when I first bought it. I would say probably around $8-$10? Leave me a comment if you know and I'll update this =)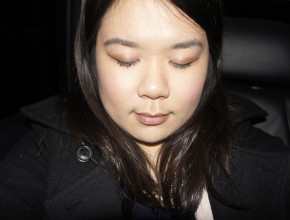 This is the most recent picture I have wearing this foundation! I'm wearing The Face Shop pore balm, Urban Decay Naked foundation, and this to finish off as well as a Lancome blush.
If you have the same skin type as me (oily/combination) then I recommend trying this. I can't say how it will work for other skin types! Keep an eye out for more drugstore makeup posts =)
Have you tried this product? What are your favourite drugstore foundations?
-Carmen