Hi everyone!
Can't believe it's June now! Summer is finally here =)
Anyways, I have been using this Estee Lauder Nutritious overnight cream for the past two weeks now, and decided it was time to finally write a post on my thoughts about it.
Prior to this night cream, I used the same The Body Shop seaweed mattifying moisturizer in the day and evening. But my recent trip  to Kelowna really dried out my skin, as I don't think it was used to the drier, interior BC climate. When I came back, I spent the first couple of days trying to repair by skin. It was flaking badly around my lip and nose area, something which has never happened!
I received this as a gift from the Estee Lauder media preview event in March, and had used it a couple of times here and there. Looking back, I should have brought this on my trip if I knew how dry my skin was going to get!

Here is the description from The Bay's website:
This rich overnight moisture creme restores skin's balance and infuses deep hydration and nourishment. Helps re-activate skin's natural moisture defenses.Can also be used as a nightly mask for intense nutrient infusion. Awaken to skin that looks rested, renewed, radiant. In just 8 days, 96% of women felt their skin look more nourished and supple.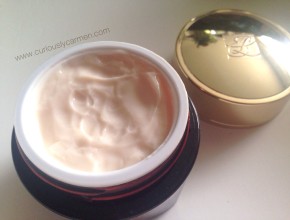 My cousins tried the cream, and the first thing they noticed was how amazing this smells! Seriously, this cream smells absolutely wonderful – clean and fresh.
Normally, I dab this cream around different areas of my face – cheeks, around my lip (this was the flaky area after I came back from Kelowna), and forehead.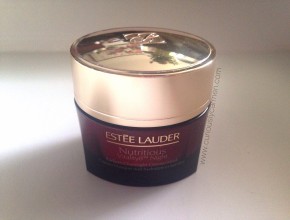 I love this cream because my skin feels great after I put it on. My skin feels deeply hydrated, supple, and healthy. I feel that my complexion has improved and my skin feels a lot more radiant and bright when waking up in the morning.
This cream has quickly became one of my favourites and I have incorporated it into my daily routine. I honestly look forward to putting this on each night because it smells so great and my skin absolutely loves this stuff!
This cream is so nutrient rich and moisturizing for me that I don't really need to apply moisturizer in the day. I used to wake up with dry skin, but I haven't had a problem with that after using this everyday. I'm so glad that I discovered this product!
What's your favourite night cream?
Thanks for reading!
-Carmen
Press product featured, all opinions are my own.