Christmas radio playlist on repeat, planning holiday parties for work,  and some Home Alone movie nights later, it is safe to say that I am getting into the holiday spirit. Last night, when I was sick at home and watching Home Alone 2 (it never gets old), I had the sudden urge to repaint my nails. Then, I realized that I should paint them in the holiday spirit!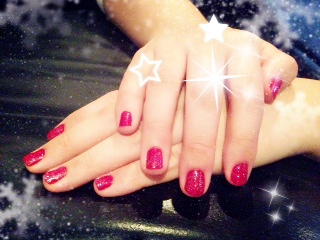 Here is what I ended up with! Pretty simple and classic, but with a holiday twist. Depending on what angle you look at them, it can look a bit more sparkly or not 🙂 Random fact about me, whenever I watch movies, I can't just sit still and watch the movie… I always have to be doing something, which is why I painted my nails. I'll also be working overtime tomorrow at my company's holiday party for our members, so might as well have pretty nails at the registration table and show some holiday spirit.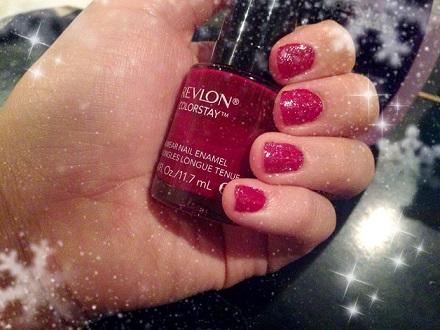 I applied two coats of Revlon's Colourstay in #130-Velvet Rope. It was my first time using it, I thought it was very pigmented and had a really deep, rich, and red colour. One coat would have been sufficient, but I normally do two coats of colour. I found that the drying time of this polish was a bit longer than I was used to, but I was just watching a movie as I was painting so I didn't really mind.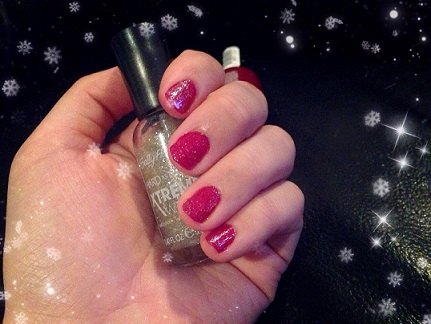 I could have stopped there, but I love glittery and sparkly things and thought that sparkle polish would really add a Christmas twist and holiday magic to it. I used the Sally Hansen Hard As Nails Xtreme Wear in #305-Shine On. I've always had great experiences with Sally Hansen polishes, it's my favourite drug store nail polish as it doesn't chip easily, easy application, has great pigment/colours, and is very affordable.
Originally, I was debating if I should just paint the tips of my nails or just one nail for accent, but I decided to paint all of them because I love the sparkly look. The sparkles reminded me of tiny snowflakes, or little stars in the night sky. I always used to paint my nails a deep, dark blue or black, and use glitter polish on top to look like the sky so this is just a Christmas version of that. Something about the starry night sky is just so pretty to me and if I could capture a bit of that on my nails, I don't mind at all.
I'm already thinking of the next holiday themed nails! Maybe I'll share that too. What are your favourite holiday themed designs to do?
-Carmen