Hello everyone =)
On one of my many visits to Sephora, I saw a line of nail polishes by Nails Inc. I've never tried their products before, so decided to try out their gel effect line. I really loved the results, they lasted longer than usual and had a nice, thick glossy shine to them! A few visits later, I went back and decided to try their other polishes.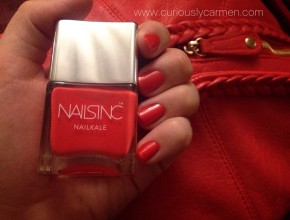 Why the name "NAILKALE" ? Because it rhymes and sounds cool off your tongue. Nah, it is because their NAILKALE line is actually infused with kale extract! The kale extract stimulates advanced keratin production, hydrates, and nourishes your nail. Personally, I love eating kale and including it in smoothies. Kale is a superfood and has a tremendous amount of nutrients, it isn't long before beauty companies incorporate it in their products.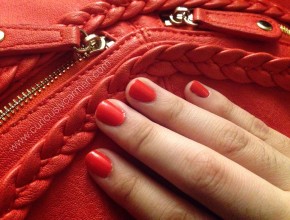 I bought the shade "Hampstead Grove" which is a dark coral colour. Coral is my go-to colour in the summer.
I used two coats to achieve this look, followed by a clear top coat. One thing I love about Nails Inc. is their fanned nail brush. The shape of their nail brush makes application so easy. One quick swipe covers my entire nail, leaving no streaks behind.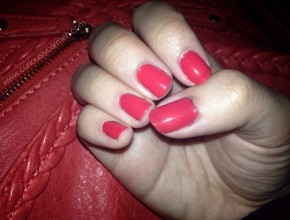 This is what the polish looks like with flash. Less orange-y tones, more pink.
The day of, I was pretty satisfied with the way it looked! However, I was a bit surprised that the next morning, I woke up only to find that it was already starting to chip. For a $20 polish, I expected it to stay longer, this didn't even last for 24 hours!
I recommend trying Nails Inc gel effect line instead of NAILKALE, it lasted many more days without chipping.
Thanks for reading!
-Carmen