Hi all!!
I have driven by this place many times, and always see it completely packed. I've also heard it was really good so I decided to finally check this place out for brunch. After reading the reviews, I was prepared on what to order and what not to order.
This place was also featured on The Food Network's Diners, Drive Ins, and Drives which automatically gives it a higher rating BUT a lot of people said it was very disappointing and did not meet their expectations. So, I came here with low expectations but somehow we left still feeling disappointed and unsatisfied.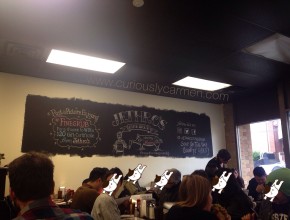 We came after the lunch rush around 1 pm, and luckily did not have to wait. The restaurant is pretty small and cramped with very plain decor. Actually, there's not much decor than the big chalkboard wall. They could really use some decor to make this place feel more comfortable and welcoming.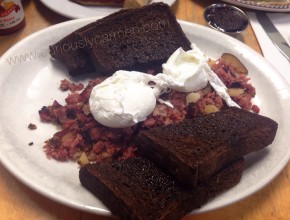 Started off with the corned beef hash with poached eggs, served with my choice of rye bread. Nothing in this dish really stood out to me and it was really meh, especially the corned beef. The corned beef also came out in little tiny, dry crumpled pieces.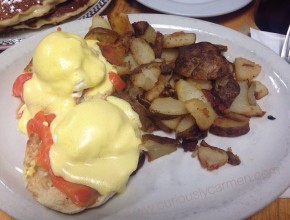 The second dish was a lot better, though – smoked salmon eggs benedict with potatoes. The eggs benny was flavourful, with a rich hollandaise sauce but the potatoes were lacking in flavour. They were also very dry and starchy, they could have peeled off more of the potato skin as well.
Yes I know that some restaurants leave the potato skin on and I do enjoy potato skin, but all my tongue could taste or feel was potato skin and nothing else.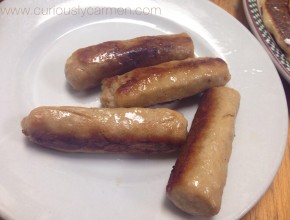 Continuing on to even more mediocre-ness, was our side of sausages. They were your typically greasy, oily breakfast sausages that you would expect at a free 3 star hotel breakfast. Good if it's free, but I wouldn't want to have to pay for these.
But at this point, we finished it all since there wasn't anything good other than the smoked salmon benny.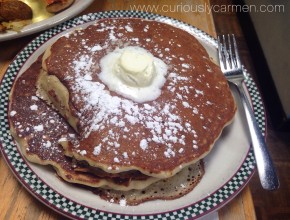 Lastly, we ordered a side of pancakes because I read that it was a "must order" and it was their specialty. If this is their "specialty", then clearly it needs some work because these were really mediocre and disappointing as well.
They had a rich buttermilk flavour to it, but they weren't fluffy at all. All of the pancakes were also a bit burnt. You would try to cut it up but the burnt bottom part would stick to the plate and it just became a mess. To add to this, the inside looked a bit undercooked so they probably cooked it on too much high heat, resulting in a burnt exterior but raw interior.
Needless to say, our visit was really disappointing and we probably won't be coming back. There was no sense of quality preparation in any of the dishes except for the smoked salmon benny. We had already braced ourselves that this place wouldn't be amazing, but I didn't think it would be THAT disappointing, especially for a restaurant that had been featured on The Food Network.
-Carmen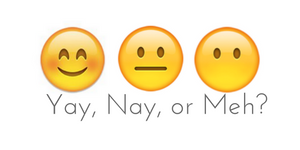 Nay.