Hi everyone,
I'm always into trying out new skincare products. I wish I was blessed with perfect, fair, smooth skin but unfortunately I'm not. Luckily, there are a lot of products out there that can make your skin feel and look healthy, given that you are willing to put in the effort! The new Garnier Clean Plus is one of these skincare products.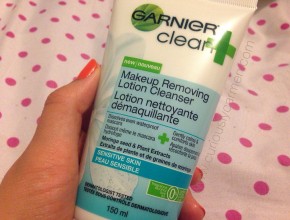 This product is targeted for those who have sensitive skin and wear makeup, especially those who live on waterproof mascara! Removing waterproof mascara is no easy task unless you have a great makeup remover at hand. In fact, waterproof mascara is so difficult to remove that Garnier specifically points out that this cleanser will remove waterproof mascara! That is a pretty bold claim!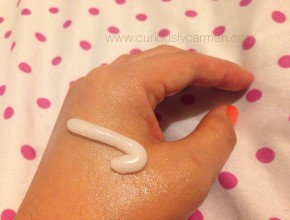 Since the Clean + is for sensitive skin, there is no scent in it. I found the texture of the cleanser to be very creamy and thick, but also oily. I think the oily factor is for removing tough waterproof mascara. I've noticed that the best makeup removers I've ever used are oily, it must be some sort of ingredient in that oil that breaks and dissolves the makeup.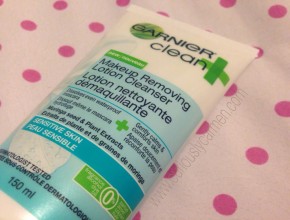 Since I had this product shipped from Garnier, it was out in the cold all day before I picked up the package. By then, the cleanser had slightly frozen over, I had to give it a good shake as all the oil was coming out instead of the creamy cleanser. This won't be a problem if you are getting this product in stores, or if you don't leave this out in the cold for hours on end. It was a weird and interesting experience as I've never dealt with frozen facial cleansers before!
I decided to test this out in the shower, without removing my makeup as I normally do. When I came out of the shower, any trace of my super tough Kat Von D eyeliner was gone. I was wearing minimal foundation that day too, Maybelline Dream Mousse, and it was easily removed as well! I noticed that my face felt really smooth and soft afterwards.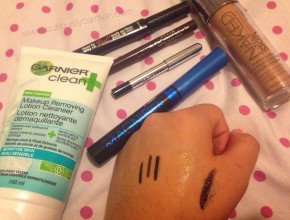 The next day, I decided to test out this product out with some of my toughest products and see if it would withstand the test. On my hand are five different products, including waterproof mascara on the bottom. For this test, I also primed my skin as well, like I normally would if I was wearing full makeup.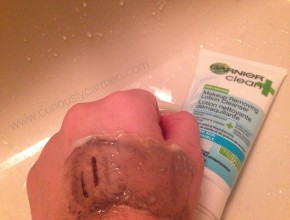 I was shocked at how effortlessly the makeup came off! The toughest product to remove was not actually the waterproof mascara, but my Stila waterproof liquid eyeliner followed by the Benefit push-up liner! Even then, they both came off a few short moments after.
The area where the cleanser went made my hand extra soft as well.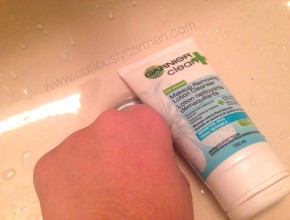 I would recommend this to those who have sensitive skin. As well, those who are looking for an all in one powerful cleanser – makeup remover, cleanser, AND moisturizer!
After writing this post, I am feeling like introducing my Holy Grail makeup remover in a future post!
Have you tried this product? Do you prefer to have a 3 in 1 cleanser OR prefer to do each step with different products?
Thanks for reading! You can see other reviews on this product here on She Blogs-CrowdSocial or check out #GarnierSensitive on Twitter!
-Carmen
Product provided for review. All thoughts and opinions are my own, and not altered by the requests of Garnier. This blog post does not reflect Garnier's opinions in any way.