When Maki went to Taiwan and Hong Kong last month, she came back with an assortments of gifts and souvenirs for me! Thank you, Maki, if you're reading this! I don't buy many Asian beauty brands, but to my knowledge, I believe that they are a lot cheaper in Asia so it is a good time to stock up on them while you are there.
I received a bunch of facial masks from her, which I am slowly trying out.. as well as an liquid eyeliner that I really love! One of the facial masks that she got me was the My Melody face mask.
For those of you that don't know, My Melody is one of the Sanrio characters. You can think of Sanrio as the Disney of Japan… their characters are very popular and everywhere in Asia! The most popular Sanrio character is probably Hello Kitty.
I grew up with a lot of Sanrio characters in my life, my favourite characters would have to be Hello Kitty, Keroppi, Little Twin Stars, My Melody… and the list goes on. I'm feeling so nostalic as I type this, I had Keroppi stickers all over my room and door when I was a kid!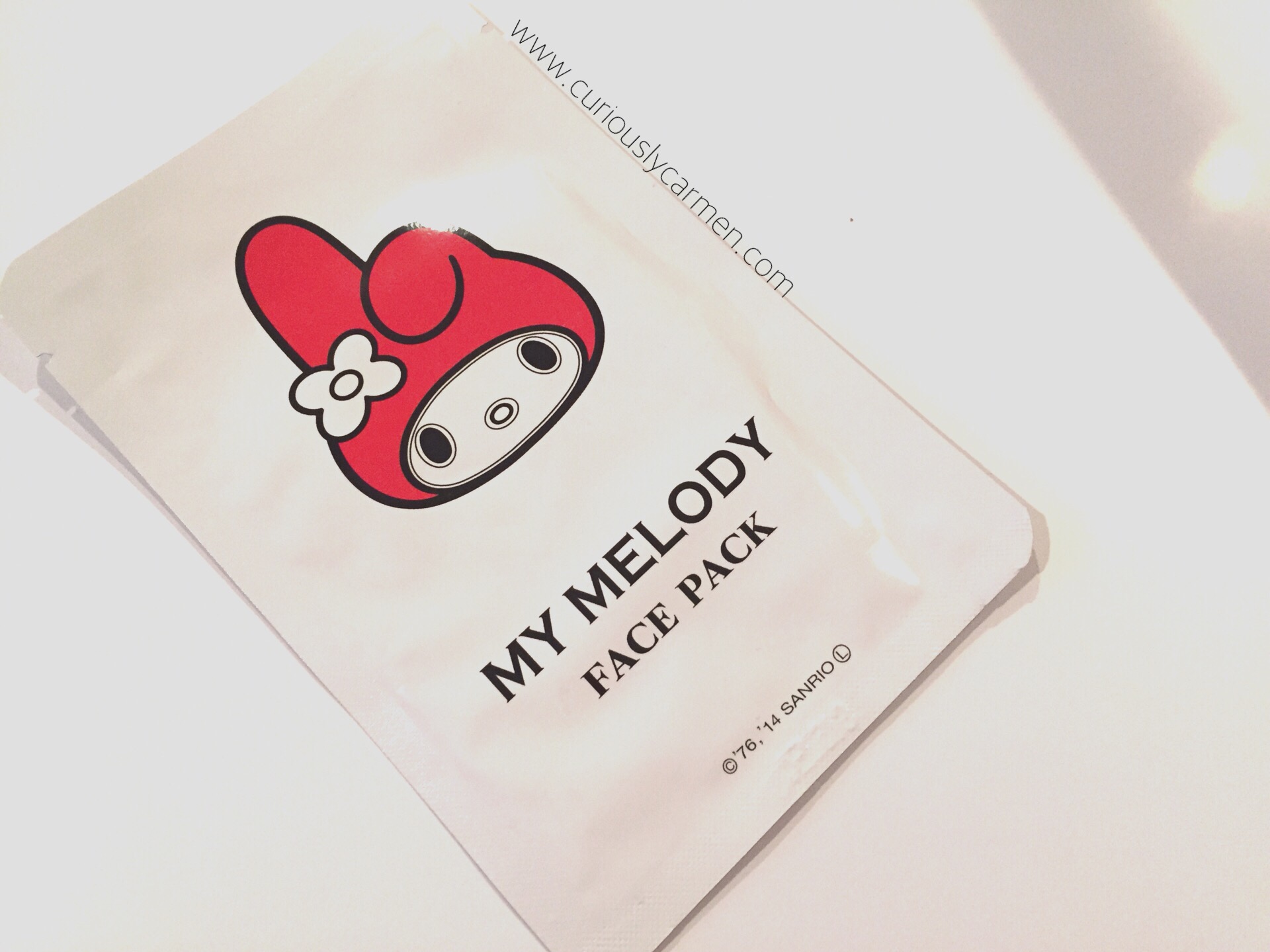 This is what the packaging looks like – simple and minimalist, yet still very cute!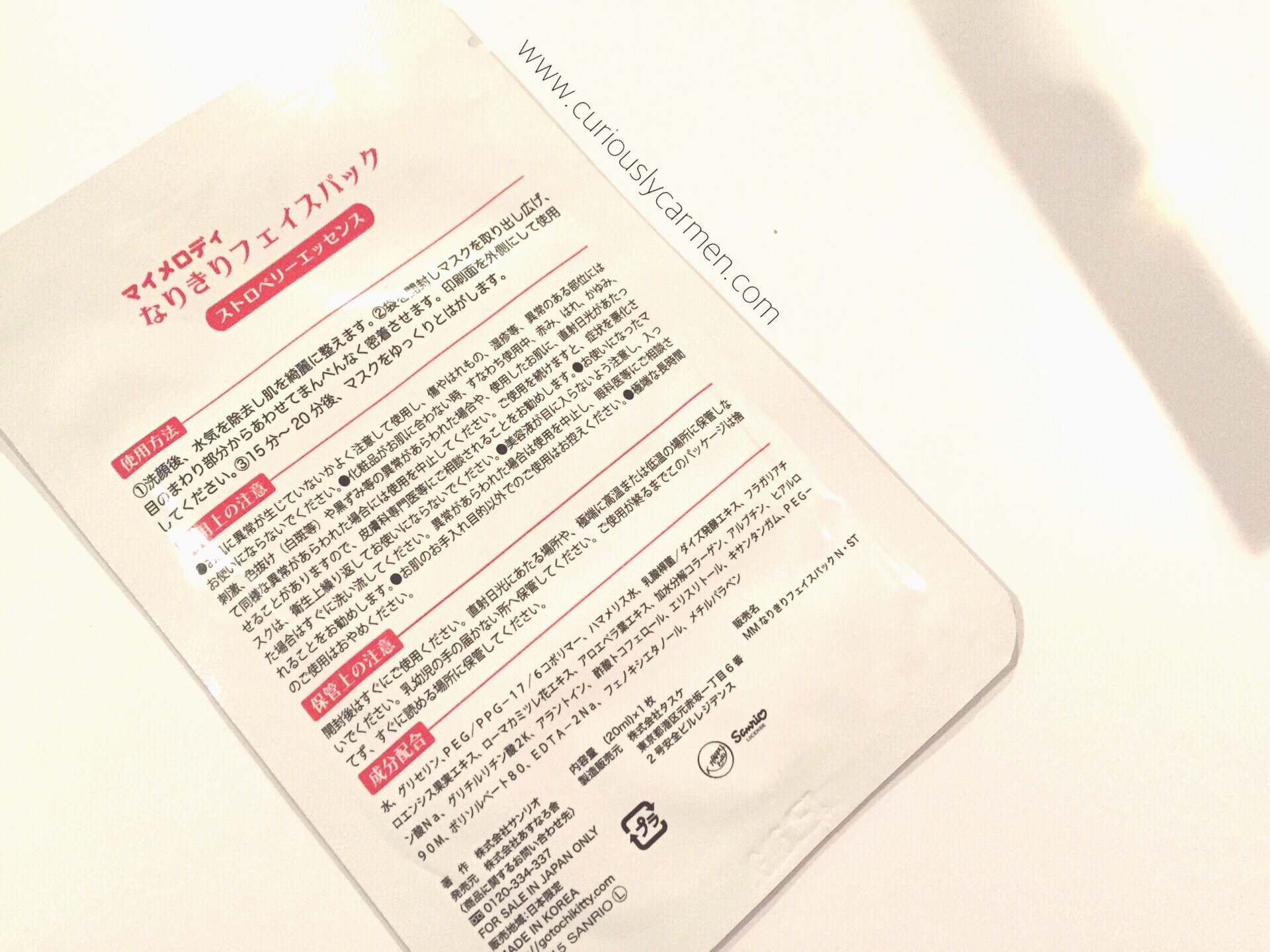 Although I took a Japanese beginners class three years ago, sadly I did not continue with it although I hope to be able to read fluent Japanese one day. That, or be able to travel to Japan and understand or get around!
With that said, clearly I can't tell you what the ingredients are or what this mask claims to do. I'll just leave it up here for you all to see and if you can translate the back, please leave a comment down below =D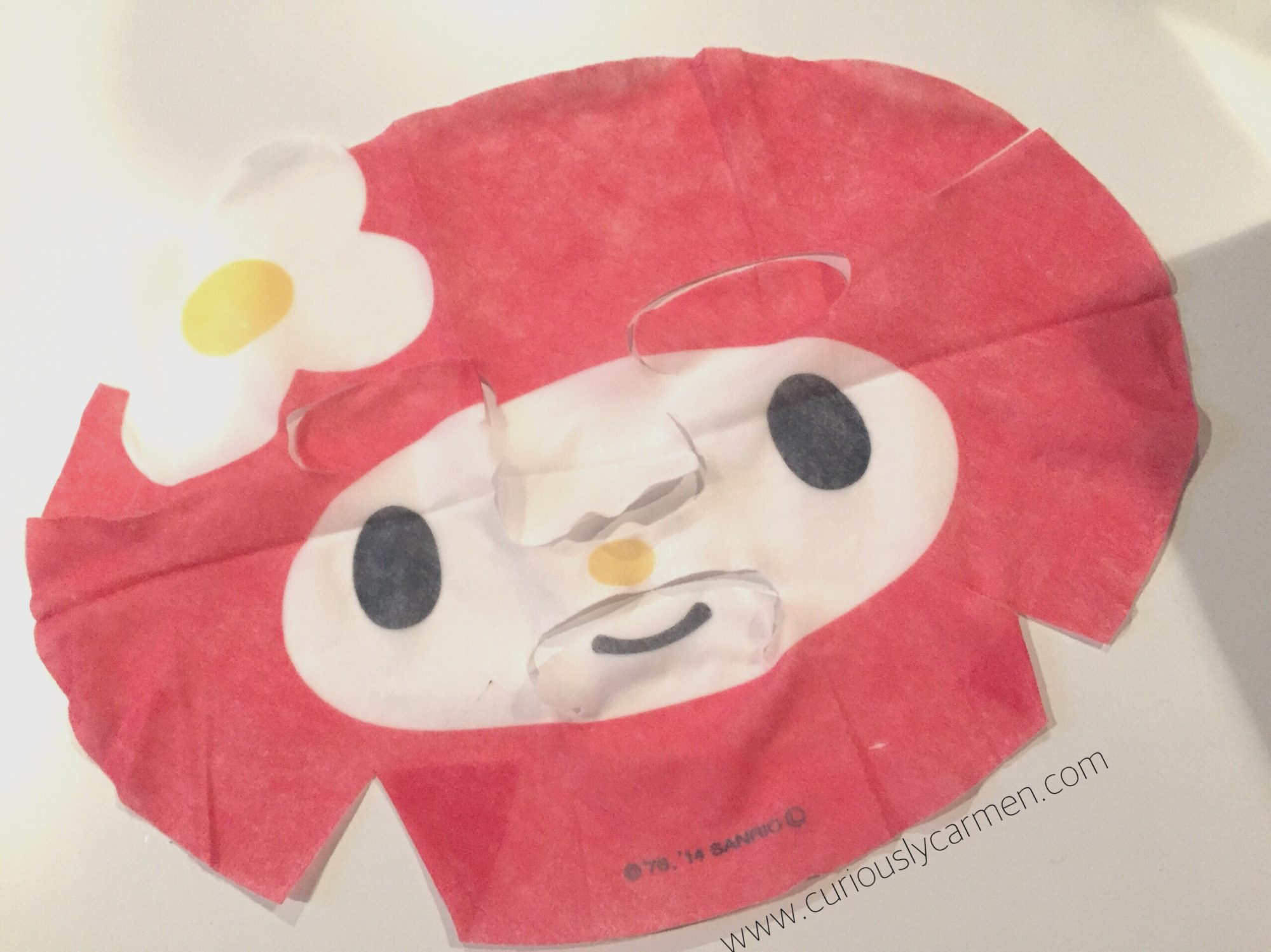 I was very surprised when I took out the mask, and saw that it was an actual My Melody face! How cute is that?! Seriously, Japanese products are amazing and are so detailed. It also smelled like strawberries, which was an excellent delight.
At first, my skin reacted a bit with the mask as it stung a little, which went away in less than 30 seconds. I left it on my face for 15 minutes, and I thoroughly enjoyed the scent of strawberries the whole time. I am a big fan of strawberries, if you didn't know 😛
I was a bit confused as to if this mask would fit my entire face, since it is more horizontal than vertical. It actually covered my whole face area, except for the tip of my nose because the nose flap was a bit too short for me.
Overall, I thought that this mask was very cute and I enjoyed using it. I really loved the packaging and design of this. The mask felt very moisturizing, although I wish I could read Japanese so I can tell what this mask targets.
Thanks for reading!
-Carmen