Food truck invasion! I decided to compile these 3 food trucks into one post as they seemed like it would be three very short posts on their own. These places are a compilation of two visits with coworkers during the Street Food City festival, which was part of DOVF. But, most of these you can have without Dine Out Vancouver. I should have included Vij's food truck in here as well, oops!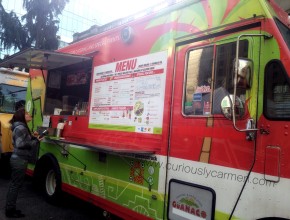 Guanaco is a Salvadorean cuisine food truck, I think it is the only one of its kind in Vancouver but correct me if I'm wrong. I wanted to take a walk around the food truck festival and my coworker decided to come with me as well!
I had already eaten, but I was in the mood for a small snack which is why I settled on this place. My first choice was The Reef food truck, but their Jamaican patties looked kinda gross in the warmer so after walking around three times, I decided to just come here. Ugh indecisiveness.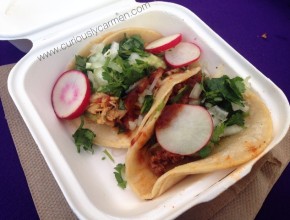 I ordered two of their snack sized tacos, chicken and chorizo. I felt like a small snack, and felt that $5 would be a reasonable price.
The chicken was tender, while all the vegetables were fresh and crunchy. I liked the addition of fresh onions and loads of cilantro! The taco shell was soft and doughy, with a bit extra powder.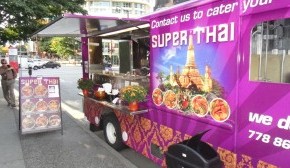 Super Thai: On that same day, my coworker ordered the chicken pad thai from Super Thai. I didn't try any, but she was happy to offer her opinion on it.
She liked how it was warm and comforting on a cloudy day, and said it was pretty flavourful and not watery like other pad thai that she's had.
However, near the end, a lot of the noodles started to annoyingly stick to the bottom of the take out box, and took too much effort to un-stick. Perhaps it's the texture of the noodles that makes it do that.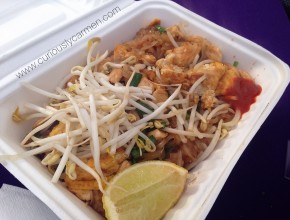 She also thought it wasn't worth the price she paid. I also think it's worth nothing that they were sold out on half their menu items by 2 pm that day. I wanted to order the coconut curry rice but there was none left! =(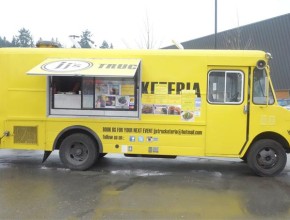 JJ's Trucketeria: While I went to Vij's, two of my coworkers ordered from JJ's instead. Funny story, none of us actually knew the name of this place. I didn't take a close look at the place, and my coworkers didn't see a name on the truck.. so we just referred to it as the yellow food truck.
I'm not even sure how we figured out the name, LOL! As you can see from the picture, half the name is on the covering which you're not able to see unless you're far away, while the other part is covered with their menu.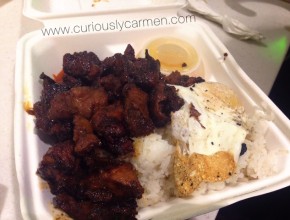 Flipino BBQ pork, fried egg, and garlic rice. My coworkers were nice enough to share with me as the portion was too big for just one person. The meat was very tender and well seasoned, while the fried egg was cooked perfect and oozed onto the garlic rice.
My favourite part of this was the garlic rice! Although I only had a few bites, I loved the slight garlic flavour. This is perfect Asian comfort food on a rainy day.
Although, I would recommend having gum or mints handy due to the garlic rice.

That sums up my food truck adventures last month, including Vij's Railway Express!
What are the names of your favourite food trucks? Better question, what is your opinion on food trucks- love 'em, or prefer a traditional sit down meal?
Thanks for reading!
-Carmen