Hi everyone!
Hope everyone is having a good day so far. I am excited to share this post with you as I've always been curious about nail strips, and I know some of you might be as well =) OMGNailStrips.com is a website specializing in nail art stickers, with a wide range of nail sticker designs. Cutesy, festive, to grunge- OMG Nail Strips have it all.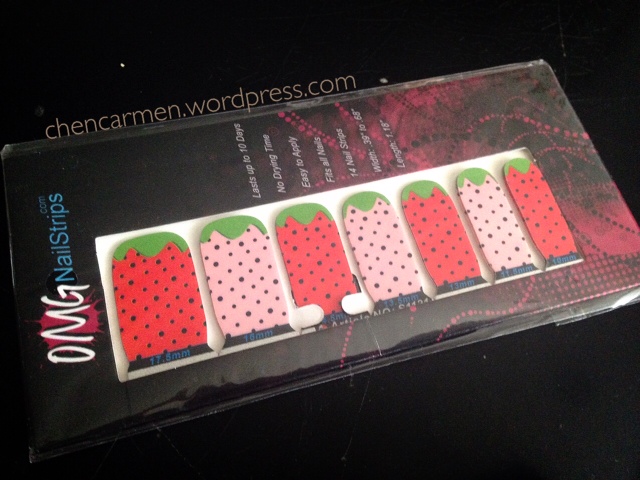 For this post, I was able to choose two nail strip designs that I wanted. Originally, I had wanted a polka dot nail strip (no surprise there, hehe) but I was told it was sold out =(. I just tried to link that design, but I think they took it off their site. As a backup, I went with the strawberry design instead, which I was still really happy with and is sold for $8 USD. They arrived in the mail pretty fast, around 2-3 days from when I first placed the order.
The application process consisted of trial and error for me.  I have a tendency to skim over instructions instead of carefully reading them, it's just a bad habit that I have. Because of that, I don't blame OMG Nail Strips for being unclear. Although I gave my friend a set to try, and she had trouble following the instructions as well.
One thing I found really odd about the nail strips were how HUGE the strips were. I think it's because you can also use it on your toenails, and our toenails tend to be bigger than fingernails… I used the smallest stickers this time.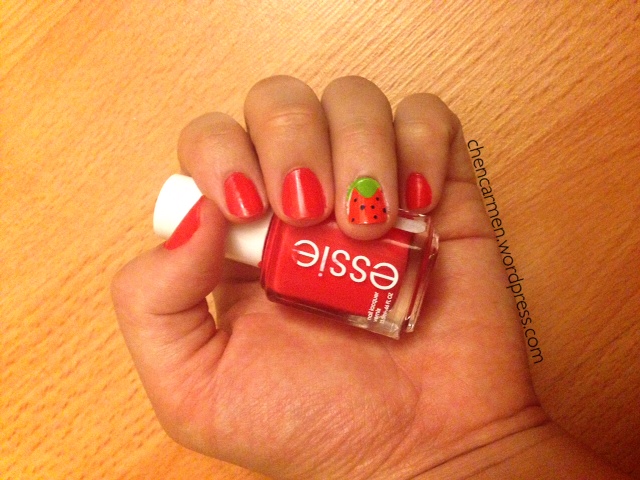 Here is the application process:
1) Ensure that your nails are clean and free of polish.
2) Find the size of nail stickers you'd like (I recommend the smallest one on the right, everything else is really big).
3) Before peeling, match it with the size of your nail and cut the sticker with manicure scissors if needed.
4) Unpeel the clear top coat and apply to nail, starting from the bottom. Ensure that there are no air bubbles! This was the part my friend and I had trouble with, we didn't even notice there was a hard, clear coat until afterwards.
5) After it is on your nail, unpeel the white backing slowly.
6) Apply a top coat of clear nail polish.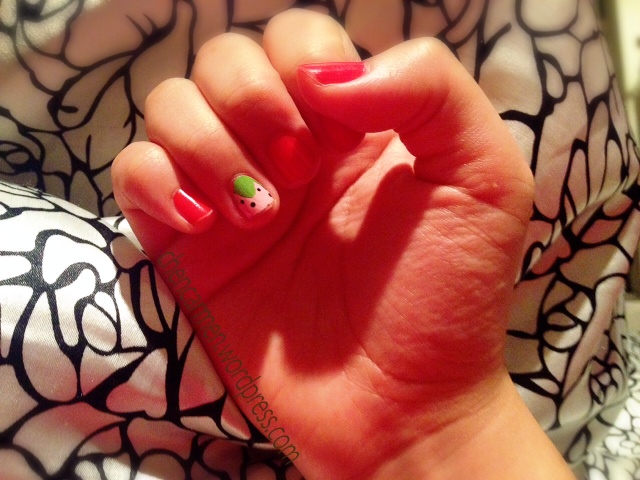 This picture was taken two days after I applied the nail sticker, still looking pretty good! But the tip was beginning to chip a bit. If you're wondering why the strawberry sticker is pink this time, it is because this is my left hand =)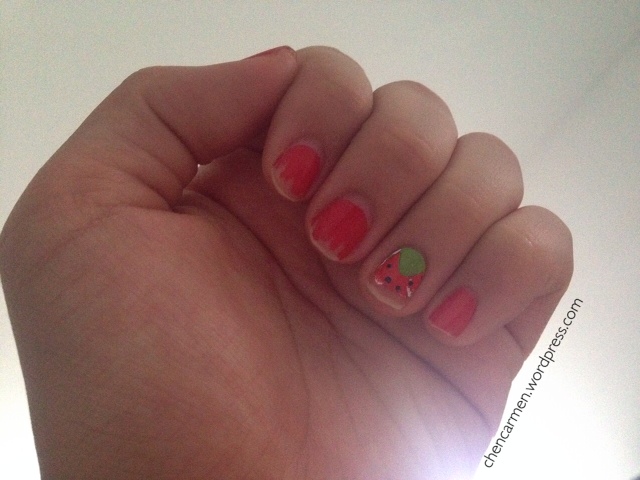 After five days in total, I decided that it was time to part ways with the sticker, as you can see it was peeling off. The packaging said it would last up to ten days, but my nail polish tends to chip after 2-3 days so I knew that it wouldn't last that long for me.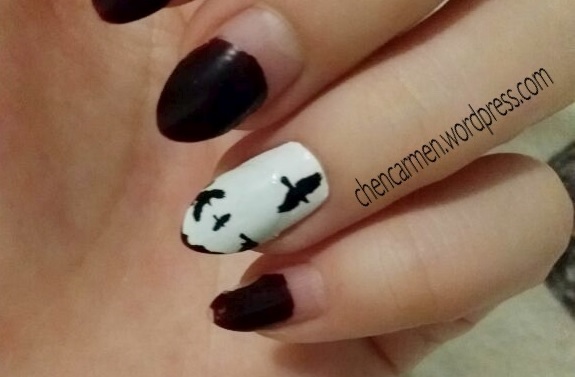 My friend tried the crow nail design, she wanted to get a Christmas themed sticker but we weren't sure how long shipping would take. If we knew how fast it would be, she definitely would have ordered them! For my friend, hers lasted seven days before peeling.
Would I use nail strips again? Yes, definitely! I love how they are an easy and fun way to dress up your nails. Plus, there is no drying time and it also does not smudge. I know some people who don't like nail strips because it's hard to apply or it doesn't fit their nail shape or something, but I find them fun to use and would not mind using them again =)
Check out OMGNailStrips.com here!
What is your opinion on nail strips? Thanks for reading and take care!
-Carmen
Press product featured, all opinions are my own.