The beauty world has been abuzz with Too Faced's Melted Liquified Long Wear Lipstick, which triples as a lipstick, lipgloss, and lipstain all in one. After reading and watching many reviews, I really wanted to find more info and try it out! Plus, I've been searching for a fall lipstick colour and I really loved the shades that Too Faced had on this line.
Unfortunately, this lipstick didn't work out for me but I will give it a second chance. Really disappointing since I was almost in love with it- there was just a tiny problem that was driving me crazy!

With tax, this tube came to $27 (Canadian) at Sephora when I bought it last week. Probably the most I have paid for a lip product, but I had really high hopes for this one and did not mind the investment! The packaging itself was pretty sturdy, it wasn't flimsy at all.
I also loved how the packaging of each shade matched the box and tube, there are products out there where you are unable to tell unless you open it up. Since I was looking for a deep and rich shade for fall, I chose melted berry.

Almost all the reviews I watched and read noted the different application tip, and I really do think it's worth mentioning! This product features a soft velvet precision tip applicator, which felt very nice on my lip. Since the applicator has a fabric, velvety material on it, the lip product comes out slower as it absorbs through the material first.
There is a small hole in the center of the velvet applicator where the product comes out of, and then spreads out as you apply it on your lip. It reminded me of those mini sponge-y eyeshadow brushes  that are seen at the Sephora makeup testing stations, but thicker.
Funny story, when I first applied the product, I completely under estimated how much I would need. Seriously, a little goes a longggg way with this product, which is good considering it cost $27 🙂 I ended up accidentally smudging it all over my chin as I tried to get the excess off, except that it wouldn't come off and ended up spreading even more!
That was a sign at how long lasting this product is, but it was definitely embarrassing as my boyfriend just stared confusingly at me and said "you have lipstick all over your chin…." Sigh… I finally ended up using makeup remover to get rid of it on my chin.
Anyways, I was in love with the shade at first glance and Too Faced lived up to its words, describing this lip product as "intensely saturated colour". It was extremely vibrant, noticeable, and will definitely make your lips PoP! It glided really easy too, and the precision tip was very helpful for lining my lips.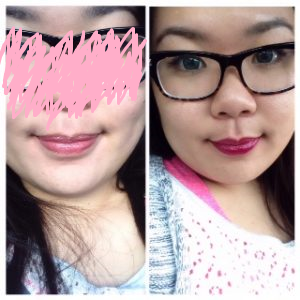 I originally wasn't planning on doing a before and after, but I remembered that I took pictures on my phone on the way to Sephora (I was not the one driving and we were stuck in traffic, also this was the second time I wore my coloured contacts so I wanted to see how they turned out in pictures okay, don't judge me).
Side note, I did a review on these coloured contacts if you would like to read it! 🙂

BUT THIS LIPSTICK IS PERFECT – SHADE, INTENSITY, LONG LASTING. WHAT COULD BE WRONG WITH IT? (Warning- mini angry rant ahead)
I applied this right after I purchased it. When I got back in the car, I noticed that I got some of it on my phone. I thought it was weird since I used makeup remover at Sephora on my chin and hands, but shrugged it off. I've read reviews that this has stayed on through drinking and eating, so I decided to eat dinner with this on and test it out.
Then, I noticed that it got on my utensils, which is fair. As I was happily munching on my noodles, I noticed a glop of the product in my noodle soup and on the noodles. It was pretty gross as I've never seen product fall off into a glop onto my noodles, and lost a bit of my appetite. I understand if it's on your utensils and straws, but I've never experienced it in my actual food.
In addition, I had also bought some new novels, and was reading one of them as I ate. I noticed that there was lip stain smudge on my page… How did it get there?! My hands were definitely clean and wiped. (You can see it on the top right hand corner, and also on the first line, on "of my")

After eating, I went to the washroom, and noticed again that the product was on the toliet lid (Sorry for TMI). ?!?!?!How did it get there too?! I didn't even touch the lid… At this point, I was getting a tiny bit annoyed as the lipstick had transferred to my phone, noodle soup, my book, and the toliet seat in less than 40 minutes.
THEN, after wiping off the seat, I went to the sink AND THE COLOUR WAS IN THE SINK TOO. I didn't use the washroom sink prior to this, I'm not even remotely sure how the colour got there! At this point, I gave up and didn't want this product on my face anymore (Well, not like it was staying on my face to begin with…).  I used a cotton pad to wipe it off, but it would not come off.
Frustrated, I ended up using makeup remover on my lip (well, that's a first!) and of course, it smudged to my face and took a long time to scrub off. I decided that this product was not worth the hassle. I wouldn't be as frustrated as I was, but I was 105% certain that my hands were free from any leftover product residue so I'm not sure what kind of lipstick-magic-wizard-sorcery was going on here. Also, why was it so easy to get everywhere but so hard to remove?! =( 

Phew! So, in conclusion, the beautiful shades, precision, and vibrancy of this product is unarguable. So is the long lasting part, as I was having trouble wiping it off without makeup remover. I'm just not sure how it managed to get into my noodle soup in glops, on my novel, the toilet seat, and sink when my hands were 100% wiped and free of any residue. I'm also still technically a student (although I have an internship right now, that money is going straight to my student loans), and can't justify paying $27 right now for such a confusingly messy product. I guess there's always that one person who doesn't have a great experience with it, unfortunately, that was moi 🙁 I'll probably give this product a second chance before exchanging since everyone loves it.
Am I the only one with this problem? Have you tried this product out as well? 
Thanks for reading! Would love to hear back from you, leave me a comment! 🙂
-Carmen