Hi everyone!
After a satisfying brunch a few months ago, Naomi from Constant Cravings and I decided to go grab dessert at Nero! No, we weren't hungry still… but I told her that Nero has been on my dining list for probably 2 years now, and I still haven't gotten the opportunity. Since Forage was a mere few blocks away, we decided to walk there after and share a waffle.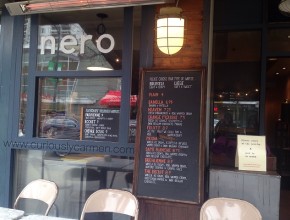 Naomi had already been here before, so she led the way. To be honest, I was a bit surprised when we got there as I was not expecting their design and branding to look like this! Judging from the pictures I saw, the place looked a lot brighter and less rustic/wooden than it actually was. Not that I minded though, but that was just my first opinion=)
It's smart that they have their menu on a chalkboard outside. Naomi told me that it lines up pretty quickly here during the summer, so this is an efficient way to speed up the wait!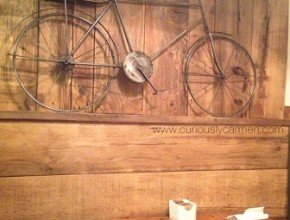 Yep, I was still surprised at how wooden and cozy it was inside Nero. I honestly thought it would look like a bubble tea or Asian dessert cafe, LOL!
Nonetheless, I did like the interior and here is a picture of a bicycle on their wall. The seating area is quite small and there is no way that all their customers are able to get a seat right away. Which is unfortunate, because their specialty waffles aren't something that can be easily packed and taken to go.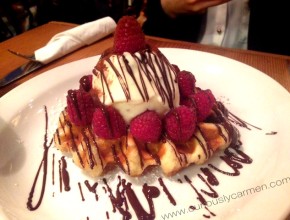 Since I was the newbie, I let Naomi decide for the both of us. We shared the liege au chocolat waffle, which came with a dark chocolate drizzle, fresh raspberries, and a big ol' scoop of vanilla ice cream.
The waffle was nice and light, with a sweetness to it and served warm. The dark chocolate and tart raspberries counterbalanced the sweetness of the waffle and vanilla ice cream.
I would love to come back and try more of their different flavours, but I especially hate standing and waiting in lines for restaurants.. that's a big pet peeve for me and probably one of the biggest reasons I haven't tried a couple of well known, yummy establishments. I should also mention Nero was empty when we came in around 2pm on a Saturday, but as we got ready to leave, we saw a line that was already out the door!
I saw another customer with a huge fruit assortment on her waffle, I am definitely trying that one next time I come back!
Is Nero worth the hype? For me personally, yes!
-Carmen