Hi everyone!
Maki  hopped on a ferry to Victoria over the long weekend, and surprised me with a box of macarons from Bon Macaron Patisserie! I've never heard of them as I've only been to Victoria once for a high school field trip, and also because I don't have much of a sweet tooth. I also don't understand the crazy macaron phase that everyone obsesses about but to each their own =)
But enough of me rambling on, I'll get to what you are all here for =)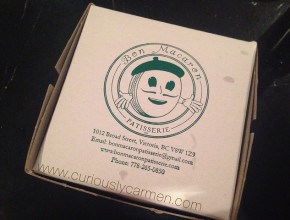 First off, can we talk about how cute their mascot is?! It's a French sir macaron hehehe!  After browsing through their site, I learned that Bon Macaron is owned by two good pals who were born, raised, and educated in France, before settling down and opening their store in downtown Victoria.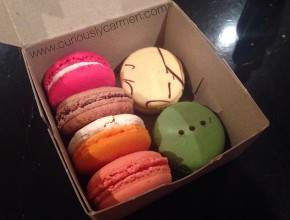 Inside the mini box were six assorted flavours! They looked so cute and dainty. Maki picked out random flavours for me, but avoided their savoury macaron section. At first, I was a bit disappointed hearing that because I'm sure you all know how much I love my savoury foods over sweets! But she told me they were pretty disappointing and some were really gross, so I guess savoury macaron flavours don't go well together.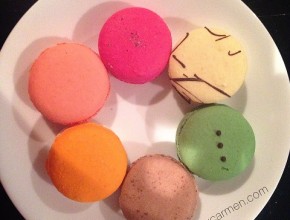 They were all so cute that I couldn't help putting them all on a plate and making it look nice. Macarons unite! Since we both didn't know what all the flavours were in the box, I was left to taste test each one and figuring out which flavour it was based on their website. I think I did pretty well, there were only two that I couldn't figure out exactly but good thing my friend remembered.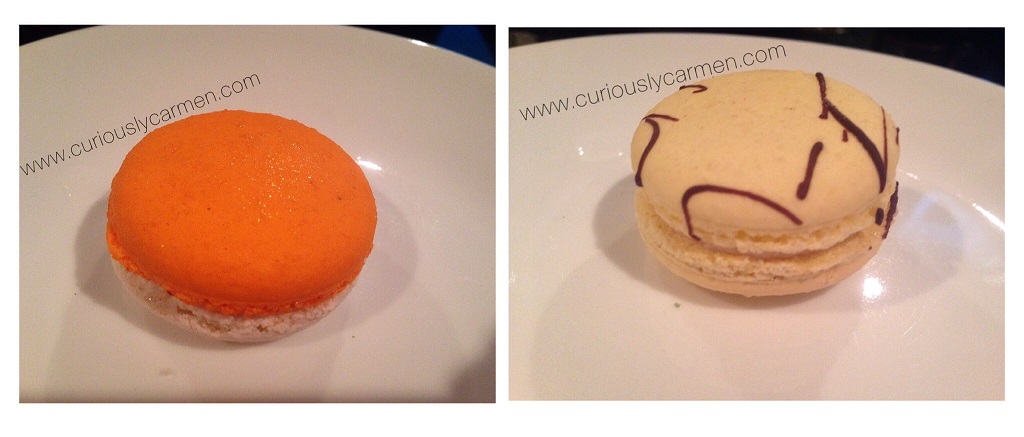 The first one I tried was the tangerine chili, it even had sparkles on it if you look closely or open the image in a separate window! I hope that the sparkles are safe for consumption LOL! I loved how this wasn't too sweet and had a custard filling inside, there also wasn't much of a chili taste which I preferred. Yum!
When I first bit into the second macaron, my thoughts and taste buds went from weird -> yummy -> weird -> yummy -> I'm not sure how I feel about this anymore. Originally, there was a strong spicy cinnamon and chai taste to it. Then, it started to taste like bananas. I really enjoyed the banana part, but I wasn't a fan of the strong cinnamon taste. This was either the chai or banana flambe macaron, it seemed like it was a mix of both flavours.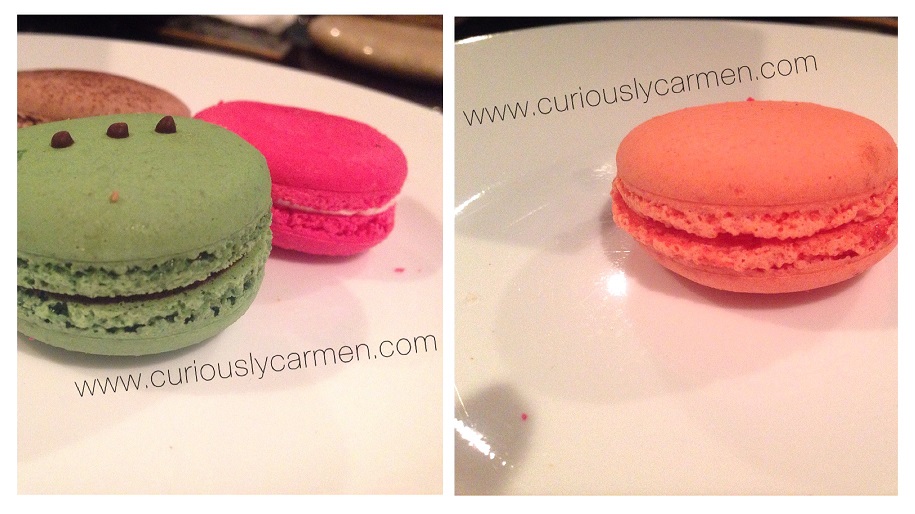 Up next was the chocolate pear, I didn't see this on the menu but my friend remembered the flavour. I didn't taste the pear, only the chocolate. They use a dark chocolate filling, so it wasn't super sweet. I enjoyed this one as well =)
The light pink one was the raspberry. Compared to all the other fillings I had tried so far, this one was a lot sweeter. The raspberry tasted like the candy flavour, instead of the raspberry fruit. I also noticed that the amount of filling that they give here is a lot less than at Theirry's or Soirette, but that doesn't bother me!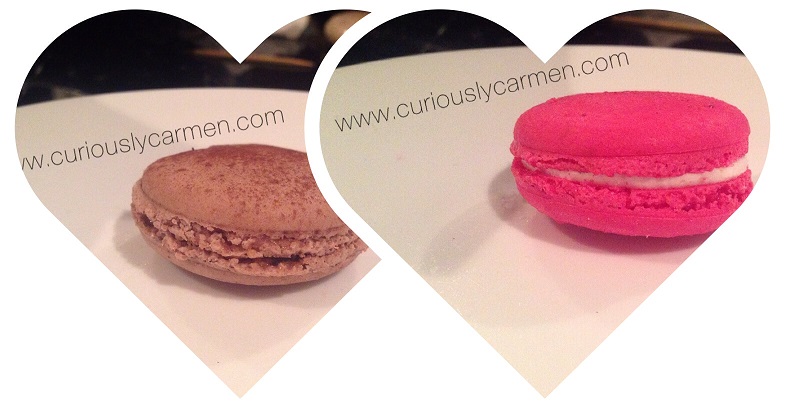 One of the classic flavours, good ol' chocolate. If you're looking for something original and want to keep it safe, this one is the way to go. Just like the pear chocolate above, this chocolate macaron wasn't too sweet and tasted like it was made with dark chocolate. I liked the lightly dusted cocoa powder on top as well!
Last but not least! I had no idea what flavour this was. I wrote down mini notes on each of these because I figured I'd probably forget and all I wrote for this one was ??? LOL! However, I asked my friend and she said it was the bubble gum flavour. Now that I think of it, there was a slight hint of bubble gum, but it tasted more like a plain macaron except hot pink.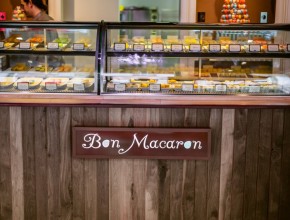 Overall, I really enjoyed the macarons and was left with a happy tummy. Each of the macarons were made with great quality and tasted great even though it had been a couple of days since my friend bought them. The outside shell was slightly hard but when you bite into them, they are soft and a bit moist and chewy. A bad macaron would be super hard, crumble, and crack, leaving you with nothing but a mess and a macaron corpse.
I only had a few small bites of each since I was planning on going to bed soon, but wanted to try them since they were still relatively fresh! I'll finish the rest of it off today >=). It is recommended that the sweet macarons (ones that I received) should be consumed within three days, and the savoury ones to be consumed within one day.
Special thanks to my wonderful friend Pauline for being thoughtful and surprising me with these treats! =)
What are your favourite macaron places?
-Carmen