Good afternoon everyone! (Or whatever time it is where you are!)
I'll be talking about my favourite drugstore facial washes today. These two face washes never fail to disappoint me, and always do an amazing job taking off my makeup at the end of the night. I've tried higher end face washes, such as the Bliss Fabulous Foaming Wash which was pretty disappointing. It's kind of sad that a $3 product removes makeup better than a $24 product does… and it's 8x more cheaper!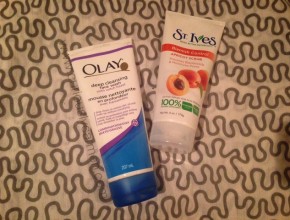 My two current favourite drugstore washes are the Olay deep cleaning face wash and St. Ives apricot scrub. They are both great at deep cleaning and will remove all your face makeup, no matter how much you have on or how much primer you put on!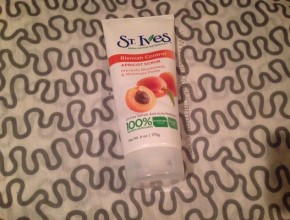 Starting with the St. Ives apricot scrub, I've been using this for many years now… probably even since high school. I just have nothing bad to say about this product. For $3, it is seriously amazing. It smells great, removes all your makeup, and acts as a great exfoliant. After using this, my skin always feels great, refreshed, and re-energized.
While I was writing this review, I decided to look up some other opinions on this scrub. Some people said that the exfoliant in the apricot scrub was too abrasive and rough on their skin. For me personally, I don't mind but I don't use this product daily. I use it on days where I have full foundation coverage on because it does a great job in breaking down the foundation, or days where I feel my skin feels extra oily.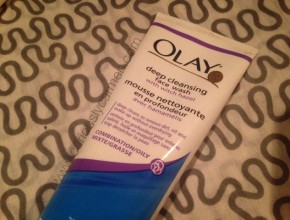 My second favourite drugstore foundation that works wonders is the Olay deep cleansing face wash with witch hazel. My mom bought this and at first, I didn't really like it because of the scent, but it does a great job at deep cleansing your skin. It has a thicker and creamier texture, and is a weird silvery/grey colour. This one is suitable to use daily as it is not an exfoliating scrub like the apricot scrub.
When I'm taking my foundation off, I first start with the apricot scrub since the naturally grainy texture in it really separates and breaks apart foundation. I gently rub my face in small circles to get all my makeup off. If I feel like going the extra step, I'll use the Olay wash next which is more gentle. My skin seriously feels soft, refreshing, and is makeup free after these two quick steps.
These two full sized products combined will definitely not break the bank. I get the St. Ives apricot scrub at Wal-mart for $3, I can't believe how cheap it is. Actually, it might even be $2.50 or $2.95… I can't remember exactly. I believe the Olay wash is around $4.
You really don't need to spend lots to have effective face washes! =)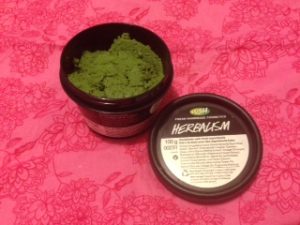 Also, if you're wondering, my daily cleanser is the Lush herbalism cleanser. While the Lush cleanser is just as effective as these two, it also costs more and I try to only use a little bit each day because of the price. With that said, I need more product when removing a full face of makeup, so I rather use the apricot scrub or Olay wash. You can read my detailed review on the herbalism cleanser here.
What are your favourite face washes? Have you tried any of these products and how did you like them?
Thanks for reading!
-Carmen